EXCLUSIVE: Volvo CE unveils world's first fully electric excavator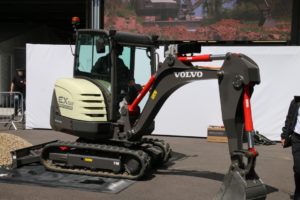 Volvo's Innovation Summit, which took place at the Queen Elizabeth Olympic Park in London yesterday (May 16, 2017), saw the OEM unveil the world's first fully electric excavator – the EX2.
Weighing in at 3 tons, the compact excavator prototype was shown to be able to match the power output of equivalent diesel vehicles in its class. It also demonstrated near-silent operation, full remote control options and even boasts some semi-autonomous features.
Speaking exclusively to iVT International Ahcène Nedjimi (above), electrics & electronics systems lead engineer and EX2 project leader at Volvo CE, said, "One of the markets for this machine could be in dangerous applications, because it can be remotely controlled. Also it is quiet, so it could be used in cities, even at night. Furthermore, of course, because there are zero emissions from the engine, there is a growing potential market around that."
The fact that every part of the machine is electrically controlled – including the movement of the boom, doing away with the need for traditional hydraulics – means automating certain operations is easier. "Anyone can use this machine," said Nedjimi. "Automated functions can help beginners. For instance, with grading you need a lot of experience. So if it's fully automated, that's useful."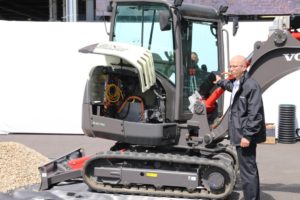 To make the EX2 prototype fully electric, the combustion engine has been replaced with two lithium ion batteries, totaling 38KWh, which store enough electric energy to operate the machine for eight hours in an intense application, such as digging compact ground. For light work it is even possible to run the EX2 off just one battery, leaving room for extra storage in what would traditionally have been the engine compartment. The hydraulic architecture has been replaced with electric architecture which incorporates electromechanical linear actuators that help to optimize the transmission chain.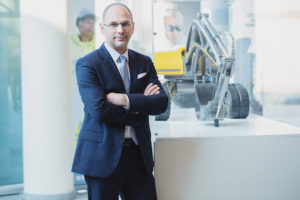 Regarding the lack of hydraulics, Thomas Bitter (above), senior vice president for Volvo's product portfolio, even hinted to iVT that this could be the beginning of a new revolution in vehicle design, even for larger machines, although there were bound to be some limitations. "I think in principle it's scalable," he said. "The technical principle is workable. Of course there's a cost issue right now. But we had a discussion – in our industry, how long did it take before the cable was replaced with the hydraulics? It came by application and we still have heavy applications where hydraulics didn't take over."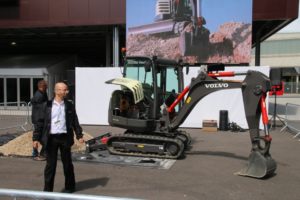 Of course, the EX2 is still some way from being market-ready. "This is a research project," said Bitter. "It's purpose was to prove the functionality. One of the requirements was that the functionality should be as good as a commercial one. Because if it dies out at half an hour or it is not as strong at digging then we have not proven the concept. But now we have. So now the concern is that proving that it works is one thing, but proving that it works for three years, every day, is something else."