Wandfluh is a Swiss-based leader in design and manufacture of hydraulic valves and electronic controls systems, and is known for meeting customer requests to improve machine performance. During the development of its Proportional Mobile Valves (PMV) series, great importance was placed on the flexibility and modularity of the units. Therefore, only a small number of different parts are needed to create a multitude of variants of the hydraulic units.
This has a very positive effect on stock keeping and the availability of parts. With the help of this modular system, we can easily combine small flows with flows of up to 1000 l/min. This makes PMV a highly modular solution for demanding hydraulic applications. Thanks to its modularity there are endless combinations, the customer's requirements decide.
Most modules can be replaced in the field without removing the entire unit from the machine. This reduces downtime for maintenance and also commissioning times. Since oscillation can occur in the system in complex hydraulic installations, precautions have been taken here as well: Damping possibilities can be mounted in various places, accessible from the outside.
Sustainable and efficient
The worldwide requirements regarding the sustainability of products are well known and during development special attention was therefore paid to high power density. Due to the high maximum permissible operating pressure of 420 bar and optimised flows, very high performances can be transported with the lowest possible power losses.
Low pressure drops (delta p), low actuation currents, optimised flows, compact dimensions and long service life have a very positive effect on the sustainability of the product. The performance is also underpinned by the perfect load compensation per control section. With an adjustable pressure compensator, the flow rate is set to within one litre per minute and this flow is consistent over the entire pressure range.
Features and expansion options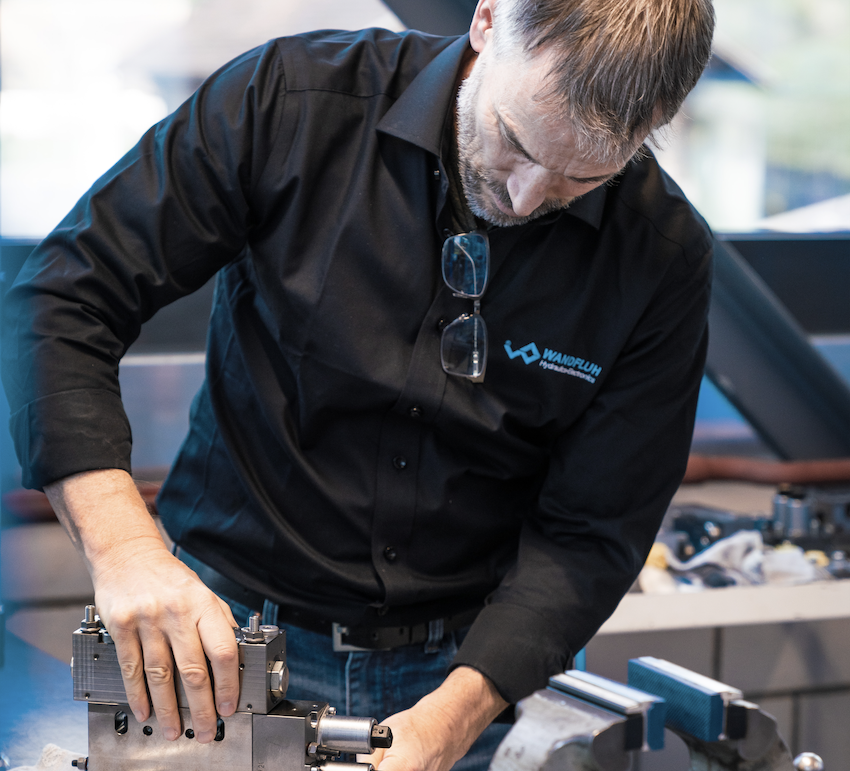 Various functions are easy to expand or are already included in the standard version. An anti-saturation function can be mounted on the inlet plate so that all loads are moved simultaneously in a controlled manner at all times. If the LS signal is too weak for long pump supply lines, it is possible to mount a small module with an LS amplifier on the inlet plate.
If ones takes a closer look at mobile machinery and marine applications, modern equipment requires the use of increased surface protection against corrosion. PMV can be ordered with Zi/Ni surface protection, which allows it to withstand the equivalent of 800-1000 hours of protection in salt chamber tests.  This reduces or even eliminates the requirement for additional painting.
Not to forget the various electronic cards and control options that Wandfluh already has in its programme. With the mobile electronics MD2, up to 8 current-controlled proportional solenoids can be controlled with PWM signals. Of course, the CAN field bus connection is integrated into these electronics. Other functions such as on-board electronics and spool position control (LVDT) are already being developed and will soon be available as a standard solution for the PMV. This is with regard to the requirements of Industry 4.0.
If there is a customer requirement to equip the valve with explosion-proof solutions, Wandfluh has a wide range of solutions that can be applied together with the PMV valve.
Wandfluh is proud to expand its product range to offer the market a real alternative for sophisticated mobile hydraulics. Most of the features are already available from stock, which is an important point in today's delivery time challenges and adds value to the whole supply chain.
And yes, price is important! That's why we love to sell quality and smart solutions as we integrate more features in less space, contributing to our customers' increased branding and a lower overall price.
Facts and figures
Modular valve concept
Combine sizes 22 and 16
Up to 1,000 LpM
420 bar
Excellent load compensation
High corrosion protection
Find out more about the PMV at www.wandfluh.com