Siroco, an international supplier of thermal and electrical solutions for industrial vehicles, has launched its new 12-24V CAN/LIN BUS HVAC electronic controller.
The controller is a compact, smart and flexible solution to manage your climate systems. With 2X48 pins, the CLBHC is easy to integrate to your CAN/LIN network and can also be used as a performing standalone solution. Both CAN and LIN interfaces enable data exchanges between independent bus systems. Thanks to component diagnosis, short circuit protection & secured boot-loader, manage HVAC components & vehicle thermal management with a complete configurable solution.
 Keeping it simple  
Powered by the vehicle's battery, the controller integrates all the ventilation, heating and air conditioning control intelligence.The advantage of the controller is to manage the functioning of all e-components: e-compressor, water heater, water pumps, PTC operation, opening and closing of valves and 3-way valves by taking information from the sensors. This way, it is able to manage cabin temperature, battery and electric motor temperature,
With 8V-32V operating voltage, the SIROCO controller meets many markets as on & off highway, agriculture, construction, bus, urban electric and hybrid vehicles. Inputs and outputs are customisable according to customer needs.
Specifications
Each customer need being different, command messages from HMI to CAN/LIN BUS HVAC controller are customizable, as feedback frame status from controller to HMI.
REACH (1907/2006)
RoHS (2011/65/EU)
Can Bus (J1939)
ECER10 compliant
Operating voltage: 8V-32V
Sealing protection: IP67 when connected
Communication: CAN Bus 2.0 – 2 canals LIN 2.1 master
Customization: software package.
Operating temperature is from -25°C to +65°C
Optimal operating thermal conditions
Among a number of solutions dedicated to electric vehicles, Siroco has also launched the E-DUO TOP, a new rooftop electric air-conditioning and heating (E-HVAC) unit. Also available in air-conditioning unit only (E-VAC), the E-DUO TOP is designed for cabins with limited space. The E-DUO TOP offers 3 speed ventilation, a cooling capacity of 4.5KW and a heating capacity of 2.5kW. Made of a thermoformed cover and of a 460 condenser with Parallel Flow technology, the E-DUO TOP is easy to set up on the roof of the cab thanks to 4 lifting hook and 6 mounting crews.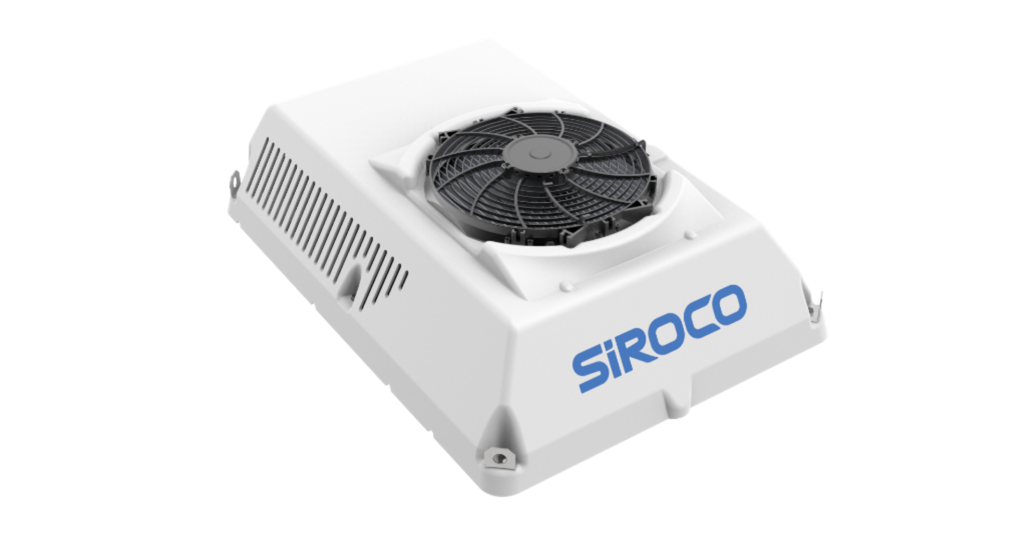 ABOVE: the new the E-DUO TOP E-HVAC system is designed for cabins with limited space
On a daily basis, Siroco helps its customers to anticipate the electrical conversion of their thermal systems. The thermal expert is deploying its engineering department dedicated to the development of tomorrow's thermal solutions. Siroco is working as much on battery cooling and thermal management solutions as on standard product development.