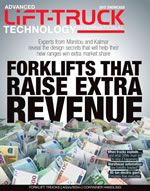 The 2017 issue is now available online! Packed full of news, interviews and features, including:
WHAT'S NEW – THE FUTURE OF INDUSTRIAL VEHICLES NOW : Cologne, Germany, will host two simultaneous iVT conferences this year, one looking at electric and hybrid technology, the other autonomous vehicles. Here's what to look out for at both…
INTERVIEW – ROUGH RIDER : In an exclusive interview, Ingemar Lorin, CEO of Actil, discusses the difficult conditions he sometimes faces in the lifttruck business… and on his motorbike
FEATURES – FORKLESS TRUCKS : Exactly how much of an impact is autonomous technology having upon the design of forklift trucks for warehouses?