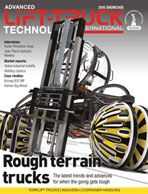 The 2015 issue is now available online! Packed full of news, interviews and features, including:
OEM INTERVIEW – HIGH SPIRITS : Originally a Native American term for a supernatural force, 'Manitou' is now much more widely thought of as a producer of telehandlers and access equipment. Though as Jean-Pierre Guérand explains, the industrial forklift side of things may still have some catching up to do…
CASE STUDY – ROUGH DIAMOND : Adding several features and capabilities not seen on any other rough-terrain forklift, one new entrant to the sector is producing models destined to become an operator's best friend.
CABS – INNER SPACE : We take a peek inside some of the best heavy lift-truck cabs on the market to see how the other half live.