Keestrack's latest impact crusher unit has been officially honoured with a Red Dot Design prize. The prestigious international award for the track-mounted R3e in the industrial equipment category follows the vehicle's premiere at the Intermat show in Paris, France, back in April.
From initial designs and studies to completing prototype testing, the vehicle took close to two years to develop by design and production specialists from Keestrack who relied on the production facilities of Sternberk in Czech Republic and the Austrian bureau of industrial designers RDD Design Network.
Project challenges
The project was led by Keestrack CEO Kees Hoogendoorn, who said, "A major challenge was the integration of the fully hybrid electric drive without the enormous impairment of the characteristic operating weight and transport dimensions of machines in the 30-metric ton class.
"Despite the 300kVA surface mounted generator and two electric motors for the all-electric drive of all machine components from the onboard diesel engine or mains power, the Keestrack R3e weighs a mere 32 metric tons, even when fully equipped.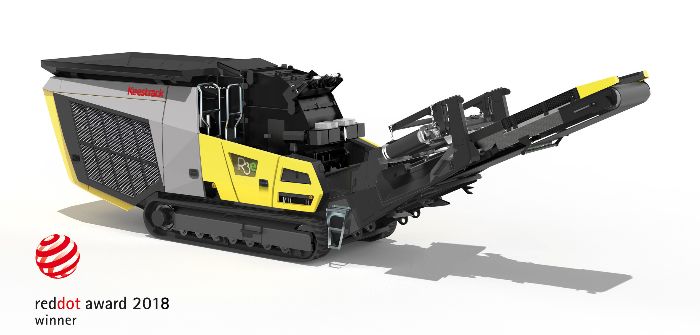 "In addition to an active pre-screening unit, the equipment also comprises a magnetic separator and an efficient 4.4 m² single-deck post-screening unit with an oversize material recycler, which guarantees the efficient production of high-grade final grain sizes."
Red Dot judges said of the vehicle, "Besides the attractive design – which will characterize all future models of the new series of the international specialist in mineral processing technology – the designers have also implemented innovative ideas for operation and industrial safety in their development as well as integrating multi-stage production steps and a forward-looking fully hybrid power unit in a compact and highly mobile machine concept."