Bobcat chose GaLaBau for the world premiere of its latest high-performance telehandler this week. In addition to unveiling the new TL43.80HF, the company's R-Series range of mini-excavators also made their first public appearance in Germany at the trade fair dedicated to landscaping, maintenance and construction of urban and green spaces, sports grounds, golf courses and playgrounds.
With the new telehandler, Bobcat now offers a range of 15 different rigid frame telehandler models, covering maximum lifting capacities between 2.6 tonne and 4.3 tonne and maximum lifting heights from 6-18 m. The latest model provides a new solution for heavy-lift handling applications found in general industry, manufacturing, building materials, warehousing, quarrying and mining.
Ideal for agriculture
The TL43.80HF is also ideal for the heavy-duty, high-productivity segment of the agricultural market, taking lift capacity, lifting height and breakout force to unprecedented levels in this area.
It is available with a choice of three different AGRI packs for the farming market meeting different levels of expectation in terms of ease of use and level of comfort.
A Bobcat spokesperson said, "Thanks to a high lift capacity of 4.3 metric tonnes and a maximum lift height of almost 8m, the TL43.80HF (width 2.30m, a length of less than 5m from the rear to the fork face), offers an impressive package, which brings together robustness, rough terrain ability and ease of use for the operator in the same machine."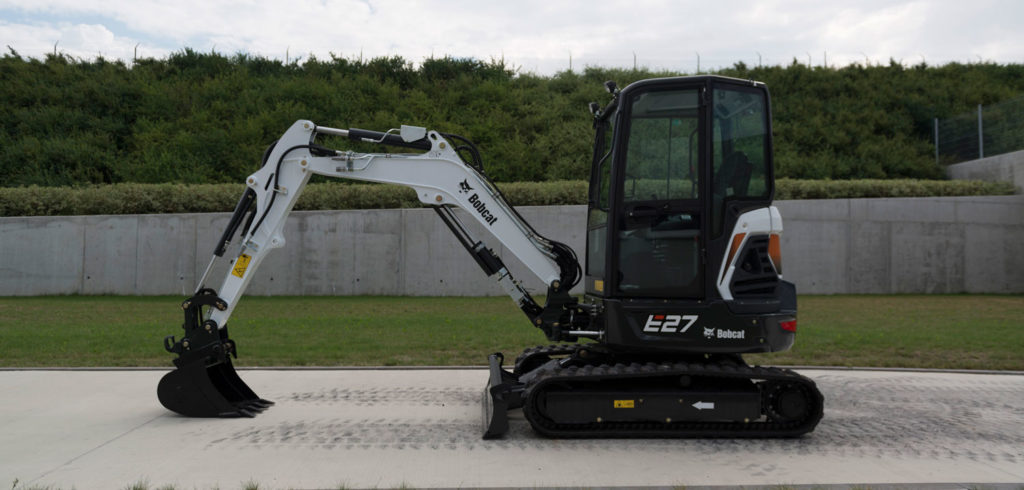 Comprising five models (E26, E27z, E27, E34 and E35z) from 2-4 tonne, the new R-Series product line offers the best combination of high digging forces, outstanding stability and effortless maneuverability in this category. In addition, the lower weight of the machines makes transportation easier.
"Together with the other models in the R-Series range, we developed the E27 mini-excavator specifically with German customers in mind, offering a unique combination of superior stability and class-leading digging force," the spokesperson added.
GaLaBau 2018 took place in Nuremberg, Germany, on September 12-15, 2018.