Electric material handling vehicles are set to benefit from Navitas Systems' decision to opt for a Delta-Q Technologies charger in its latest battery pack.
The fully integrated 24V lithium battery charger pack Starlifter-AC was showcased at The Battery Show, North America, in Novi, Michigan last week.
A zero maintenance, long lifecycle lithium solution can be charged from a standard power outlet using the IC1200 Charger from Delta-Q.
"We're delighted to integrate Delta-Q's IC1200 battery charger as an onboard charging option on our 24V Starlifter batteries and provide our material handling equipment customers with a new level of charging capability," said Samer Elshafei, director of commercial sales for Navitas Systems.
"The Starlifter-AC comes in two sizes-275Ah and 550Ah capacities. The 550Ah size in particular represents the largest commercially available lithium forklift battery to be chargeable via an integrated charger. Delta-Q's software customization capabilities enabled us to easily integrate the charger with our unique battery management system, which fulfils our customers' needs for smart, reliable and safe equipment."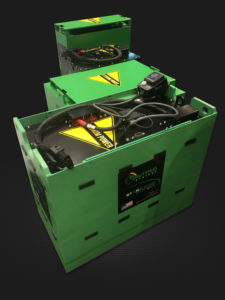 Part of the family
Part of Delta-Q's IC series, the charger is sealed and records critical charge data such as power returned to the battery, the charge cycle completion and the charge profile being used. It has an IP67-rated external fan, which provides active cooling for full 1200W charger output in high ambient temperatures.
"The Starlifter is an impressive lithium battery line, and we're proud to provide our charging solutions for its latest model," said Trent Punnett, vice president of sales, marketing and product management at Delta-Q.
"As lift-truck OEMs and major customers continue to switch to lithium solutions for their industrial equipment, we'll continue to innovate and provide the industry with a wide range of high-quality chargers that best suit their electric portfolios.