Manitou Group has launched four new construction solutions for the emerging Asian markets.
Hosting dealers and international journalists at an event in Thailand, the OEM presented two telehandlers and two compact loaders designed specifically for Asia, the Middle East and Eastern Europe.
The Manitou MXT 840 and Gehl TX 408 telehandlers have a wide range of attachments and with a 7.6 m lifting height for a capacity of 4 tons, the machines can easily extend to two stories on a building construction site.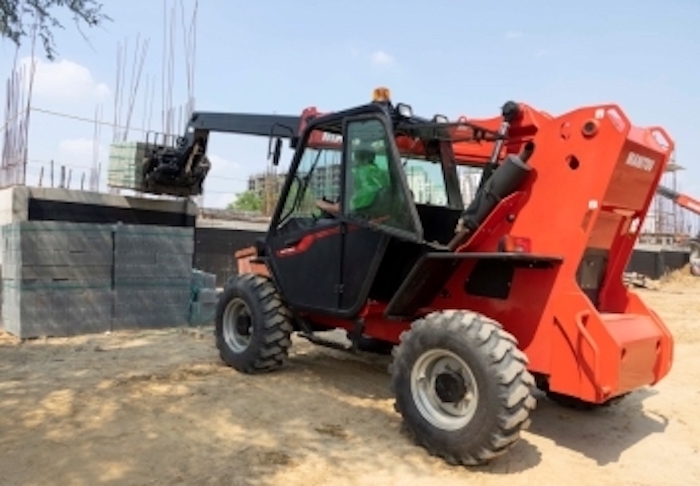 With 4-wheel steering, both models have three steering modes and have a ground clearance of 39 cm which means it makes light work of crossing difficult terrain.
Kévin Arnou, product manager at Manitou Group, said, "Our ambition is to develop the telehandler market through models that are easy to use, robust and that have a total ownership cost suitable to the local users.
"The 6 m to 10 m telehandler segment in the Middle East and Asia-Pacific represents a significant part of the telehandler market. It therefore provides a lot of growth leverage for the group.
"Our choice is also justified by the telehandler equipment needs that are growing significantly in the short and long term due to progressive modernization projects in those regions."
Like their telehandler relatives, the Manitou 1340R and Gehl R134 compact loaders also have a large choice of attachments and capable of performing multiple tasks eliminate the need for different equipment on a job site.
Equipped with a 49-hp engine and a torque converter transmission, the models provide a lifting height of 3.58 m for a load capacity of 608 kg. At 1.3 m wide and 1.9 m high the machines can easily move in tight areas on building construction sites and thanks to their 2.2 m dump height and turning radius of 1.75 m are very suitable for filling dump trucks in road construction projects.
Philippe Bisson, Manitou Group's development director for the construction line said, "The 600 kg compact loader segment constitutes a significant part of this market's annual global volume.
"The R134 / 1340R model is mainly aimed at the Middle East, India and Australia, which together make up more than 70% of the sector.
"We expect a significant increase in demand for compact loaders, and trends recently observed in other markets, such as gondolas, makes us optimistic about the future of the loader in those regions."