Manitex Valla of Italy, subsidiary of the US based Manitex international has just  launched the all new  V 110 R Electric Mobile Crane – which is battery operated and remote controlled.
The machine follows the previously launched V 80 R, with front wheel drive and removable counter weights to maximise transport flexibility, with a capacity of up to 11,000 kg and a lifting height of up to 10.4 meters, the electric V110R is aimed at the most demanding markets, which need a machine that is easy to manoeuvre but, at the same time, with excellent performance and a very high level of security.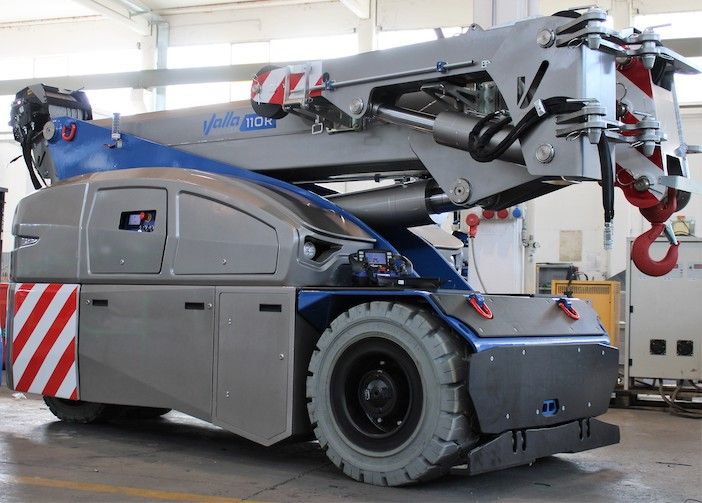 The machine has max turning radius of 3945 mm, max width of 1497 mm and  max machine height of 2232 mm to make sure that  the new V 110 R  is suitable to work in tight places and congested areas but securing in the meantime maximum manoeuvrability and flexibility to the most critical and demanding  operating environments.
Among the technical features that make the new V110R a machine with great potential on an intermediate size, are the hydraulic system, 180-degree rear steering, electro-hydraulic brakes, and on-board charger, there are also several options available, which complete the crane making it versatile and suitable for the most specific needs: extended wheelbase, winch, self-levelling forks, stabiliser bar, non-marking wheels and foldable jib.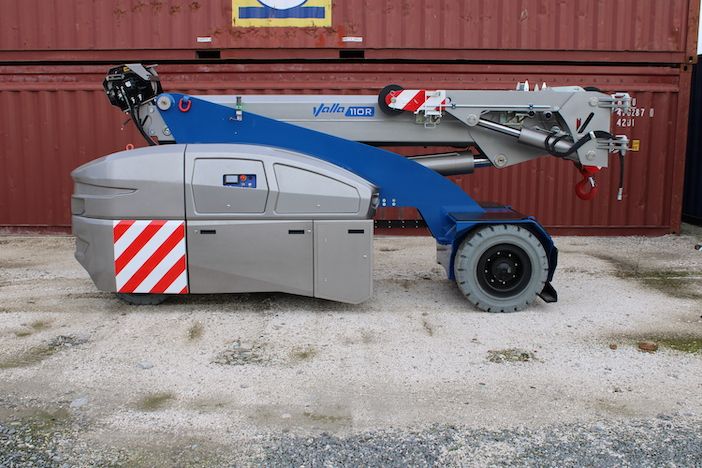 "We have studied the V110R to adapt to both rental and end users' requests – explains Carlo Forini, Manitex  Valla general manager. "It is a machine that is aimed, at the more mature markets that see electric pick and carry cranes as a fundamental tool for obtaining certain performances by operating in a simple way, with maximum safety and respect for the environment."
"When we say Valla, we mean versatility," says Steve Filipov , CEO of Manitex International  "Those who work with Valla  pick & carry cranes know the benefit and the return of investment  of these machines well  and they what appreciate about a Valla it is  the  possibility  to adapt  the crane to the most diverse application sectors that require high performance, safety and ease of use; the all  new V110R crane, just launched on the market, was born precisely to satisfy all these requirements."