Manitou Group showcased its new of compact skid steer and track loaders and launched a new range of telehandlers dedicated to the North American market, at ConExpo (14-18 March 2023) in Las Vegas.
The seven new telehandler models are to be made available under the Manitou (MTA range) and Gehl (TH range) brands. Manufactured at the Yankton facility in South Dakota – which has benefited of the OEM's recently announced $74 million manufacturing investment in the region – the new telehandler series is designed to meet the needs of the construction and rental markets in North America.
The range offers a lifting heights between 43 and 56 feet, and lifting capacities of between 6,000 and 12,000 lbs. The new design also offers improved visibility, enhanced comfort and performance, and a lower total cost of ownership.
A new cab in the telehanders provides enhanced comfort and better visibility around the machine. Noise pollution is greatly reduced to 80 dBA inside the cab. In the driver's cab, an intuitive dashboard provides operating and maintenance alerts, and the JSM (joystick switch and move) allows fingertip control of every function. For enhanced comfort and safety, the range also features an automatic parking brake.
"We have done a great deal of work on the comfort and performance of this new range. The new load-sensing hydraulic system improves smoothness and accuracy, and the combined hydraulic movements provide greater efficiency for increased productivity," says Steve Kiskunas, US telehandler product line manager. "The new transmission's automatic mode offers greater flexibility and optimum torque with less operator fatigue, with the option to switch to standard powershift transmission at any time."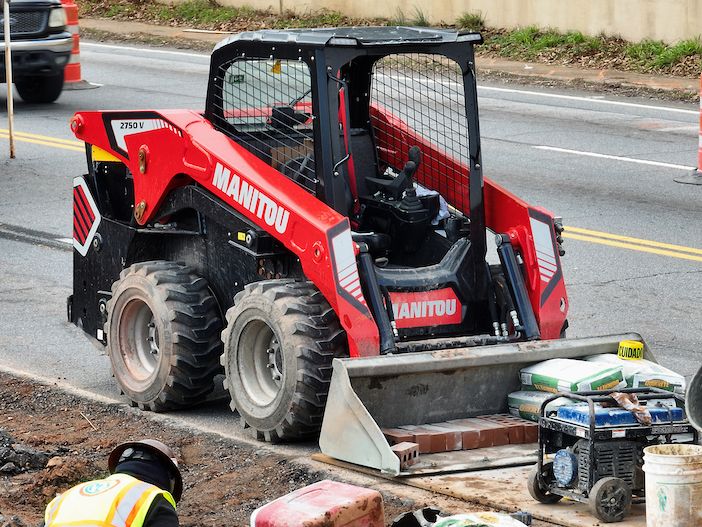 Skidsteers and track loaders
Three new V-Series compact skid steer loaders and three VT-Series compact track loaders, available under the Gehl and Manitou brands respectively, were also on display. These six new models have a capacity of 2,100 lbs to 2,750 lbs.
"We have focused on improvements in five main areas: safety, comfort, productivity, simplification, and serviceability," says Nathan Ryan, compact loader line manager. "All models are vertical lift and feature a new lift arm design. The driver's station has also been redesigned with an improved version of our patented folding door. The new cab also offers some of the best visibility on the market thanks to a new window and roof design."
The breakout force is now 12% higher on average (compared to the previous range) and the tank capacity is increased by 14%, allowing users to enjoy greater productivity. The new loaders feature keyless start requiring only code activation, LED lighting, and a patented Pilot joystick system as standard, adjacent to the operator's seat. Numerous innovations also facilitate maintenance with a lifting cab and centralized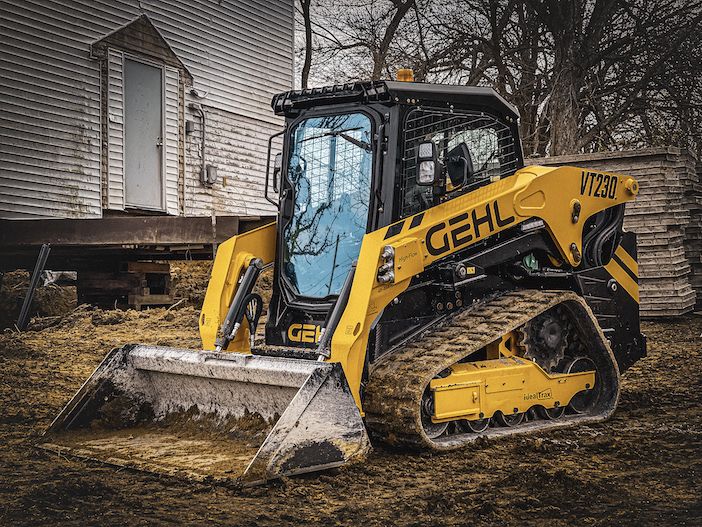 Going electric
ConExpo also gave Manitou the chance to give the US debut of its first ever all electric compact telehandler. The MT 625e, with a capacity of 5,500 lbs and a height of 20 foot, boasts performance as good as the internal combustion version and is the same size. Fitted with a 25 or 33 kWh lithium-ion battery, this model reduces the maintenance budget by 56% and significantly reduces the total cost of ownership.
Ideal for indoor applications, downtown or renovation of historical buildings, the MT 625e benefits from the optional Operation Safety System and Harmony on-board display for safe and easy operation. Made in France, this model is available for the European and North American markets.
Manitou also presented a battery electric rotative telehandler. The MRT 2660e from the recent VISION+ range has a loading capacity of 13,000 lbs for a respective lifting height of 85 feet, this model performs just as well as the internal combustion models and even allows simultaneous boom movements.
The 700 V/65 kWh lithium-ion battery gives a run time of approximately four hours which can be doubled with the addition of a second battery. Users have a third option with a hybrid version of these models using a range extender. This configuration improves flexibility, in particular to make long journeys between two sites or to charge the battery on sites that do not always have electric charge points.
There are also several charging mode options, with an on-board 11 kW charger for charging in 4 hours 30 minutes, and an on-board 22 kW charger that takes just 2 hours 15 minutes.
And more…
The OEM also showcased its MHT range of heavy-duty telehandlers, with capacities from 20,000 to 73,000 lbs, for a working height up to 39 feet; its M40 lift-truck, with 45-degree tilting mast, a load capacity of 8,800 lbs, and two lifting heights of 22 feet with the triplex mast version, and 15 feet with the duplex mast version; its electric platform range; and new finance and Easy Care warranties.