This week (ends May 24) Raymond Corporation has been commenting on its recent win of an International Intralogistics and Forklift of the Year (IFOY) award for its Virtual Reality Simulator.
Utilizing an existing physical forklift truck, the virtual reality system is plugged into the firm's patent-pending simulation port and allows for operator training in a safe environment. With different modules for a variety of forklifts, the lessons increase in complexity in order to build the individual's confidence in best practice handling before reaching the warehouse floor for real.
An additional benefit of the simulator is to give customers the ability to pre-screen incoming forklift applications, providing managers and operators with a detailed picture of user performance to identify opportunities for improvement.
"After rigorous testing and evaluation by the world's top material handling experts, it was an honor to be named an IFOY Award winner," said Michael Field, CEO, The Raymond Corporation. "In a time where, globally, the manufacturing industry's skills gap has reached a critical point, we wanted to create a product to help coach lift truck operators efficiently and confidently. The skills the Raymond Virtual Reality Simulator teaches can be applied to any forklift operation job, anywhere in the world."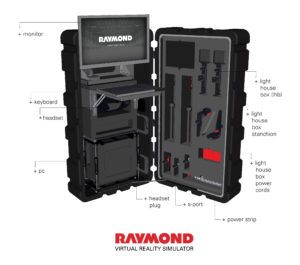 Made up of an international expert jury, IFOY assesses solutions and equipment objectively based on performance capability and innovation, with the aim of recognizing superior intralogistics and manufacturing products and solutions.
Following several days of testing by experts, the forklift OEM was announced as the winner of the special of the year category at a special awards ceremony in Vienna, Austria last month.