The DLG, organiser of Agritechnica, has announced the winners of the gold and silver medals of the Agritechnica Innovation Awards 2023, including big wins for New Holland, part of CNH.
The gold award went to the OEMs prototype next-generation CR twin axial rotor combine harvester, while its T4 Electric Power fully-electric and T7.270 LNG methane powered tractor landed Silver Awards.
Two other CNH-owned vehicle brands also won Silver Medals: a diesel-electric hybrid CVT concept, presented installed in a serial production model of a 180hp Steyr tractor; and a Forward Looking Feedrate Radar for the Axial-Flow Combine, by Case IH, which uses radar sensors to scan crops and thereby improve harvesting efficiency.
Claas also won two Silver Medals, one for its multi-dimensional three-point power lift regulation to enable tractors to automatically level attachments for more efficient work; and a second, which was a collaboration with implement manufacturer Amazone and agricultural robot OEM AgXeed on a system that can help autonomous and traditional farming equipment communicate.
The final vehicle OEM netting a Silver Award was AGCO's Fendt, which in collaboration with ConGra Victor Klüber and Fritzmeier Umwelttechnik, has produced an Automatic Conditioner Adjustment system, which uses satellite data and sensors connected directly via IOSbus to a mowers's job computer, to enable grassland to be cut in such a way as to maintain optimal dry matter for silage production.
Gold Award winner
Set to be built in New Holland's Belgian plant at Zedelgem, the Gold Award winning combine from New Holland hosts advanced automation features increasing throughput, grain retention, grain protection and fuel efficiency over the current flagship CR combine range.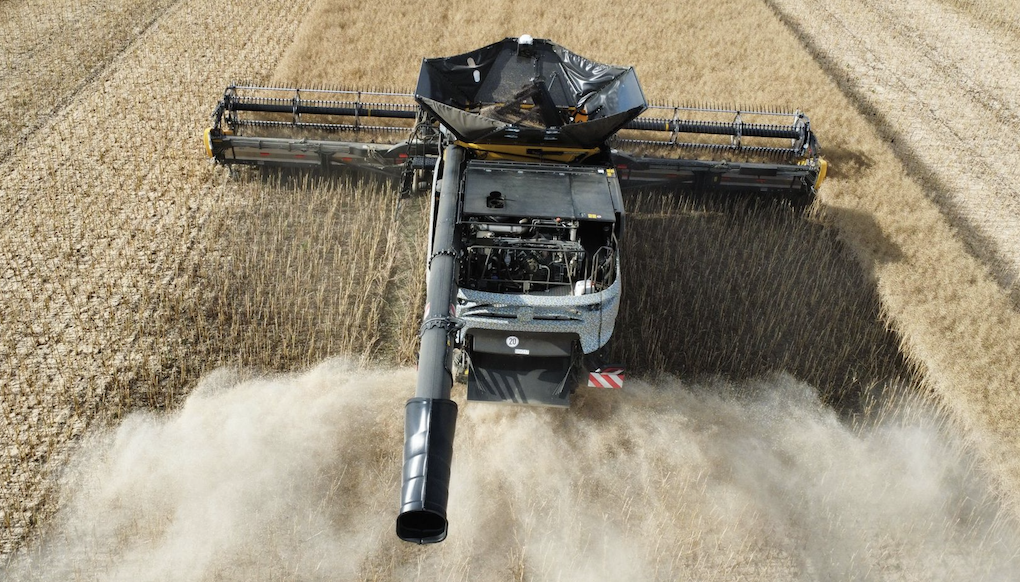 ABOVE: Only New Holland's concept CR twin axial rotor combine harvester made the gold standard
The core innovation of the CR concept lies in its drive technology. An engine, longitudinally mounted operates the central split-power gearbox, driving rotors and harvesting headers either with an intake chain or via a propeller shaft. Consequently, there are no drives on either side of the chassis, so the width of the chassis is increased and the resulting space used to widen the threshing channel therefore increasing output.
Methane power
With the Silver Award winning T7.270 LNG, New Holland is the first manufacturer to develop a methane gas tractor with LNG (liquefied natural gas) tanks, giving much better volumetric energy density than the alternative storage method of CNG (compressed natural gas).
ABOVE: New Holland's methane-powered T7.270 is the first methane gas tractor with LNG tanks 
Utilizing innovative double-wall technology, vacuum-insulated tanks are adapted to tractor spatial conditions, enabling a 200kg tank capacity. To address boil-off gas challenges, a cryogenic cooler maintains methane below -162°C, powered by a low-energy electric cooler. The system is powered by a battery that can be charged externally or via the integrated IC generator, which uses boil-off gas for autonomous operation.
New Holland now offers LNG gas engine options with the T7.270 Methane Power, catering to the agricultural sector's rigorous demands. Additionally, users can opt for bio-LNG, using their biogas as a CO2-neutral vehicle fuel.
The non-vehicle-OEM Silver Award winners were: Wilhelm Stoll for its Telescopic Front Loader; Saphir for its GrindStar stubble tillage system; All-In-One for its Rotating Ridge Former; Zunhammer for its Eco-Duo Vario precision fertilisation system; Amazonen-Werke for its CurveControl for centrifugal spreaders; Grimme Landmaschinenfabrik for its ChangeSep interchangeable separator; Shaktiman GRIMME Root Crop for its Potato windrower with SmartFold;  Maschinenfabrik Bernard Krone for its Grinding Device without manual readjustment for forage harvesters; Lemken for its iQblue tool monitoring system; and Precision Planting for its Radicle Agronomics soil sampling system.
For more detail on all the Agritechnica Innovation Award winners, plus an exclusive interview with New Holland's brand president Carlo Lambro, don't miss the October 2023 edition of iVT magazine.