EIMA International, the exhibition of agricultural machinery, is to take place at the Bologna Exhibition Centre from 3-7th February 2021. The event was postponed from this November, but is going ahead in February partly in response to continued global demand for the latest agricultural technology.
Despite the fact that many live events are being cancelled or postponed, organisers are confident EIMA will go ahead. This is because demand for agricultural machinery is still present through the pandemic, with farmers being relied upon, as they always have been, to produce food for the world. Furthermore, a whole raft of new measures are being put in place to ensure the exhibition is a 'Covid safe' environment.
"The Covid emergency has slowed down the agricultural machinery market but the demand for machinery is potentially very high, and businesses need an event that brings together the technologies produced by the industries in the sector with the needs of agriculture in different areas of the world," says Alessandro Malavolti, president of FederUnacoma, the Italian manufacturers' association behind the event.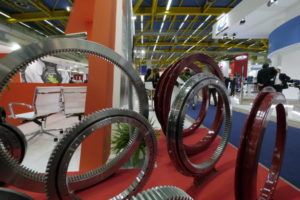 One of the many safety measures that will be put in place in Bologna in February will be the control of the flow of visitors. This will be enhanced via an app for visitors, which will indicate the flow of the public in the pavilions at any time of the day, thereby enabling attendees to pick the most fluid routes.
Furthermore, the EIMA Digital Preview , which will take place on the original show dates of 11-15th November, will enable visitors to more carefully plan their visit to the physical show, meaning social distancing measures can more easily be adhered to.
"The international scenario is still critical, and for this reason we are studying measures to facilitate participating companies both from an economic and organisational point of view," says Simona Rapastella, FederUnacoma general manager. "But above all we are working to offer exhibitors and visitors the highest standards of safety".