B&R presented an innovative solution for mobile automation at the UK's premier working industrial vehicle show, Hillhead 2018, this week (June 26-28).
Its X90 mobile controllers are designed to implement flexible automation concepts. At the heart of each controller is a powerful ARM processor and 48 multi-function I/O channels. Basic features include interfaces for CAN, Ethernet and the real-time Powerlink bus system.
Adherence to specific industry standards for agriculture, forestry, construction and municipal vehicles ensures maximum flexibility when using mobile automation products. In addition, the X90 mobile control system also carries numerous certifications.
"It's essentially a factory automation PLC, but in a rugged package, that can be deployed onto machines and with that bring the connectivity of the factory automation world – so Ethernet protocols, moving away from the more traditional CAN protocols and communications. So, we're bringing real-time Ethernet communications to vehicle," B&R Industrial Automation managing director Alan Conn told iVT at Hillhead.
"It's also a scalable solution. In our programming environment we have 'function blocks'. These are blocks of machine code that are pre-created, that the OEM can plug together to create different application code packages and create machine code for their vehicles really quickly and really efficiently and effectively," Conn continued.
"We have a whole suite application code that we call MAP. We frame it almost like your apps on your smartphone. We have different apps for different functions like you would on your smartphone – if you download Facebook or something like that it would connect with your contacts on your phone. In the machine automation world these applications connect and interlink together. So they're like function blocks on steroids!"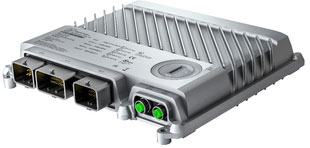 The X90's extremely robust cast aluminium housing provides space for up to four expansion cards, which can add additional I/O channels, interfaces and even a full-fledged safety controller with safe I/O. Additional expansion cards for USB, WLAN, Bluetooth and GPS interfaces are in planning.
All products in the X90 family are designed for use in harsh industrial environments and can handle operating temperatures from –40°C to +85°C, as well as strong vibrations or shocks. They are also resistant to salt, UV light and oil.
The X90 system offers all of the advantages offered by B&R automation technology, including modular and hardware-independent software development using modular software blocks that greatly reduce software development times and ensure software reusability.
Safety technology and extensive troubleshooting options are also fully integrated in the B&R system and available to X90 users without limitations.
Expansion cards allow the modular X90 control and I/O system to be tailored to any application, so it can be used to control any physical part of a vehicle.