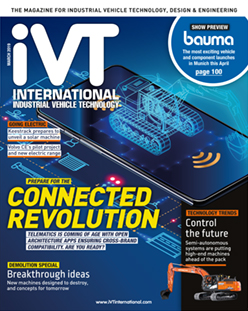 The March 2019 issue is now available online! Packed full of news, interviews and features, including:
BUILDING APPS : The connected revolution is taking hold in the construction vehicle industry. Now, as well as designing machines, OEMs must consider developing smartphone apps to enhance their vehicles' connections with each other and even help them communicate with rival brands.
GLOBAL VILLAGE : On April 8-14, the construction vehicle world will descend on Munich for the world's largest construction trade fair – Bauma. This year organizers are confidently predicting visitor numbers will exceed 600,000 for the
first time.
LOCAL HERO : Growing up in Motherwell, Scotland, and studying engineering, Paul Douglas was, at the very start of his career, inexorably drawn to the off-highway production facility that is part of the life of his hometown.
APPETITE FOR DESTRUCTION : Demolition is one of the most dangerous jobs on any construction site, which is why small, remote control vehicles are leading the charge in a new era of innovation.