ABM Greiffenberger is increasing industrial vehicle power with the introduction of its drives.
Offering all drive components from a single source, the parts contribute to fast movement and smooth transportation of goods by logisitics vehicles.
Providing traction, lifting and steering to forklifts, the TDB series bevel gears and parallel shaft gears meet strict environmental and emission requirements.
The gearbox solutions from ABM also make high gradeability and acceleration of pallet trucks possible. Even at low speeds forklifts can be controlled precisely – with highly dynamic steering, allowing operators to manoeuvre them more easily, even in tight spaces. Ready-to-install plug-and-play systems are available in modular form according to a platform concept with motor, gearbox and sensors easily integrated into different vehicle types.
TDB series bevel gears can be used for a variety of purposes, found in reach trucks, tow tractors, autonomous transport systems and sweepers/scrubbers. Even with small batteries, users can work reliably for long periods and the series was extended with a drive that can handle output torques up to 750 Nm. With an unchanged installation space, the drive torque was once again increased by 15% over the predecessor model.
The vertical motor mounting and the further optimisation of gearbox components such as gearing and housing lead to a small envelope circle: the user benefits from a space saving gearbox installation.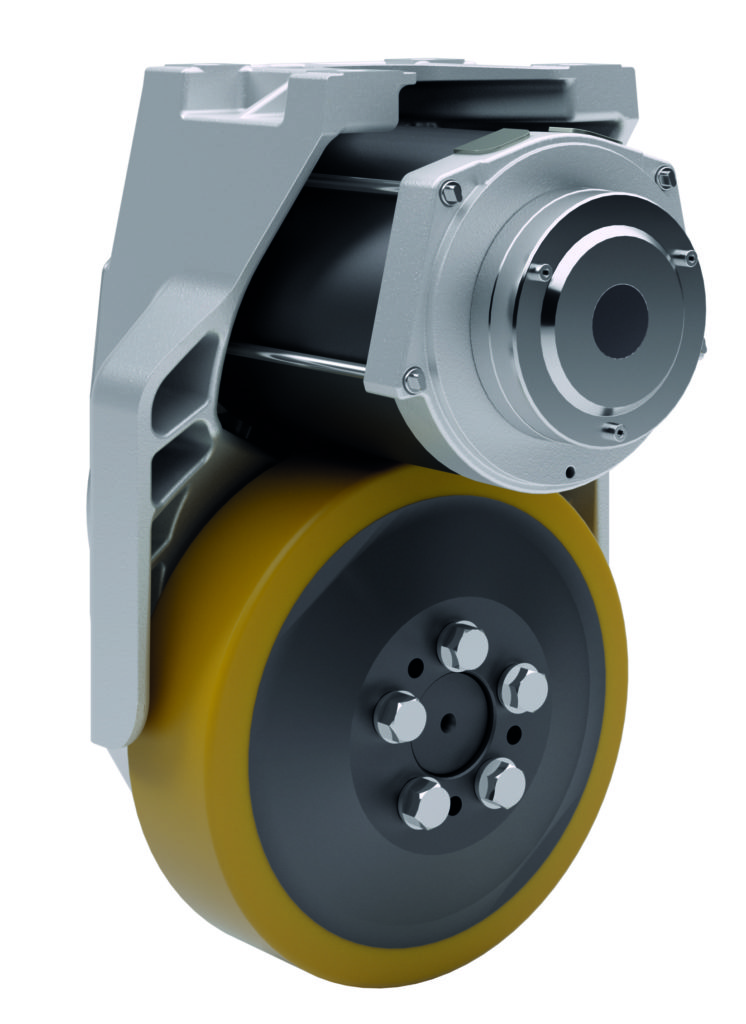 ABM Greiffenberger developed the bevel gearboxes for wheel diameters of 230 and 254 mm and a wide range of applications and great flexibility: application-specific combinations of gear ratio and motor output can be easily realised. The series is also available in combination with an integrated steering drive and redundant steering monitoring right on the drive wheel. For 'driving' ABM offers temperature monitoring via a temperature sensor. Motor speed recording is done via an incremental encoder with up to 64 pulses per revolution. Use of a regenerative AC technology is also possible. An electromechanical holding brake takes care of parking and emergency stopping. The overall design thus offers a wide variety of functions and combination options. Now both developers of customised individual applications and OEM project managers for cross-fleet platforms have the ideal drive for their respective application available.
TDF series parallel shaft gears impress through their high efficiency, quiet running and longevity. Especially quiet running is stressed over and over by users. This is made possible by the highly optimised helical gear technology used by ABM Greiffenberger. The gearboxes are suitable for use in pallet trucks and three-wheel sit down forklifts, amongst others. The die-cast aluminium alloy housings used with sizes 200 and 230 mm ensures lightness, high stability and corrosion resistance. The housings for versions with wheel diameters 254 and 471 mm are are made out of robust ductile iron.
ABM offers the TDF series with a motor output of 1.2 to 4.7 kW. The maximum wheel torques range from 435 to 1,400 Nm. The gears can be supplied with different gear reductions based on the applications. ABM Greiffenberger can develop customer-specific housings for a cross-fleet platform design and large vehicle volumes. Even with the TDF series, precise motor speed recording for smooth deployment is possible.