Yale Europe has showcased its latest affordable robotic solutions designed to complete repetitive material handling tasks.
At an invitation-only 'This is Yale' event near Dusseldorf in Germany, the company presented a number of automated machines in front of selected dealers and customers.
"Having the opportunity to present our robotics solutions has been an exciting moment for everyone involved," said Ron Farr, warehouse solutions manager for Yale.
"As the Industry 4.0 trend continues, our robotics range can open the door to more flexible, affordable solutions that don't require the installation of a physical infrastructure to support navigation which can be time consuming, costly to install, and disruptive to the operation."
The new Yale robotic tow tractor took part in a demonstration highlighting its ability to support lineside production and logistics 'milk run' loops. Capable of towing several trailers at a time, the robotic tow tractor can deliver new kits to line operators while collecting empty containers simultaneously, ensuring production lines are fed 'just-in-time' and 'just-in-sequence' for boosting productivity.
Tracy Brooks, industry solutions group manager at Yale, said, "After the initial mapping, the Yale MO50-70T robotic tow tractors can operate autonomously, there's no need to bury wires in the floor or mount reflectors on the wall. Once it's received its instruction, the robotic tow tractor can self-locate and navigate to its first destination. It can carry components needed to feed the production line and deliver them to the correct line-side point."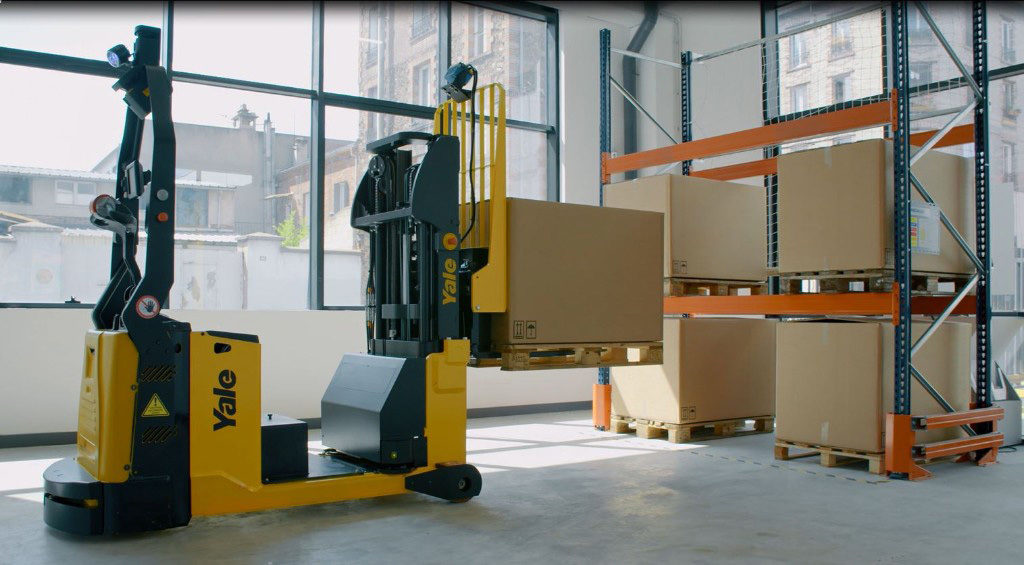 Mapping and navigating combo
The Balyo geoguidance navigation system – where the MC15 robotic counterbalance stacker uses the same sensors to map the facility that it uses to navigate it – was demonstrated, and visitors to the event discovered how the technology enables the robotic truck to be up and running without the need for dedicated navigation infrastructure.
The robotic counterbalance stacker is capable of both horizontal transport and vertical lifting, making it ideally suited to warehouse applications. The truck's ability to lift and lower loads means it can autonomously deposit and retrieve pallets from racking with ease.
Suitable for a wide variety of repetitive jobs including transferring pallets to conveyor lines, loading and unloading in cross-docking applications, and stacking loads in elevated spaces, the truck can help free up the existing workforce for higher-value tasks.
With no dedicated infrastructure required, visitors learned how the robotic counterbalance stackers operate autonomously without the need for any wires, magnets or reflectors. This reduces the cost of installation and virtually eliminates ongoing structural maintenance.