Sennebogen is launching a new duty cycle crawler crane in time for the world's largest construction trade show.
Making its debut at Bauma 2019, the new, 100-ton operating weight 6100 E expands the OEM's product portfolio for the vehicle type.
Designed for a wide range of tasks, the new model is at home carrying out special foundation work, as well as mining, soil compaction and demolition applications.
Slotting between the 70 ton and 140 ton machines, the 6100 E has a robust construction, a powerful multi-circuit hydraulic system and a strong-slewing drive.
Equipped with two standard 20-ton freefall winches to provide high levels of traction, heavier duty winch versions – 27.5 ton and 30 ton – are also available as options, with all three featuring reliable winch synchronization.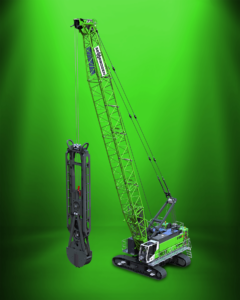 The telescopic crawler undercarriage with removable tracks enables different track gauges to be realized and reduces transportation weight to less than 40 tons. 
Compliant with EU Stage V emissions requirements, the 451kW engine and a Stage III 447kW unit are available.
A modern Maxcab comfort cab provides operators with an ergonomic work environment. The cab can be optionally inclined by 15° in order to enables an even better view of the attachment and the work environment.
Numerous walkway options, a fall arrester on the boom and a continuous uppercarriage railing have been introduced to maximize safety on the vehicle.