Bobcat has announced the launch of its new TL43.80HF, bringing to 15 its current range of rigid-frame telehandler models, covering maximum lifting capacities between 2.6 metric tons and 4.3 metric tons and maximum lifting heights from 6m to 18m. (20ft-60ft).
The new vehicle, designed and produced at the company's plant in Pontchâteau, France, is particularly designed for heavy lift handling applications found in general industry, manufacturing, construction, warehousing, quarrying and mining.
"At Bobcat, for over 60 years, we have been constantly innovating the market – always developing new machines for customers' needs," said Olivier Traccucci, telehandler senior product manager at Bobcat.
"The new TL43.80HF is no exception to this legacy as it completes our range of telehandlers and ensures customers can benefit from unmatched loading productivity and lift capacity. Bobcat machines are made for tough jobs, while still providing all the agility and versatility any application would require."
Compact design, high lift capacity
Thanks to a high lift capacity of 4.3 metric tons and a maximum lift height of 7.5m (24.6ft), the TL43.80HF brings together robustness, rough terrain ability and ease of use for the operator in the same machine.
The very high stability of the TL43.80HF is achieved through the design of the box welded frame, the low load center, the long wheel base and the new massive rear counterweight, enabling Bobcat to minimize the overall dimensions of the machine, resulting in a width of only 2.3m (7.5ft) and a length of less than 5m (16.5ft) from the rear to the fork face.
Together with a short turning radius of just 3.71m, this new Bobcat telehandler is a very maneuverable machine, a particularly useful feature when it comes to working in confined environments.
The rough terrain capability of the TL43.80HF has also been optimized for applications such as working and digging in piles of materials with the incorporation of new heavy-duty Dana Spicer axles with limited slip differential and the outstanding tractive force available of up to 90% of the machine weight.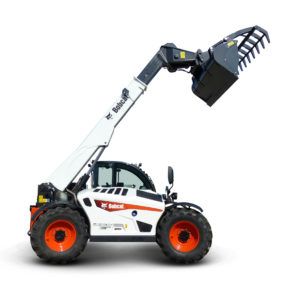 In addition, the TL43.80HF offers as standard automatic functions that enable the operator to focus entirely on the work at hand, such as boom cushioning, the parking brake and the reversible fan, which helps to keep the cooling system (radiator) clean in dusty environments.
As in all Bobcat telehandlers, the new TL43.80HF has as standard many smart functions to optimize work on-site including a speed limiter system that controls speed regardless of the engine RPM; boom speed adjustments; and the Eco mode, which can provide a fuel saving of up to 15%.
The TL43.80HF also provides an ideal solution for the heavy-duty, high-productivity segment of the agricultural market, taking lift capacity, lifting height and breakout force to unprecedented levels in this area. It is available with a choice of three different 'agri' packs for the farming market meeting different levels of expectation in terms of ease of use and level of comfort.
The TL43.80HF has a maximum horizontal reach of 4m (13ft) and maximum travel speed of 40km/h (25mph). Customers can choose between a Bobcat D34 97 kW (130 HP) Stage IV/T4f engine or a Perkins 1104D-E44TA 97 kW (130 HP) Stage IIIA/T3 engine.