Massey Ferguson opened Agritechnica 2019 with the unveiling of its stunning new MF NEXT concept tractor. With the words ,"the future is today", and to the strains of a dramatic Hollywood soundtrack the curtain dropped to reveal this astonishing-looking vehicle. A spontaneous round of applause broke out.
Presented in black, grey and gold livery – the same colours as the lunar landing 50 years ago – Thierry Lhotte, managing director Massey Ferguson Europe & Middle East declared it to be, "a small step for Massey Ferguson, but a giant leap for our industry. With the lunar landing, 50 years ago, human beings changed their perception of what is possible and what is not. That small step on the moon, overcoming an apparently insurmountable challenge, sparked a whole new era of more powerful and different thinking."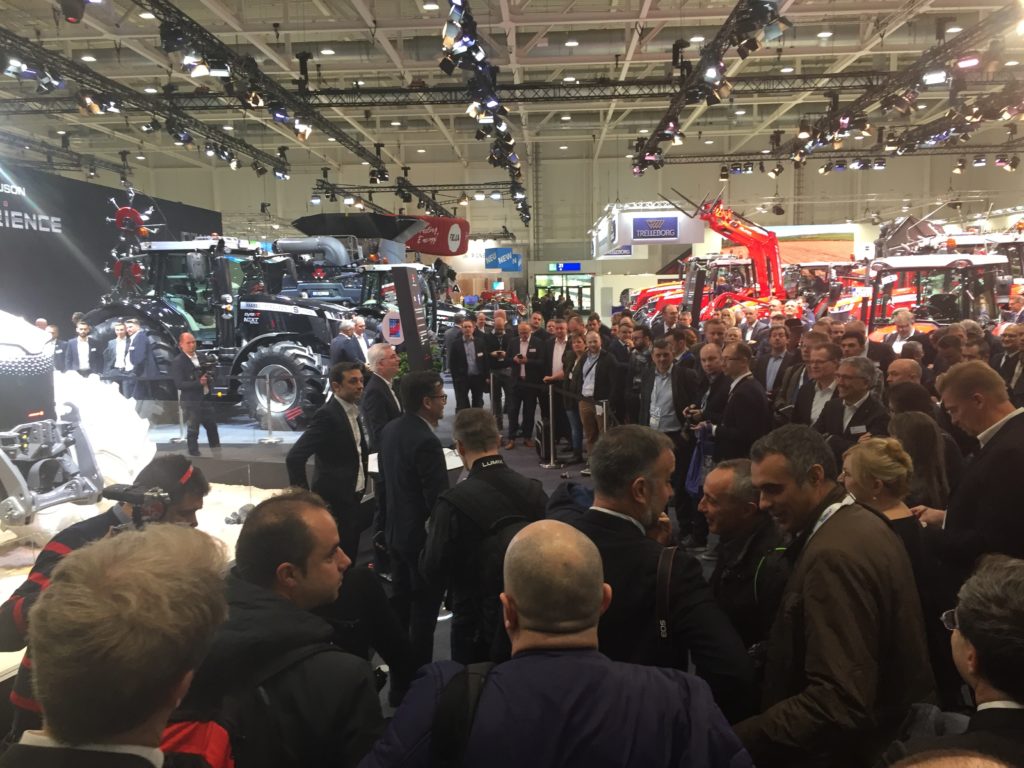 Taking tractor operation to the NEXT level
 "With the MF NEXT Concept tractor, Massey Ferguson presents its dynamic future designs. It is a Concept that embodies Massey Ferguson's DNA and our vision to make tractor technology accessible, easy-to-use and affordable to the most farmers around the world," explains Mr Lhotte
Key element of NEXT
Futuristic but practical design taking operations to the Next level of user friendliness
Full and partially autonomous for road and field operations
On-board integrated technology delivering easy to use precision farming functions
Integrated sensors and cameras to manage inputs in real time
Next level of comfort and control in completely new four-post, steering wheel-free cab with operation via three screens
Augmented Reality heads-up windscreen display
Telemetry with seamless data transfer for farm management systems, and with remote diagnostic capabilities enabling preventive maintenance
Automatic tyre pressure control for unique carbon free tyres
Parametric LED lighting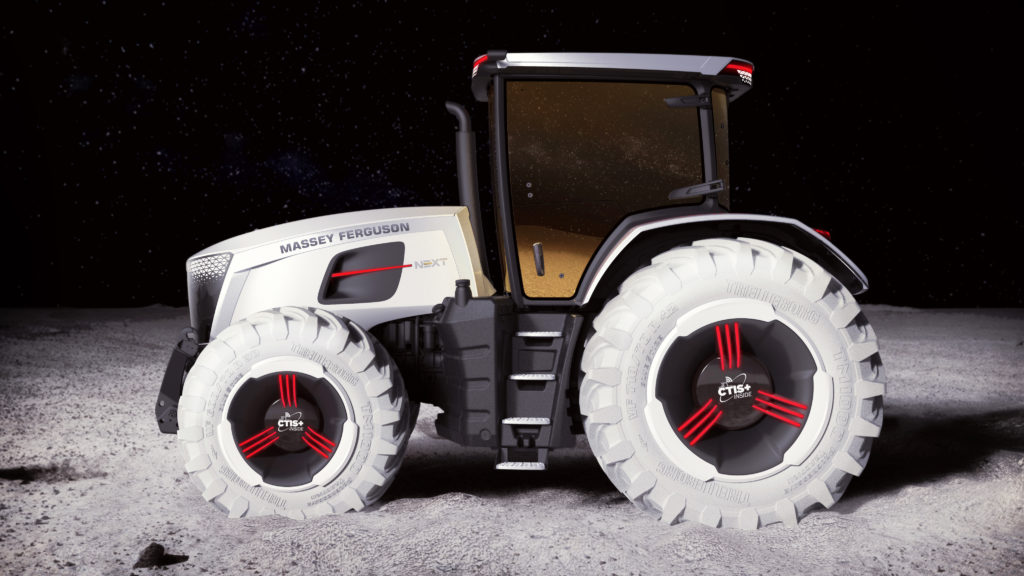 Massey Ferguson's vision of the future
Massey Ferguson recognises that the level of technology in farming operations will increase. There will be demand for more or less advanced level of autonomous vehicles.
"Massey Ferguson will employ the possibilities of new technologies present to make its products more straightforward, intuitive and easier to operate to drive up productivity and efficiency, while making them accessible to the most farmers around the world," says Francesco Murro, Director Marketing Massey Ferguson Europe & Middle East.
"The MF NEXT Concept shows how we intend to shape this future. It takes thinking to the NEXT level of human interaction with machines and how equipment will interact with the operator, soil and crop to produce more with less, in a sustainable way," he adds.
The NEXT level of forward thinking features will make connectivity and precision farming accessible to all farmers, helping them to address future farming needs and conditions.
On-board technology automates operations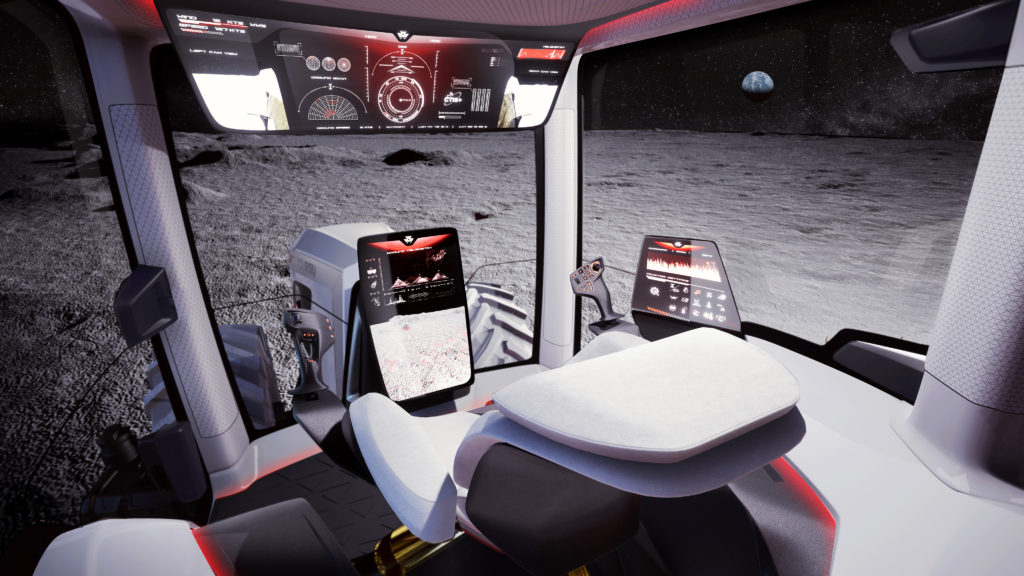 With its on-board technology the MF NEXT Concept simplifies the control of implements and variable application of inputs that will play an increasingly important role in future profitable and sustainable farming.
The NEXT level of connectivity will include on-board crop scanning, delivering the essential data for real-time application adjustments, across the complete growing season.
Sensors and cameras will be fitted into the NEXT tractor's bonnet and cab roof. Capable of scanning the soil and crop in real time, these will seamlessly link into the NEXT generation Precision Farming system, adding further benefits to the existing MF Smart Farming technologies from AGCO Fuse.
The sensors will monitor soil and crop parameters such as moisture and organic matter levels. At the same time they will check for nutrient deficiencies and automatically make agronomic decisions in real time.
MF Rate and Section Control will employ this information to automatically adjust the application rates and implement settings to match prevailing conditions. While
MF Guide steers the tractor, MF Task Doc will data map the operation with records transferred via MF Connect telemetry.
At the same time, this on-board sensing can be employed to adjust other tractor systems and setting, from enhancing the draft control settings through to automatically adapting the cab or seat suspension.
Massey Ferguson's partners, like Trelleborg, are also thinking along the same lines, providing the NEXT level of traction and soil protection for the tractor.
"On the MF NEXT Concept, Trelleborg is introducing its NEXT generation features, improving farming sustainability with new carbon-free tyres and inflation control, which adjusts pressures automatically to match changing conditions," explains Paolo Pompei, President of Trelleborg Wheel Systems. "This ensures the tyres deliver optimum traction with minimum impact on the soil. Trelleborg's CTIS+ Inside system is a perfect example of real-time connected technology that makes our customers' lives easier, more efficient and sustainable."
The NEXT level of operator control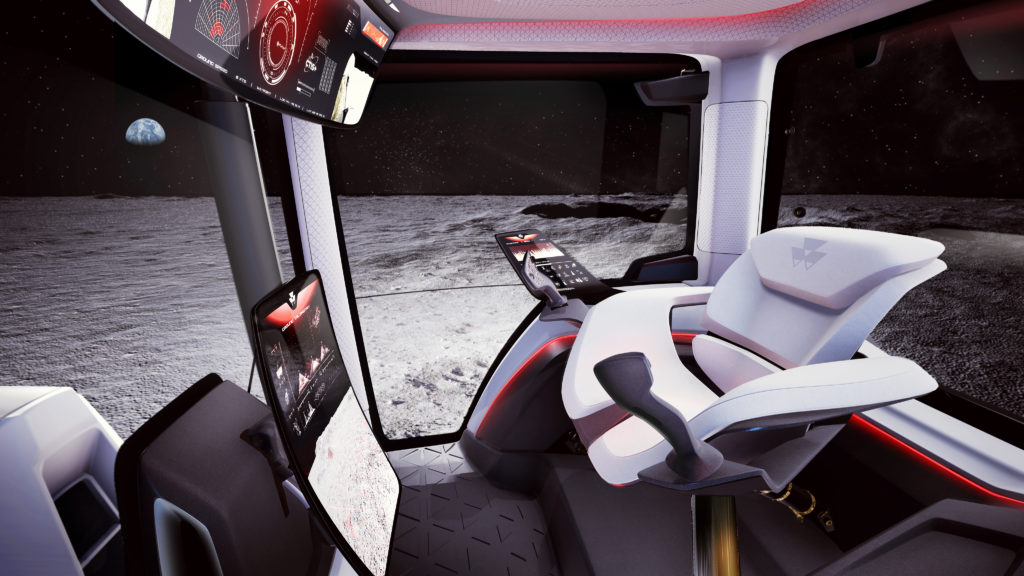 Massey Ferguson believes tractors that provide partial and fully autonomous operations are more suitable for farming and are likely to be introduced into agricultural operations much faster than those for on-road applications. This means farmers still need the ability to operate the machine from an easy to use cab.
Operators of the MF NEXT Concept tractor, however, will not be using a steering wheel, but using two joysticks instead. The left-hand lever operates the steering, while the one of the right controls the transmission – making speed and direction changes. It will also operate spool valves to control implements, all the other tractor's functions through a new development of the current loader multi-function joystick and the Multipad lever.
In the field, however, there is the opportunity to switch to fully autonomous operation. For this there's three screens that set and monitor all the tractor and implement functions, with telemetry transferring all working data back to the farm office and other authorised partners.
There won't be any wing mirrors either. These are replaced by two, wide-angle HD night vision cameras, with the screens inside the cab displaying their images.
Ultimate cab comfort and control remain a top priority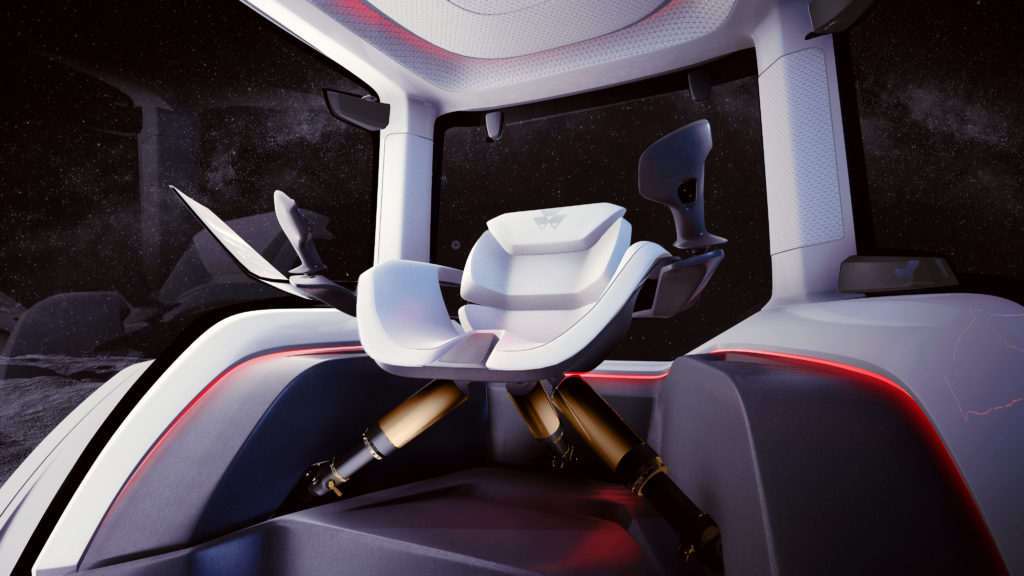 Despite its ability to operate fully autonomously, operators remain in complete control of the MF NEXT Concept tractor, comfortably cossetted in a completely new, wide four-pillar cab that offers maximum space, comfort and superb 360° visibility through the inclined windscreen.
"The futuristic cab interior design reduces everything down to the essentials," explains Mr Murro. "The steering wheel-free space is equipped with three screens, along with Augmented Reality information through the large heads-up display and the windscreen. On-board intelligent technologies support the operator and display the right information at the right time."
Engine noise is minimised thanks to the exclusive engine installation, that provides a 25cm space between the bonnet and the cab, which also enhances cooling.
The tractor also offers the Next Level of customer support, which taps into the MF Connect telemetry service's 100% connectivity, which remotely connects machines with service staff at the local MF dealer. Alerts flag potential problems allowing preventative maintenance to be carried out to maximise machine uptime.
A classically futuristic design
While the MF NEXT Tractor is clearly futuristic, it's 'neo retro' design pays tribute to the brand's heritage. This is illustrated by a new interpretation of the iconic MF grey sabre stripe on the side and horse head collar motif on the bonnet, which dates back to the MF 188.
Some may recognise signs of the iconic MF 2000 Series and MF 3000 Series in the grey rear mudguards, which are now brought into the 21st Century with their parametric fully LED lights. This also offers a glimpse into the brand's future light signature, which can also be seen on the front lights, as well as those in the cab roof. All lights are emphasised with futuristic red LED day light.
Back to the future
While futuristic, MF's NEXT Concept tractor simply continues Massey Ferguson's pioneering spirit. Indeed, this goes right back to 1947 and the launch of the Ferguson TE20, when it was Harry Ferguson's vision to make tractors accessible to all farmers around the world, to help them feed a growing population after the second world war.
Ever since then Massey Ferguson pragmatic innovations have shaped the future of farming with unique innovations, products and services that make advanced mechanisation accessible, straightforward, dependable and easy to use for the world's farmers.
Today, at the dawn of the new farming digital revolution Big Data will be key in making decisions. Massey Ferguson will utilise this wealth of opportunities in its NEXT Concept because it is in its DNA to offer pragmatic, easy to use technology to help farmers.
"Massey Ferguson's mission is to make farmers' lives easier and more straightforward every day in all conditions. With the MF NEXT Concept, we are aiming to develop connected machines. These will be easy to operate thanks to straightforward controls, making them accessible and affordable to the widest range of farmers.
Enhanced precision will save precious inputs – which increases performance, saves money and protects the environment – helping farmers to improve their businesses in sustainable ways".
"With MF NEXT Concept tractor Massey Ferguson is defining the NEXT level of ease-of-use and straightforward dependability. This is one small step for Massey Ferguson, one giant leap for future farmers," concludes Mr Lhotte.