JCB has launched the 403 AGRI Smart Power, a "more economical but equally productive" compact wheeled loader at Agritechnica 2019.
The JCB 403 AGRI Smart Power has a 19kW (25.5hp) version of the 1.5-litre Kubota V1505 diesel engine used in the current 403 AGRI. Torque output is unchanged at 91.6Nm at 2200rpm, so the compact machine can still generate excellent tractive effort for its size.
Tests show that the new engine rating will typically save 10% on fuel bills and because its power rating is below EU Stage V emissions rules, there is no need for emissions after-treatment hardware that would add cost to both the power unit and the machine – so it remains a competitively-priced, highly productive loader.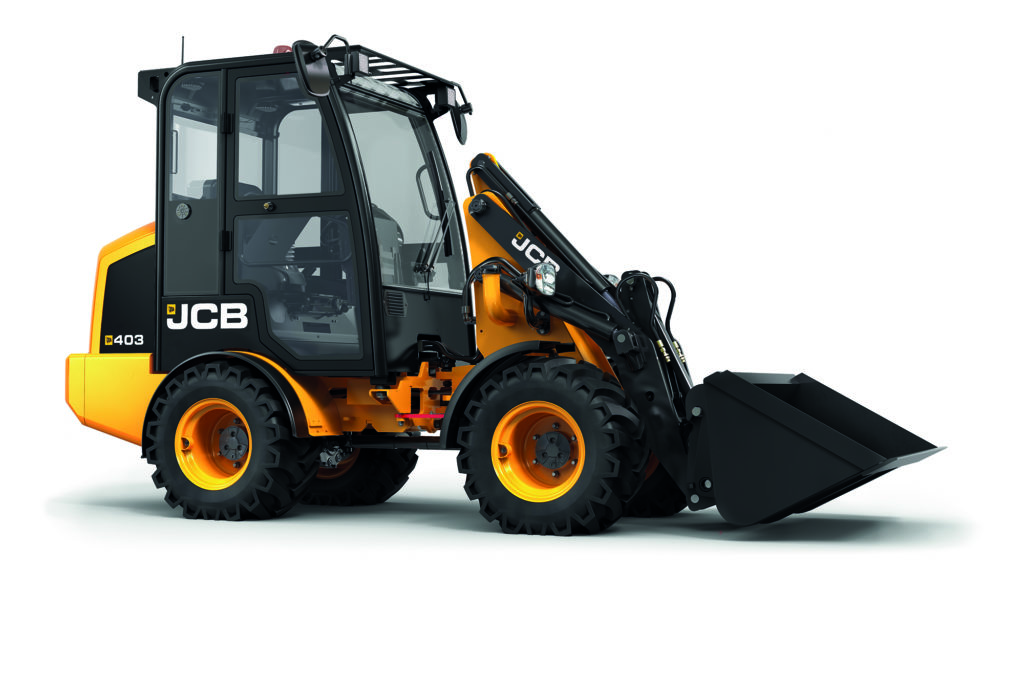 As with its larger capacity wheeled loaders, JCB does not stint on durability and engineering integrity when it comes to the components used on this ultra-compact model – Bosch hydraulics, ZF axles and the Kubota engine complement the JCB-engineered and constructed chassis, loader arms and cab to create a premium quality machine.
A number of new options recently introduced for the current 403 AGRI give owners a choice of operator platform and cab layouts and enhance the loader's ability to work with hydraulically-powered attachments.
The fully-glazed cab provides full weather and safety protection, a heater/demister unit and front and rear windscreen wash/wipe for the ultimate in operator comfort, while the fixed canopy with front and rear windscreens provides easiest access for operators who need to frequently hop on and off their machines.
JCB's new folding FOPS/ROPS canopy is the ideal solution for operators who need to access and work inside buildings where there are low-height doorways, roof trusses or ceilings.
The canopy can be lowered in just 40 seconds, either from the ground or without stepping down from the machine, to reduce the loader's overall height to just 1.84m. Yet it provides shelter from the rain when in place thanks to glass panels in the top of the frame.
New hydraulic options comprise twin auxiliary lines for equipment with two hydraulic cylinders to operate and a free-flow return line for implements needing a constant flow of oil.
These are complemented by the new Vari-speed feature that enables ground speed to be adjusted separately from the engine speed, so that revs can be kept up to provide sufficient hydraulic power for a rotary sweeping brush or feeding bucket while the machine moves forward at low speed.
New front, rear and loader arm-mounted LED lighting options make it easier to use the 403 Agri Smart Power in and around farm buildings at night, while a 160kg supplementary counter-weight positioned behind the rear axle enhances the machine's lift capacity by 151kg with a bucket and 118kg with forks.
The JCB 403 AGRI Smart Power measures only 1.1m wide with narrow tyres fitted, enabling it to access the tightest confines of farm and other buildings, and stands only 2.2m tall when equipped with either the four-post open ROPS/FOPS frame or the fully-glazed and heated cab.