The new LTC 1050-3.1 compact crane from Liebherr comes with an electric motor in addition to its conventional internal combustion engine. This enables crane movements to be powered electrically as an option. The new version of the compact 50 tonne crane meets the requirements for operating on zero emission sites and has adopted the slogan, "zero emission, full power".
Liebherr's crane delivers the best possible combination of green credentials, customer benefits and efficiency. On the road and off-road, it has a conventional, low emissions internal combustion engine which complies with emissions stage 5 and develops 243 kW (326 bhp). The engine can be fuelled with hydrogenated vegetable oil (HVO) with absolutely no restrictions, enabling it to reduce its CO2 emissions by up to 90 % compared to fuelling it with diesel.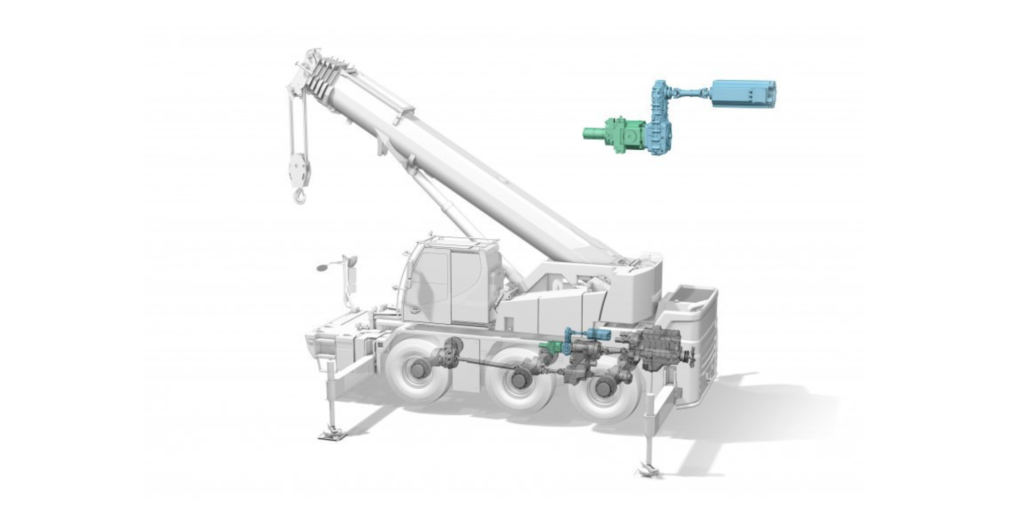 Above: The electric motor drives the crane pump through a distributor gear
"We want to be able to offer our customers full crane performance even with the alternative electric power unit," says ". Dr Ulrich Hamme, technical director at Liebherr-Werk Ehingen GmbH. "The LTC 1050-3.1 still has a conventional internal combustion engine, powered by diesel or HVO, for driving on roads and for crane operations. However, as an alternative it also has an electric power unit for crane operations so that it generates "Zero emission". That means that all the familiar usage properties of the crane will be retained, regardless of whether the crane operations are powered by its zero emission electric motor or its internal combustion engine."
Either the engine or the electric motor can be selected in crane mode depending on the conditions for the job. The latter reduces both air and noise emissions to a minimum. This also means that the machine is suitable for use in noise-sensitive areas and in zero emission areas.
The newly developed power unit featuring an electric motor develops 72 kW and therefore enables the crane to be operated without restriction, in other words with almost the same performance as using the 6-cylinder engine. The electric motor uses the existing hydraulic pump, which is mounted direct on the powershift transmission on the conventional LTC 1050-3.1, to transfer the power to the consumers in the crane superstructure.
Only the electric motor and a distributor gear as well as the required control equipment must be added to the conventional LTC 1050-3.1 model to transform it into an electric version. The distributer gear is located directly between the crane pump and the powershift transmission. This clever yet simple solution enables the operator to switch flexibly between diesel-hydraulic power and electro-hydraulic power.
Site current at 125 A is required to achieve full performance, but the crane also operates very well with a 63 A supply. Alternatively, the crane can operate using an external conventional battery pack if the site does not have the appropriate electrical infrastructure.