Hydraulic cylinder manufacturer used Bauma Munich last week (April 8-14) to launch its new, groundbreaking Microwave Multi-Sensor Cylinder Positioning System, which delivers long linear measurements, in a reliable system that is easy to maintain.
Traditional magnetic sensor systems rely on rods being gun drilled, which leaves tiny abrasions on the rod surfaces. This means that such systems, while extremely accurate and reliable when used in vertical applications, such as on drill rigs, are prone to friction and therefore rapid wear when used in horizontal set-ups in mobile machinery.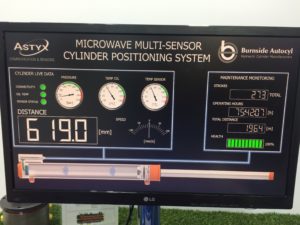 A common problem with magnetic sensor systems in horizontal positions is that the internal sensor rod can fail, which destroys the sensor. Replacing the sensors is a time consuming and difficult task which can result in the need to replace the entire cylinder.
Furthermore, as Burnside Auotcyl engineer John Ritmeisters (below) states, "Once you get beyond 1.5m it becomes massively difficult to make a hole inside any rod. You have to gun drill from two directions and they have to match, otherwise you get a step."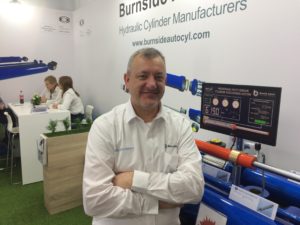 The common failures and difficulty in fitting linear sensors to long cylinders prompted Burnside, two years ago, to go back to the drawing board and begin to create a completely new system. "After a long search we teamed up an aerospace company called Astyx," says Ritmeisters. "They're involved in microwave technology for satellite communications systems and close-range radar."
The new microwave-based system has the complex sensor technology housed in an aluminium box on the outside of the cylinder (below), with only a 'dumb sensor' inside. This means that if either the ram or the sensor is damaged they are both easy and cost-effective to replace. Sensor parts are standard across the whole range and when replaced the system calibrates automatically.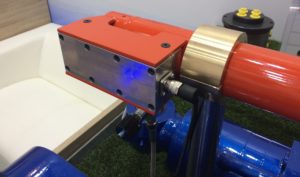 "Another beauty of this system is that you can measure to a factor of 150," says Ritmeisters. "Meaning if you had 100mm cylinder – internal diameter – you could measure up to 15m. So, it brings a completely new perspective on internal linear measurement – something that the market has never ever seen or achieved before."
"It has a lot of other benefits as well, such as the fact that the microwave signal cluster going up the tube and back can also register the pressure and the oil temperature." This pressure data can be used to create 'cushioning' when coupled with a variable speed pump, while the oil temperature is useful to inform maintenance decisions.
The launch of the patented Microwave Multi-Sensor Cylinder Positioning System at Bauma created a great deal of interest from the industry. Burnside reported a packed schedule of meetings with potential new OEM customers.