Set to make their full international launch at November's Agritechnica in Hanover, the 2024 Case IH Farmlift telescopic handlers all now feature the 6F/3R PowerDrive powershift already established on some Farmlifts, and new decals on the revised hood design that enhances vision to the right, a lower sight line aiding safe operation and manoeuvring.
Greater handling capacity
While the Farmlift 633 (maximum lift capacity/lift height 3.3t/6m), 737 (3.7t/7m) and 935 (3.5t/9m) models continue with their established 140 l/min hydraulic system, a new high-flow 160 l/min pump now features on Farmlift 636 (3.6t/6m) and 742 (4.2t/7m) models. This brings a 25% reduction in lifting/lowering times, resulting in faster work cycles and more material moved per hour and per day.
ABOVE: the Case IH Farmlift 742
Handling capabilities are also improved by the integration of the EIMA 2022 award-winning electro-hydraulic self-levelling attachment carriage system. This replaces the conventional compensation cylinder with two angle sensors that provide real-time position information to an ECU. The machine's software then instantly calculates the tilt cylinder's exact oil flow requirement, optimising self-levelling accuracy. Material losses and maintenance are therefore minimised, and complexity is reduced.
New layout simplifies operation
Enhanced controls boost productivity and comfort through improved ergonomics and ease-of-use. A new 7in colour LCD screen makes key machine data easy to read and, via a navigation encoder, allows key settings and adjustments to be made. All models are now AFS Connect-ready and supplied with a one-year AFS Connect telematics subscription, for machine data monitoring and alert provision.
On machines with the new rear-view camera, the LCD screen can also display its images when reverse is engaged. Adjacent to the screen, a new LED-based Load Moment Indicator with stable risk level warns if maximum load capability is approaching and hydraulic lock-out imminent.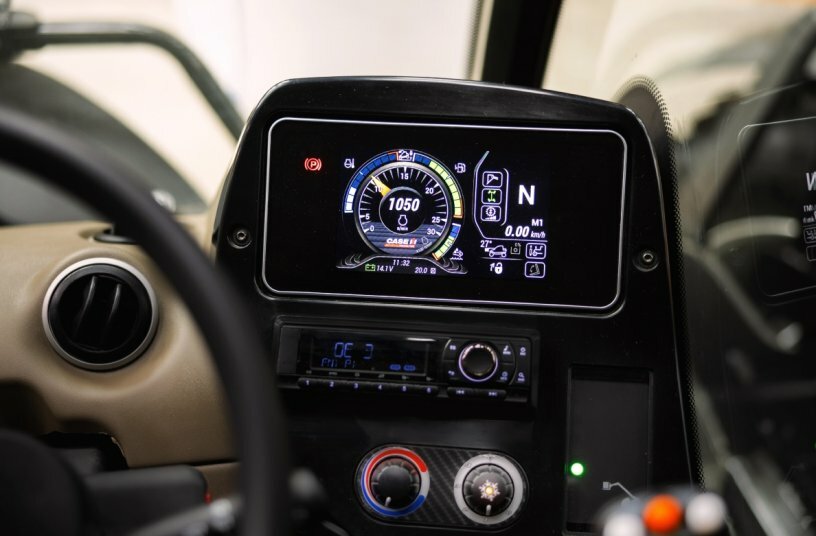 ABOVE: new 7in colour LCD screen makes key machine data easy to read
The new adjustable seat-mounted operating armrest incorporates an integrated keypad for easy access to key functions, plus a new joystick with integral hydraulic, transmission and shuttle controls. Functions include an Active Bucket Shake/back to position button. Via the Farmlift operating terminal and the joystick, crowd/dump speed and shaking frequency can be adjusted to suit. A new semi-automatic back-to-position feature allows operators to set two pre-determined boom target positions for raising/lowering, dumping/crowding and boom extension/retraction cycles.
A new membrane keypad includes screen display buttons, and new features include an improved continuous flow function that allows fine adjustment of engine speed or auxiliary flow rate, which is then operated via a joystick button to power an attachment such as a rotary brush. An engine speed control button means a set engine speed can be stored for operating a specific attachment, while a power shuttle sensitivity button allows adjustment of acceleration after a direction change. Further buttons can be selected to manage the steering, transmission and handling/loading/road modes.
Other keypad features include rear camera activation, auxiliary service pressure release, boom ride control engagement, transmission de-clutch, boom reactivity, rear auxiliary services activation, and boom level lift with synchronised boom extension/retraction. An engine auto-boost feature automatically increases engine speed to high-idle if in loader function and operating at low speed with hydraulics in operation and boom fully retracted. De-clutch is temporarily activated to transfer maximum engine power to the hydraulics and then released for uninterrupted pushing. The Farmlift recognises more power is required, and engine speed increases automatically for faster loading.
Operating modes to suit different tasks
Operating modes can be selected to suit tasks, to maximise productivity and efficiency. In transport mode, boom hydraulics are disabled, smooth power shuttling enabled and two-wheel steer engaged, while in loading mode fast shuttling and rapid boom movement are prioritised. In handling mode, suited to precision handling applications such as unloading trucks or stacking bales, default settings are resumed, for smooth shuttling and boom operation, while the combination of synchronised automatic boom extension/retraction alongside vertical lift provides improved cycle times and eases operation.
Operating characteristics can be tailored according to job demands and operator preference, with three adjustment levels for shuttle response, and low or high sensitivity choices for joystick and boom response: long, slow joystick movements for precision tasks, or short, fast ones to maximise working speeds.
The 2024 Farmlift models can be ordered now, with deliveries from October 2023.