Mitas has announced it has increased load capacity of its agricultural giant and will present it at EIMA next week.
At just over 2m tall, the 1250/50R32 194A8 (191B) SFT (super flexion tires) TL is one of the largest agricultural tires in the world and is now capable of carrying loads of up to 18,880kg (10km/h cyclic).
Designed to meet the needs of farmers, it is suitable for grain trailers and harvester machines, while its flexible flanks allow low inflation pressures for high load capacities, ground protection and higher productivity.
Paolo Fogagnolo, Italy director of Trelleborg Wheels Systems, said, "With the new SFT, the Mitas brand is demonstrating constant commitment to quality and customer focus in the harvester tire segment.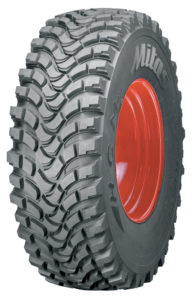 Supporting cast
Additionally, Mitas will also present its CHO (cyclic harvesting operation) tire 680/85R32 CHO 178A8 (175B) AC70G TL at EIMA 2018, which takes place in Bologna, Italy, on November 7-11.
A powerful product designed for large combine harvesters, the tire's large footprint puts less pressure on the ground it travels across and Mitas offers 10 different sizes.
Another product on display at EIMA will be the 710/50R26.5 IMP 170D AGRITERRA 02 TL tire for trailers. It can carry a load of 6,000 kg at a maximum speed of 65 km/h and a nominal inflation pressure of 4 bars.
The Mitas 540/80R38 IND 172A8 (167D) HCM TL (high capacity municipal) is a universal quiet-running tire for all terrains and many applications. With a unique tread design, it ensures better traction on snow, mud and wet surfaces, while providing optimal self-cleaning properties.
A highly versatile tire, it can be used in a wide range of applications (especially municipal) including tractors, telescopic handlers and loaders, and delivers both low noise emissions and vibrations.
Fogagnolo added, "EIMA 2018 is a great opportunity for us to showcase our solutions.
Whether it's higher productivity or reliable performance when you need it most – Mitas delivers."