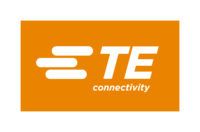 SINGLE SOURCING WITH CONSISTENT QUALITY COMMITMENT
TE Connectivity's (TE) Industrial & Commercial Transportation unit (ICT) offers interconnection solutions ranging from large series transportation applications to the biggest off-highway vehicles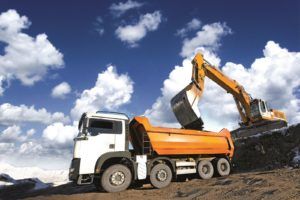 Industrial and commercial transportation is currently driven by three major trends which directly influence interconnection technology:
Global regulations enforce fuel consumption reductions. This typically translates into lightweight design of components. Improving engine efficiency and bringing down emission levels typically involves higher levels of electronic control. More sensors and more closed-loop control mean more electrical interconnections, more lines per connector.
Cost is a relentless driver of innovation and system re-design. As the margin in the world of industrial and commercial transportation is seldom above a low single digit magnitude, every downtime is unwelcome. Only running machines make profit. Therefore product reliability over the vehicle life and long service intervals are top priorities.
Finally, despite the fact that trucks and off-highway vehicles are often impressive machines, miniaturization is gaining in importance as the growth of electronics continues. With the increasing pin counts even 40 t trucks do not always offer a generous spatial envelope for every connector.
Add to that a very hostile environment and you are looking at the need to reliably protect sensitive electronic connections from the effects of vibration, moisture, dust, dirt, salt and airborne contaminants. To meet customer requirements under such severe boundary conditions requires a detailed understanding of the industry. This is the core strength of TE's Industrial & Commercial Transportation (ICT) unit. This business unit integrates the long-standing TE commercial vehicle operation and the DEUTSCH Industrial business under one roof.
ONE-STOP SHOP FOR RUGGED INTERCONNECTION PRODUCTS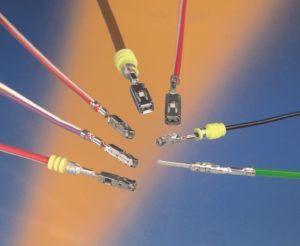 By combining the two successful entities, ICT now covers the full range of potential application requirements. The original TE Industrial business had long been focused on developing engineered high-performance solutions for the transportation industries. This expertise had originally developed out of TE as one of the world-leading automotive interconnection business since the mid 90ies. TE's commercial vehicle interconnection solutions have proven themselves in countless truck and bus applications around the globe. ICT solutions come from an innovative, rigorous development and testing process, which leads to a reliable product that is typically manufactured in large numbers and made to last.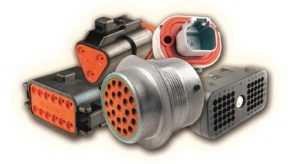 DEUTSCH is one of the most trusted names in the field of heavy-duty vehicles for the mining, construction, agriculture, forestry and civil engineering industries. In this off-highway segment readily designed high-performance interconnection products are typically chosen off the shelf because small vehicle numbers do not make full-blown product development a viable option. One recent innovation example from this area is the sealed DEUTSCH Rectangular Common Platform (DRCP) series of multiposition connectors (86/126 pins) with TE Connectivity contacts. DRCP connectors are offered with bulkhead and PCB mounting options.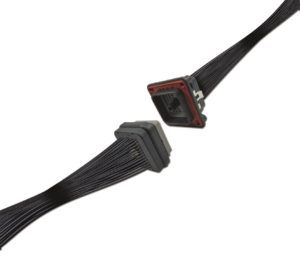 Both sets of expertise are now integrated into ICT. Thus the merger simplifies processes and logistics, as customers can source products for such diverse requirements as trucks and highly specialized off-highway vehicles from a single source. In the EMEA region, large and medium volume requests are handled by TE from its distribution organization and small volume from affiliate LADD in EMEA. To meet short lead time requirements, ICT holds a large stock in Germany, for instance. In the U.S. the small volume business is handled by LADD USA while the former TE part of ICT continues to handle large and medium volume projects. Broad line distributors market ICT products in additional regions where there are no other channels to the market.
ENGINEERING FOR A BETTER SOLUTION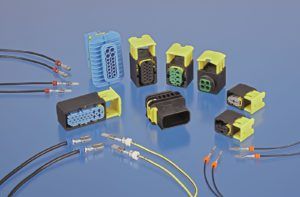 The driving force behind TE's and DEUTSCH's success is innovation. This is directly reflected in orders. ICT has only recently won several projects in the 40 t truck area which all contained spatial envelope challenges: Bulk head connectors these days have such high pin counts that even the firewall of a heavy truck simply does not always offer enough space for a connector with >60 centimeters in height. As smaller terminals are not an option because the accepted wire gauge for this type of application is no lower than 1,2 mm2, packaging density and the geometry of the cable feed-through had to be changed. A new approach to sealing technology played a key role in this. Instead of sealing each individual connector, the ICT design developed a sealed outer enclosure (up to IPX9K depending on the OEM's final design requirements) for an improved bulk head connector system. Enclosed by the outer cover, standard unsealed 3- or 4-row connectors can be used inside in a modular approach that offers flexibility for future modifications.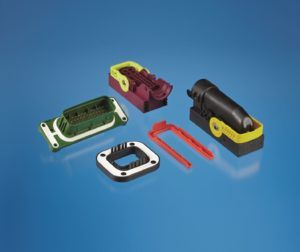 A similar strategy has recently been applied to cylinder head wiring. Previously many existing solutions used cost-intensive inseparable connection systems that have no mating interface connection at the outer side of the cylinder head. Instead, ICT developed an oil-tight exit connector which is designed into the valve cover. This interface is based on a common sealed pin connector but has been modified to withstand particularly high vibration in combination with high temperatures as well as the need to seal in engine oil. Owed to this new separable design, the engines are easier to handle during production, and if an engine compartment harnesses should ever be damaged, it can simply be replaced by a new one that comes with a standard receptacle connector. The new harness simply plugs into the valve cover exit connector.
By offering efficient logistics combined with a proven approach to innovation plus state-of-art testing and manufacturing facilities, ICT offers optimum support for the most demanding of interconnection applications: industrial and transport. Please find detailed information on www.te.com/ict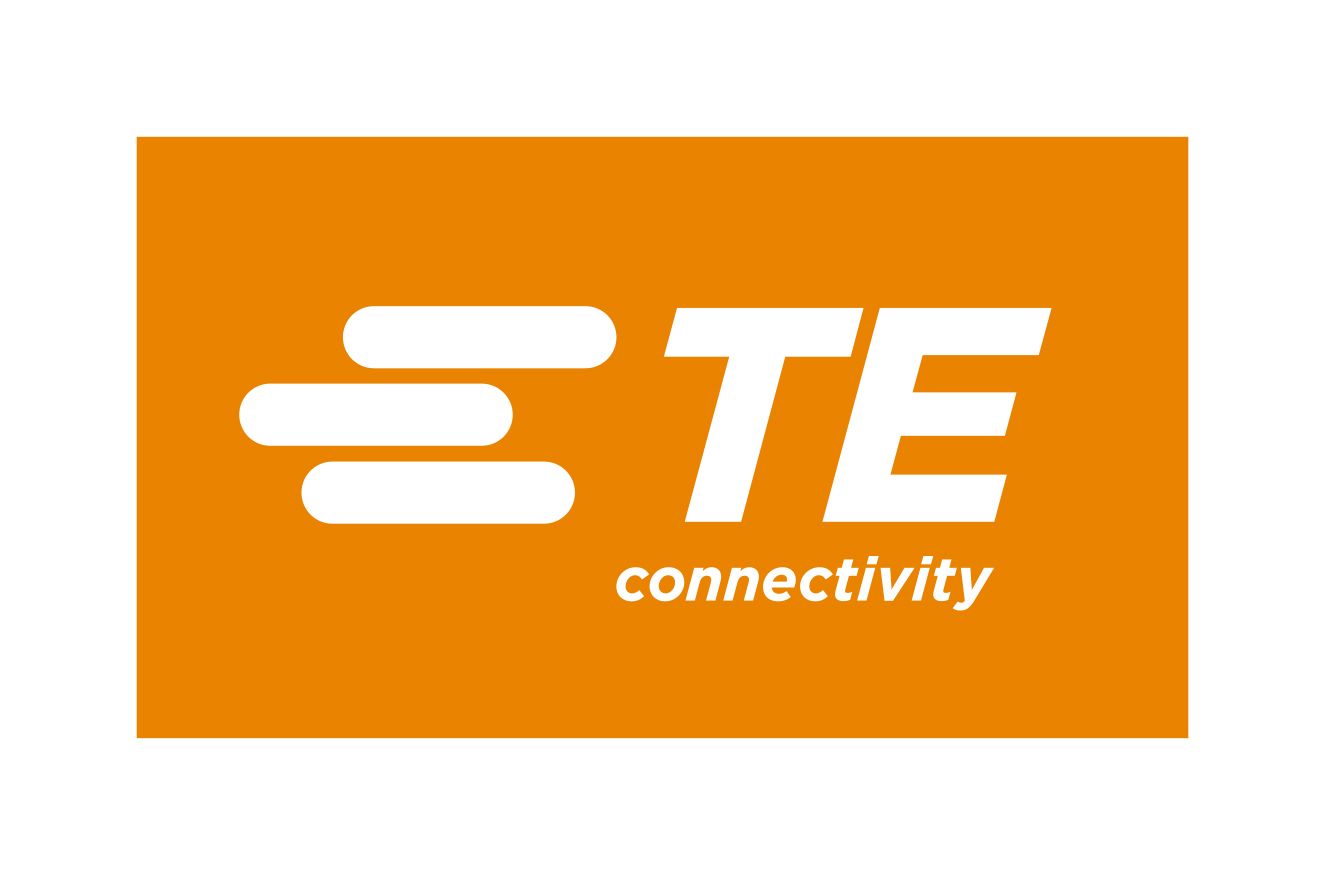 Author: Andrzej Zubka is Director Regional Sales for EMEA and India of the TE Connectivity business unit Industrial & Commercial Transportation (ICT)
TE Connectivity, TE connectivity (logo) and DEUTSCH are trademarks.
"While TE Connectivity (TE) has made every reasonable effort to ensure the accuracy of the information in this whitepaper, TE does not guarantee that it is error-free, nor does TE make any other representation, warranty or guarantee that the information is accurate, correct, reliable or current. TE reserves the right to make any adjustments to the information contained herein at any time without notice. TE expressly disclaims all implied warranties regarding the information contained herein, including, but not limited to, any implied warranties of merchantability or fitness for a particular purpose."