Volvo Penta is helping off-highway OEMs prepare for China's forthcoming stricter emissions regulations with a range of engine technologies.
Not yet publicly unveiled, uncertainty still remains regarding what the conditions of China's IV regulations will be, but the OEM's flexible solutions have been designed to handle any of the scenarios expected.
"We have a breadth of knowledge of the ways in which emissions legislation around the world affects customers in different regions and so we are able to provide a good offer to customers in China, to ensure their needs will be met," said Giorgio Paris (below, right), Volvo Penta's head of the industrial segment.
"As OEMs and operators prepare for China IV standards we will help them adjust, so they are ready to meet the new standards in a productive way. Our global expertise, along with research and development facilities and our focus on working closely with customers, means that we are well placed to understand what they want and how to find a solution to their requirements.
"We have improved fuel efficiency for our China IV range and operators can be assured that the same high performance they have already with our engines will continue to be a feature of the new models."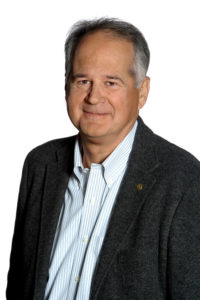 It is expected that China IV will require particulate numbers to be reduced and a diesel particulate filter (DPF) for engines of 37-560kW. It is also expected that nitrogen oxides will be further limited via selective catalytic reduction (SCR) and that the legislation will come into force in January 2020.
If the legislation is implemented as indicated, Volvo Penta's new engine platform to meet the standards will cover its engine range from 5-13 liters, with power options from 105-405 kW (143-543hp).
If, as expected, engines over 560kW remain at current emissions levels they will not require an engine aftertreatment system or DPF so Volvo Penta will continue to offer its 16-liter 565kW engine, the TAD1643VE-B.
Paris added, "Environmental care – especially air quality – is a topic that's high on the agenda of social awareness in China today.
"Today there is no requirement for SCR or DPF in China, so this will be a big change, requiring significant investment by OEMs, and we want to make it as easy as possible for them to achieve their aims."
Interested in reducing engine emissions? Check out the Industrial Vehicle Powertrain Technology Conference, which takes place during iVT Expo. The conference will see over 20 international speakers present their findings and views on how to increase internal-combustion engine performance, while at the same time preparing to meet the forthcoming Euro VI emission standards. Both the conference and iVT Expo take place on February 13-14 in Cologne, Germany.