A long-term John Deere Power Systems executive has been announced as the company's next powertrain senior vice president.
Deere & Company has appointed Pierre Guyot to the position in response to the planned retirement of Jean Gilles, senior vice president of power systems, worldwide parts services, advanced technology and engineering, and global supply management and logistics. Guyot will begin the role on January 1, 2019.
He will lead the power systems division that produces engines, drivetrain components and electronic components used in John Deere equipment and for OEM applications, and oversee operations of the company's electronic solutions business.
Company stalwart
Guyot first joined John Deere in 1998, and has since held various leadership positions in manufacturing and supply management and logistics. He also led the engine operations in Europe.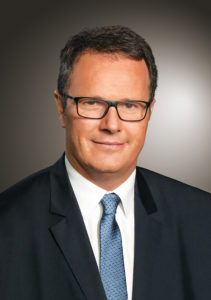 "Pierre has demonstrated a commitment to disciplined execution and a broad understanding of our business, notably in the areas of supply chain and engines," said Jim Field, president, worldwide construction and forestry division.
"His breadth of experience, passion for excellence and proven leadership skills will serve him well as he leads the power systems business in its efforts to differentiate John Deere equipment, engines and drivetrain components."
Interested in powertrain technologies? Check out the Powertrain Technology Conference, which takes place during iVT Expo. Both the conference and iVT Expo take place on February 13-14 in Cologne, Germany.