Building on the success of the 8000 Series, John Deere has launched its 9000 Series, four new self-propelled forage harvester models which range from 625-970hp.
The 9000 Series features the latest forage harvesting technology and will give customers a 10% increase in productivity and kernel processing, as well as a 10% reduction in fuel consumption.
Key features of the 9000 Series models include a new kernel processor and headers, and the latest precision-farming technology – including a new HarvestLab 3000 constituent sensing system that maintains the quality of foraging.
The machines benefit from a fresh design, with striking elements that include twin exhausts. At the heart of the three biggest models – the 9700, 9800 and 9900 – is a powerful 24.2-liter V12 Liebherr engine. This high-performance power unit is designed to operate efficiently at lower engine speeds.
The new 9000 Series foragers are available with John Deere's complete range of AMS precision-farming systems, designed for improved cutting quality and operator comfort. These include:
the new HarvestLab 3000 NIR (near infrared) sensor, which documents real-time measurements of crop yield, moisture and other constituents such as protein, starch, fiber
AutoTrac automatic steering
RowSense feeler guidance, which allows the forager to automatically follow maize rows
Active Fill Control (AFC) for automatic filling of trailers
the MyJohnDeere Operations Centre web portal for active fleet management and for displaying machine and harvest data.
John Deere has confirmed that the new range will be available in Europe, Canada, the USA, Australia, New Zealand and Japan. The basic 9700 model will be priced at US$538,000 without optional extras and the largest model, the 9900, will cost US$584,000.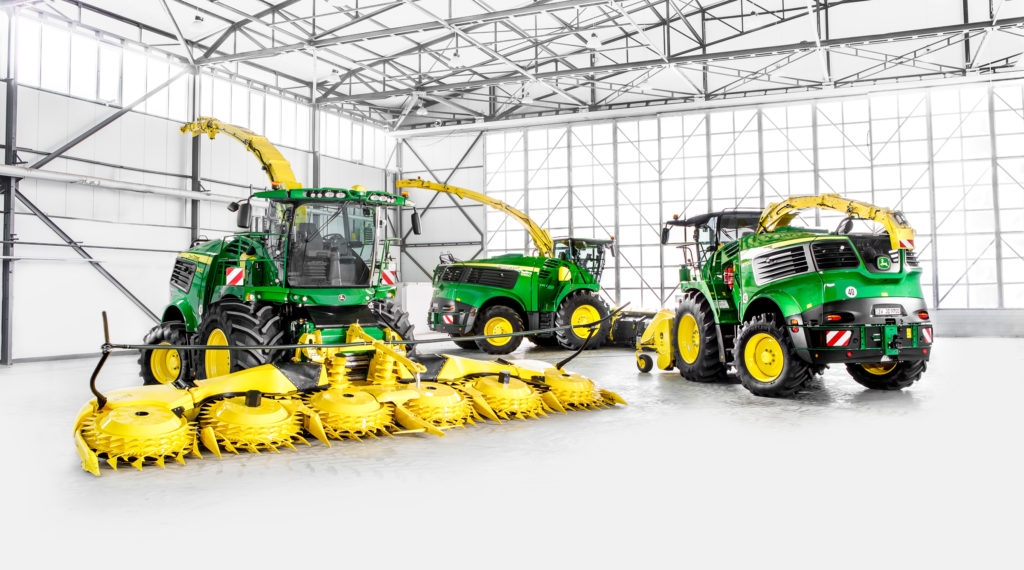 The manufacturer has also boosted its kernel processor offering with the introduction of the XStream KP. Developed with US company Scherer, the processor is perfectly matched to its high-performance engine, providing a large roll diameter of 250mm (9.8in) and 50% roll speed differential, thus increasing processing intensity by 10% at all cutting lengths.