For 2024, New Holland Agriculture is introducing the first all-electric utility tractor with autonomous features: the T4 Electric Power. This cutting-edge tractor opens a new class in the market, the Utility Electric, focused on offering solutions for more efficient field operations.
The T4 Electric Power addresses current farming challenges, such as increased total cost ownership and labour shortage, while delivering upon New Holland's commitment to help customers build more sustainable agriculture for this generation and beyond.
Billed as a solution for lower horsepower field operations, it is suitable for multiple applications, such as mixed farm, hay and forage, dairy, livestock, municipality, greenhouse and specialty crops (vegetable and orchard).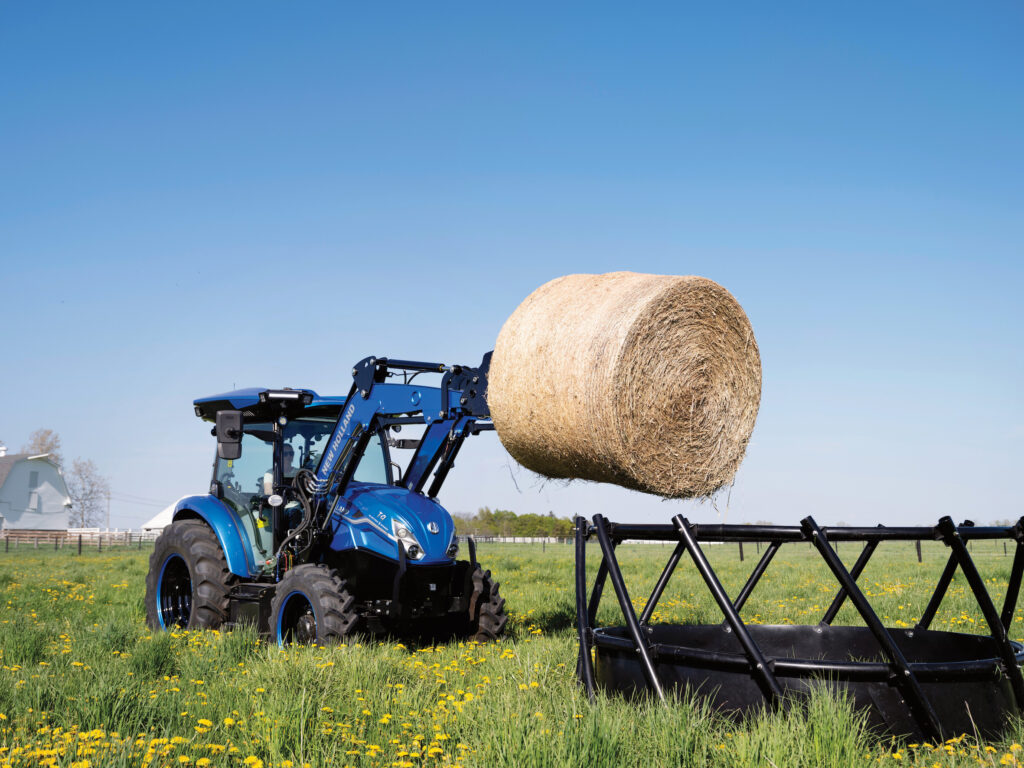 ABOVE: The T4 Electric addresses current farming challenges, such as increased TCO and labour shortages
The tractor is the latest development in New Holland's strategic plan for electrification and the newest addition to the brand's lineup of alternative energy sources powered equipments, like the T7 Methane Power LNG (Liquified Natural Gas) and the T6.180 Methane Power. Equipped with a state-of-the-art lithium-ion battery pack, the T4 Electric Power delivers gradual power and continuous torque achieved at the lowest speeds, ensuring a completely new driving experience and seamless operation during loader work cycle and daily farm routines.
"This tractor is a significant step forward for growers, producers and municipalities. The T4 Electric Power addresses a number of challenges they are facing everyday on their operations," states Lena Bioni, product marketing manager for New Holland Agriculture North America. "What New Holland is bringing to our farmers is a convergence of technology – electric propulsion, autonomous features, better performance – in the body of a utility tractor that's setting the stage for a more efficient, sustainable and resilient future our customers are striving for."
Performance and battery technology
Under the hood of the T4 Electric Power lies a state-of-the-art battery system partnered with a fully electrified drivetrain that's proven to deliver relentless power and productivity. Featuring a 110-kWh maximum energy storage capacity in a 400V nominal high-voltage circuit, it provides 74 hp (55 kW) rated power and 65 hp (48 kW) PTO power. Using an efficient high voltage powertrain with integrated cooling features in the single devices from established mass production vendors, as well as material currently in production, makes this tractor a pioneering and revolutionary solution.
Compared to its diesel-powered counterparts, the T4 Electric Power delivers superior performance. It offers 4-wheel drive, a proven 12×12 transmission, clutch-less electronic power shuttle reverser and all the regular power outputs of a traditional diesel utility. This includes rear electro-hydraulic PTO, drawbar, multiple rear remotes, mid-mount valves and a robust, and complete, 725LU mechanical self-leveling front loader with 3rd function and 84'' bucket included. Due to the greater control, enhanced precision and faster responsiveness, the tractor boosts the field capacity by reducing the applications cycle time.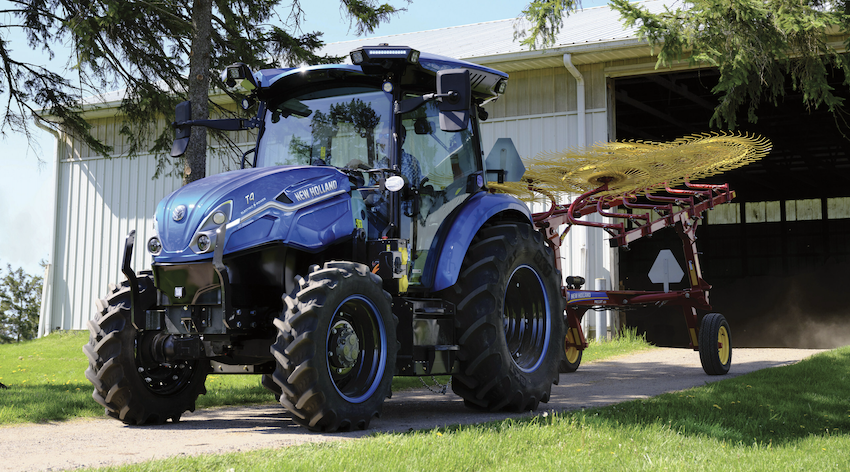 ABOVE: The T4 offers four-wheel drive, a 12×12 transmission and clutch-less electronic power shuttle reverser 
The tractor's electrified drivetrain promotes silent power with high torque and fast response achieved at the lowest speeds. These two intrinsic electric motor's characteristics, combined with the 12×12 electronic power shuttle transmission, means that even an inexperienced operator can run the implements during the applications without the need for precise gear selection and throttle control. Meanwhile, experienced operators will have infinite speed adjustments just by controlling motor RPM. Smooth and gradual delivery of power at low speeds and constant delivery in high speeds increase control and precision during field operations.
"The T4 Electric Power's quiet electric motor is definitely a big advantage and important tool in noise sensitive areas," Bioni explains. "Outside, the tractor omits less noise and vibrations compared to diesel ones. Take for example, operating within equestrian barns or on college campuses running mowers and plowing snow alongside dorms."
Designed in the USA and Italy
The T4 Electric Power was designed by CNH Industrial engineering in the United States (Burr Ridge, Ill., Detroit) and Italy (Modena) with state-of-the-art features and components aimed at durability, long service life and improved uptime. In general, considering light, medium and heavy-duty applications over its daily task routines, it's estimated the tractor can provide 4 hours of average runtime. However, this can easily be extended up to 8 working hours for low energy demand applications. In fact, its extended runtime empowers operators to tackle a variety of jobs without the need for frequent recharging, enhancing even more the overall productivity and reducing operational downtime. The tractor can be recharged by multiple energy sources such as regular grids, solar panels, biodigesters and wind power in both Alternate Current (AC) and Direct Current (DC). Operating in DC, it takes just one hour to reach 100% power when using commercially available fast charging systems.
In addition, the T4 Electric Power can provide power availability wherever and whenever a customer needs it. This is the main goal of the practical and convenient Exportable Power feature. Equipped with common 110V and 220V outlets used in workshops and farmyard electrical installations, the tractor can serve as a power source for electric power tools such as welding, drilling and cutting machines.
Technology drives productivity
Smart autonomous features and creative driver assistance modes are part of the T4 Electric Power tractor's innovative character to improve daily farming operations with Precision Solutions & Telematics (PS&T), safety, diagnostics and service. With the design focused on addressing current farming challenges, such as increased total cost ownership, these outstanding features make the T4 Electric Power even more unique in the market.
Driver-assisted features – Follow Me Mode, the Invisible Bucket and 360 Degree Awareness – are complemented by other fully digital and connected functions like Over the Air Updates, Live View and Map Maker, which make this tractor the first of its kind in the world. The tractor utilizes cameras and sensors in the Smart Roof, while modes are activated via a modern touchscreen display. The result is improved performance and safety both inside and outside of the cab full-time.
Bold new blue
A tractor as innovative as the T4 Electric Power requires its styling to match. The new Clean Blue paint scheme denotes a New Holland tractor that's powered by an alternative fuel source. First debuted on the New Holland T7 Methane Power LNG tractor, this head-turning shade of blue compliments the CNH grey decals, while an all-new hood design sports powerful LED headlights and worklights with illuminated accents.
"You're looking at the style of sustainability. Along with the head-turning paint scheme, customers can expect the T4 Electric Power tractor to redefine operating comfort with in-cab ergonomics, a new digital instrument cluster and a color touchscreen additional display," Bioni adds.