JCB's 19C-1E mini excavator has been awarded the Dewar Trophy for 'Outstanding British Technical Achievement in the Automotive Industry'. Revered as one of the most prestigious awards in British engineering, the RAC's Dewar Trophy is presented only in years when the club's committee believes that there are contenders of sufficient merit.
The 19C-1E started the journey towards electrification seven years ago, a decision described as "risky" by JCB's director of advanced engineering, Bob Womersley. Maximising system efficiency was the key aim. This was essential to achieve a commercially sound cost of ownership. Some of the environmental benefits are obvious such as zero exhaust emissions enabling operation in situations such as tunnels, mines and more unusual environments such as food factories.  However, another important benefit is lack of noise – it is five times quieter than its diesel equivalent.
"It does a full day on a single charge as a zero emissions machine," said Womersley. "The operators love the 19C-1E, especially as they expected to be emasculated by it compared to diesel. It's a customer and residential-friendly machine."
The 19C-1E leads the way in clean technology, reducing harmful emissions, especially in urban, air quality sensitive environments and enclosed spaces. It belongs to a new generation of electric products with zero emissions at point of use that are still capable of peak performance.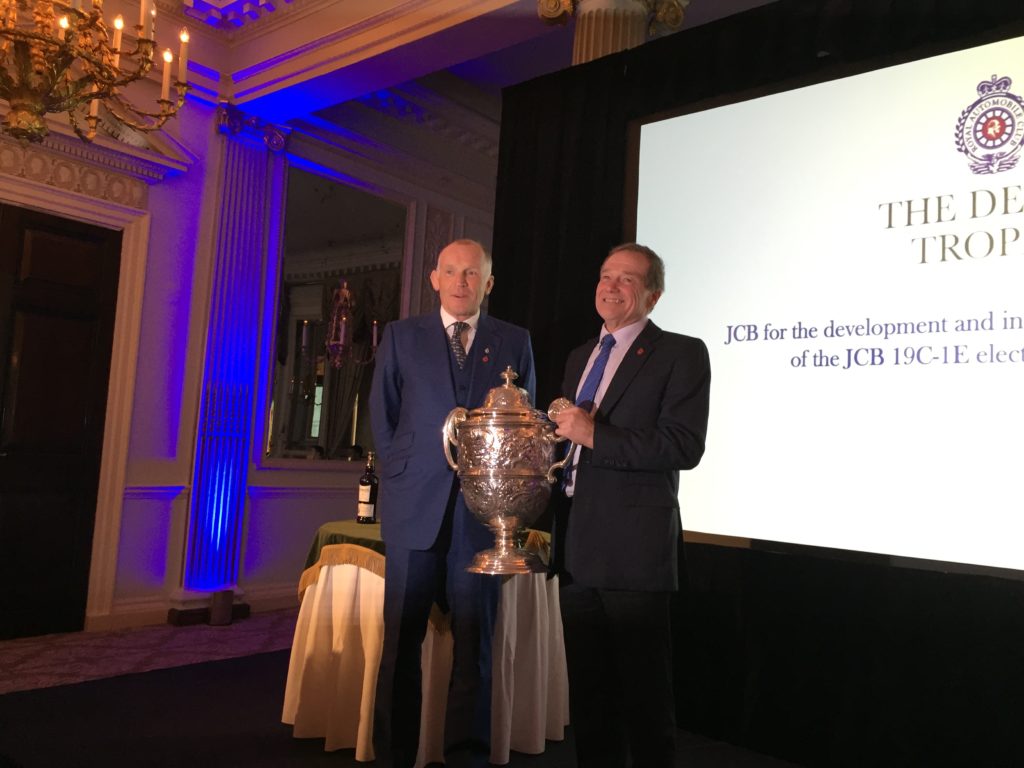 The model has already sold 200 units, no small feat for a vehicle that only went into production in July 2019 and is on sale at 50% above the unit cost of its diesel counterpart. It comes with three charging options; 110v, 230v and 412v for versatility and takes two hours to charge. Batteries are completely maintenance free, minimising daily checks. Miraculously at 1,862kg it comes in 3kg lighter than the diesel version.
"I am proud of our team," said an emotional Womersley ."We may feel humbled by this award but we also feel very proud. We're on a mission. We love bringing things to market. This company is never short of ideas and we like to go for it."
JCB joins a select band of companies who have won the award twice. Only Jaguar have won it more.