Case IH is supporting Middle Eastern farmers with three combines specifically designed for the market.
Being affordable and equipped with the latest harvesting technology, the Axial-Flow 4000 Series 4077, 4088 and 4099 machines are intended to meet the specific requirements of customers in the Middle East and Africa.
Designed in the USA, all three models are powered by a turbocharged, 6.7-liter, six-cylinder, in-line FPT Industrial engine that meets Tier III emission standards and is air-to-air after-cooled to ensure its reliability in all conditions.
Rated power outputs for the 4077, 4088 and 4099 models are 180hp, 210hp and 230hp at an engine speed of 2,100 rpm, with maximum power outputs of 200hp, 240hp and 260hp produced at 2,000 rpm. All engines provide excellent torque characteristics, deliver optimum fuel consumption and transmit their power through a three-speed hydrostatic transmission, with a 500-litre fuel tank featuring on all 4000 Series models.
"The 4077, 4088 and 4099 are the most productive combines in their class," said Marcin Ruppert, Case IH marketing manager for Africa & Middle East.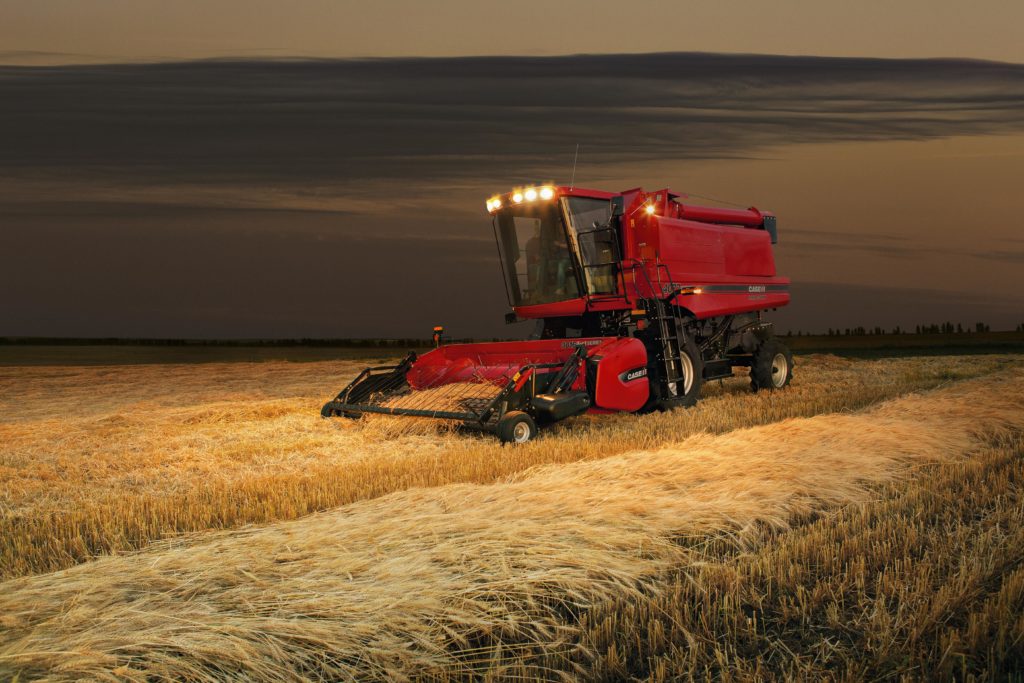 "Their simple design allows them to be adapted quickly to suit changing harvesting requirements, field conditions and crops, making them the perfect choice for contractors.
"Owners can move from corn, to wheat, to sorghum, to rice in hours, compared with almost two days for conventional or hybrid combines, so more time is spent harvesting and seasonal output is increased.
"Axial-Flow 4000 Series combines are also very easy to use, so even operators who are new to the Axial-Flow concept quickly learn how to harness their full potential."
To optimise their performance potential, the combines are fitted with a spacious, comfortable cab which incorporates over 3.74m2 of glass area, providing the operator with a panoramic view and excellent visibility over the header. Operator comfort is enhanced by the A-pillar monitor, ergonomic control layout and suspended, individually adjustable seat, together with a high-capacity air filter and the standard heating/ventilation system. Air conditioning can be specified as an option to provide the ultimate in-cab environment.
All two-wheel-drive 4000 Series models are equipped with 28L-26R1W 16PR front tyres and 14.9R24 R1W 12PR rear tyres. Four-wheel-drive versions include 28L-26 R1W 16PR front and 16.9-26 R1W 12PR rear tyres, while four-wheel-drive 'Rice' models are fitted with 28L-26 R2 16PR front and 16.9-26 R2 12PR rear tyres.
Because of their mechanical simplicity, the combines incorporate fewer moving parts than either conventional designs or more complex rotary and hybrid machines, so they are simpler to operate, more reliable and less costly to maintain. All service points on the new 4000 Series models can be reached from the ground or a single step, so routine maintenance is easier, faster, cheaper and safer than with other types of combine, resulting in more time spent harvesting and higher output potential.