Yanmar is introducing its 'Smartassist' ICT technology platform to Europe, a key component of its Yanmar Smart Agriculture technologies which were unveiled this week at Agritechnica.
The Food and Agriculture Organization of the United Nations estimates that by 2050, the world's population will have grown to 9.6 billion, and that food production will need to double in order to meet the needs of an increasingly affluent and urbanized population.
Faced with the twin threats of a dwindling agricultural workforce and growing demand for food, and confronted with the challenge of a climate that is changing in unpredictable ways, major agricultural producers from Europe and North America, to China, Korea and other Asian nations are devoting ever greater resources to agricultural research.
With the Yanmar agricultural business's vision of developing agriculture into food-value-chain, the company promotes ever more comprehensive ways to increase farmers' profitability by providing solutions at key agricultural process touchpoints. Yanmar's Smart Agriculture embodies this approach by meeting the challenge of producing more food with a smaller workforce. Employing a data-driven approach to agriculture that takes advantage of the latest advances in autonomous technology together with advanced communications and satellite positioning technologies, Yanmar's Smart Agriculture provides innovative solutions to increase farmers' profitability and productivity in a new 'sustainable agriculture'.
"The launch of Smartassist together with the YM3 tractor is a major cornerstone of our European business," said Yanmar agribusiness corporation president, Mr. Hiroaki Kitaoka. "With the various solutions that are available globally, we are poised to deliver 21st century agriculture towards improving lifestyles, delivering value and providing sustainable solutions to the region's farmers."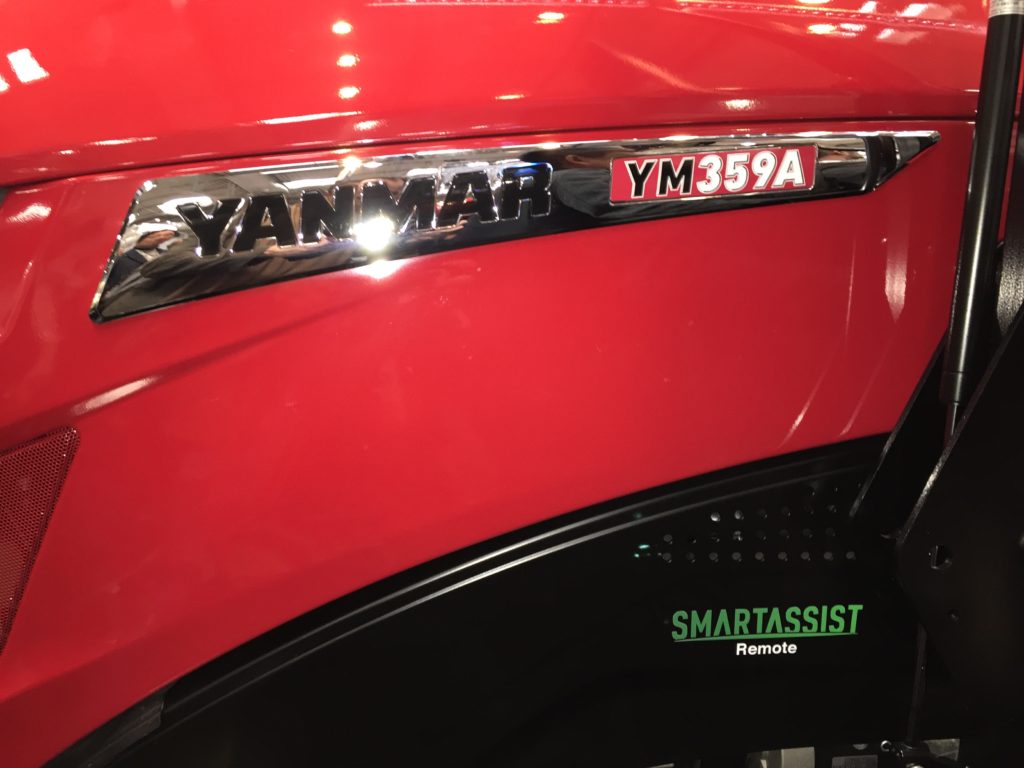 Yanmar's Smart Agriculture technologies are embodied in the precision work realized by its robot tractor launched in Japan last year. Greatly easing the farmer's workload, the robot's technologies are being deployed to combines, rice transplanters and other equipment in the service of greater comfort and farmer productivity.
A key component of Yanmar's Smart Agriculture is Yanmar's proprietary Smartassist technology which not only optimises agricultural work but also streamlines agricultural management. Agriculture is changing in the 21st century, with ever greater consumer demands for safer, higher quality food and the need to realize higher incomes for farmers.
Fundamental to solving these problems is an approach that uses data to visualize agricultural knowhow that was previously only accessible though long experience or intuition and integrating these insights and solutions into a new agriculture. Yanmar is tackling these challenges in a 'sustainable agriculture' that is easier on the environment. In one example, remote sensing technologies utilize special drone-mounted cameras to collect data for analysis maximizing crop yields and minimizing fertilizer and pesticide use.
As Yanmar looks towards the next 100 years, Yanmar Smart Agriculture may play an important role in meeting the world's food needs. By employing advanced technologies to realize solutions, the company hopes to support farmers' incomes and protect the riches of the planet for future generations.