The first iVT Expo wrapped up last Thursday (February 14) afternoon, after a hugely successful two days in Cologne, Germany, where the industry came together to discover brand new ideas, new contacts and the latest technology currently being developed to aid industrial vehicle designers and engineers in a rapidly changing world.
In particular, the event was universally praised for its highly focused nature. Instead of having to walk for miles around the vast halls that have become synonymous with some of the longer established industry events, attendees and exhibitors repeatedly mentioned how easy it was to find and connect with the right people and discover new and interesting innovations and solutions – all within a short space of time.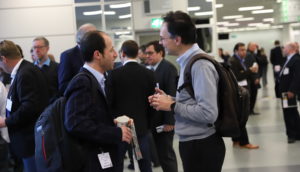 "Here you can find the right people, in the right spot, together. It is not as big as Bauma or Agritechnica, so it's easier to make the contacts that we are interested in for our business, which is automation solutions for agriculture and construction markets," said Stefan Taxer, mobile automation product manager for B&R Industrial, Austria, which was at the show to present its innovative X90 product line for mastering mobile control and I/O tasks.
In total, over 90 exhibitors enjoyed an extremely busy two days, networking and meeting with potential new customers. "It's been very good. We've had some very interesting conversations – good OEM discussions in particular, so for us the quality was brilliant. We're looking forward to next year," said Daniel Magnus, marketing manager, Sonthelm Industrie Elektronik GmbH, Germany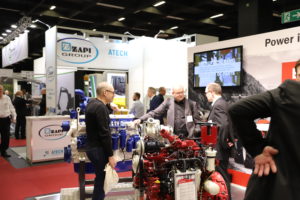 Jarno Ratia, product management director, AGCO Power Inc, Finland (stand pictured above), agreed. "We have had some very good discussions with visitors, particularly about our new Stage V engines, and our new China IV emission handling technologies," he said.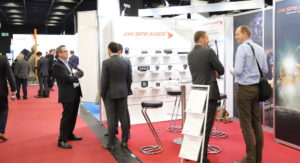 Tim Speaker, president, J.W. Speaker, USA (stand pictured above), was particularly impressed with the quality of visitors, coming as they did, largely from OEMs. "I've found the show to be very good – we've got some nice leads that were not from your average tire kickers," he said. "Visitors have been really interested in our products as this is more of a technology show, which suits our lighting products, which are increasingly sophisticated. We've had a good show, I'm really pleased and we've had some good enquiries."
Nick Smart, business development manager, Cantronik, UK, added, "I don't think we've had 10 minutes yet without someone walking on our stand and asking questions. Suffice to say, we've booked for next year!"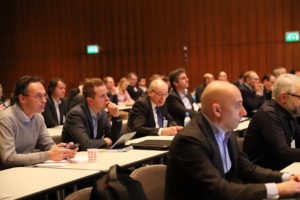 Conference success
Four specialized conferences also took place alongside the exhibition, covering the subjects of automation, electrification, cab design and powertrain. Delegates enjoyed access to all four streams, where they were able to hear presentations from over 80 leading industry experts. "The panel discussions at the conferences have been very interesting," said Peter Reuterberg, chief designer for Volvo CE. "In particular I enjoyed a discussion on autonomy regarding liability issues, which was very illuminating. I've met some good new contacts and I'd definitely come back next year."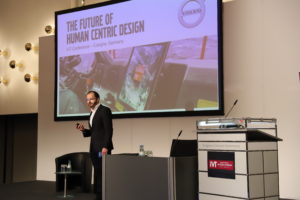 "I think the big value of this event is in getting relevant people from the industry to have a more holistic and strategic dialogue," added Volvo CE design director Gustavo Guerra (above), one of the conference speakers. "Rather than discussing figures and facts and technology curves – you can send a PDF for that – it brings everyone together to investigate and evaluate the direction for the industry. I think that's very relevant and that's what I appreciate."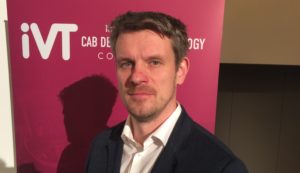 "The major importance with this event is that we can share our technology with people from difference practices, with people from different levels at OEMs," said Prof. Jens Krzywinski (above), head of industrial design engineering at the Technical University of Dresden, who spoke in the Cab Design conference. "Here we have OEMs and we have suppliers, and they look very differently at the product we call HMI. That's very interesting for us. We are working directly with Liebherr, but it makes a difference to meet other OEMs at events like this. There were 70 experts on HMI here, that's really good."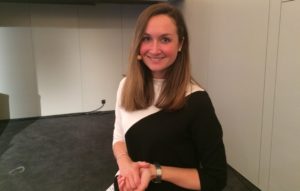 Alexandra Hermann (above), marketing director for Fritzmeier Cabs, who works with Prof. Krzywinksi as part of the CAB Concept Cluster, added, "This is an amazing event. There are a lot of experts in cab design. You can share information you can share trends. I really like it very much. The speed of innovation in our product cycles is huge. We need to collaborate otherwise we won't succeed."
Look out for a full review of the event next week and in the forthcoming March edition of iVT magazine. The dates for iVT Expo 2020 are Wednesday 24th and Thursday 25th June, with iVT Expo once again returning to the Koelnmesse, Cologne, Germany.