A brand-new event for the off-highway vehicle industry launches in Cologne, Germany, this week (February 13-14) – iVT Expo, which combines a free-to-attend exhibition with four conferences (rates apply), each addressing the critical issues that will shape future vehicles: increasing hybridization and electrification; autonomous technology; improved cab design and ergonomics; and greater powertrain efficiency and reduced emissions.
More than 90 exhibitors will showcase the latest components and technologies – highlights include the debut of Bel Power's new BCL Series 25kW onboard bidirectional inverter charger for hybrid and full-electric vehicles; ABB's HES880 mobile drive, which can be used both as a standalone drive or as part of an electric powertrain; Opal-RT's real-time simulation technology for testing and validating electric motor drives; and Avid Technology's demonstration of its seal-free electric water pump to help keep electrified powertrain components cool. 
Visitors seeking solutions to enhance cab comfort should check out KAB Seating's latest Sciox seat range for construction and agricultural vehicles; while Fortaco Group will present a solution for powering the air-conditioning system even when the engine is turned off. 
And for those seeking help to enable greater vehicle autonomy, b-plus will provide live demonstrations of its Validation Toolchain, a complete system for the recording, analysis and processing of the many sensor inputs (such as cameras and radar) involved in automated vehicles. 
These and many other exciting new product launches and technology developments are expected – for a taste of what's in store, click here. 
Exhibition entry is completely free – register here. Closed to the general public, this is not an event for farmers, contractors or casual vehicle fans. There will be no vehicles on display or for sale. Instead, iVT Expo will exclusively cater for those who build the machines, conveniently bringing together all the latest new components and technologies – under one roof. In an industry where giant exhibitions dominate, iVT Expo will offer what seems to be a contradiction: Two highly intensive and focused days, but also a chance to relax and have detailed working meetings with selected suppliers without the frenzy and pressure of much bigger events and all the logistical chaos that can be encountered. 
Meanwhile the four pay-to-attend conferences – Autonomous Industrial Vehicle Technology; Electric & Hybrid Industrial Vehicle Technology; Industrial Vehicle Powertrain Technology; and Industrial Vehicle Cab Design & Technology – will bring together over 80 experts to address critical trends and discuss best practice.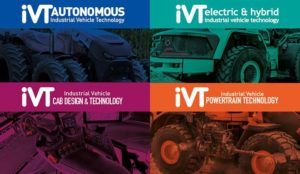 Leading speakers include Uwe Müller, chief project manager – advanced engineering, Volvo Construction Equipment, who will present 'Electric Site: the future of quarries is electric'; Elza Marisa Paiva de Figueiredo, autonomous system manager for Europe, Danfoss Power Solutions, who will provide an introduction to off-highway autonomous machine design; and Gustavo Guerra, design director, Volvo Construction Equipment, who will discuss the future of human-centric design.
With so many important OEM and Tier 1 and Tier 2 thought-leaders in one place, iVT Expo offers the perfect opportunity to make new contacts, source new ideas and discover the latest components and technologies. Visit www.ivtexpo.com for more information and to register for your free entry badge.