Yanmar has developed several high-power engines that will be debuting at Agritechnica.
The complete line-up of the firm's diesel engines will be presented at the upcoming show in Hanover, Germany in November 2019 but special attention will be given to the newest high-power industrial engines, the 4TN101 and 4TN107. In addition, the EU Stage V TN series (introduced at Intermat 2018) will now be shown for the first time in its agricultural configuration complete with its after-treatment system, mounted on the 4TN101.
The new TN series combines durability and robustness with class-leading low fuel consumption and high-power density. The 55-155kW engines have an excellent power/torque ratio to meet the requirements of a wide variety of industrial fields as a result of Yanmar's advanced combustion technology coupled with its optimized turbocharging application, including in agriculture, construction and materials handling. Both engines are particularly suitable for agricultural tractors and other farming applications such as telescopic handlers.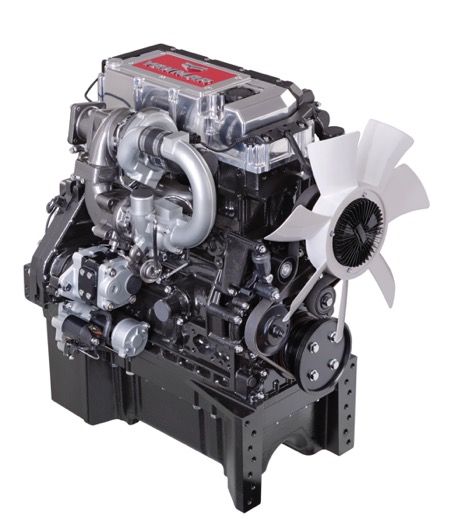 The new 3.8-litre after-cooled, turbo-charged common rail engine, which produces 55-105kW and 550Nm of torque, will be on display in its tractor configuration with a mounted DPF. Its compact profile and high performances have already caught the attention of several agricultural OEMs. Serial production start is planned for 2021.
The new 4.6-litre after-cooled, EU Stage V-compliant, two-stage turbo-charged common rail engine is being shown in its tractor configuration, with a bespoke DPF. It peaks at 155 kW while achieving a maximum torque of 805Nm. By the end of 2019 the first serial production models will roll out of Yanmar's highly automatized factory in Japan.
Main features include: best-in-class fuel consumption, high power density, outstanding torque, maximised uptime, and wide power range.
With their advanced combustion technology, the engines achieve fuel consumption reductions of approximately 10% compared with similar-sized engines with the same output. The 4TN107 features a two-stage turbocharger that provides a power density of 34kW/L. Both engines deliver superior torque due to the company's advanced combustion technology and application of the turbocharger. The 4TN107 can achieve a maximum torque of 805Nm with its two-stage turbocharger. The compact profile of the engine answers the needs of vehicle manufacturers improving installation characteristics. Also, the proprietary exhaust gas reduction technology results in a more compact exhaust gas after-treatment system markedly improving the outward visibility and the comfort level for machine operators. Yanmar's engines utilize a Diesel Particulate Filter and a Selective Catalytic Reduction system to reduce harmful emissions. These allow the 4TN101 and 4TN107 to comply with EU Stage V regulations. The 4TN101 and 4TN107 produce outputs ranging from 55 to 105kW and 90 to 155kW, enabling customers to utilise their engine in a wide range of machinery with various output needs.