Ausa presented an electric dumper prototype and a range of all-terrain forklifts at Bauma this year, but the first public showing of its reversible dumper was the firm's star attraction at the trade fair.
The closed cab of the new reversible dumper DR1001AHG can rotate 180° enabling much greater visibility and increasing operator productivity and reduced accidents on the jobsite. Featuring a hydrostatic transmission, the 10-metric ton dumper has a front camera and an audible reversing alarm.
Sharing the same electronic components as the Spanish OEM's D601AHG articulated compact dumper, the vehicle includes an economic fuel-use mode, a hill start function as well as a digital screen that contains all of the machine's vital statistics and integrated telematics.
Alongside the new dumper were four of the Barcelona-based firm's latest forklifts, ranging from 2 metric tons up to 3.5 metric tons in capacity and featuring a digital screen on the dashboard that enables the operator to interact with it using the same joystick that moves the mast. Additionally, operator visibility has improved by 30% on the outgoing model.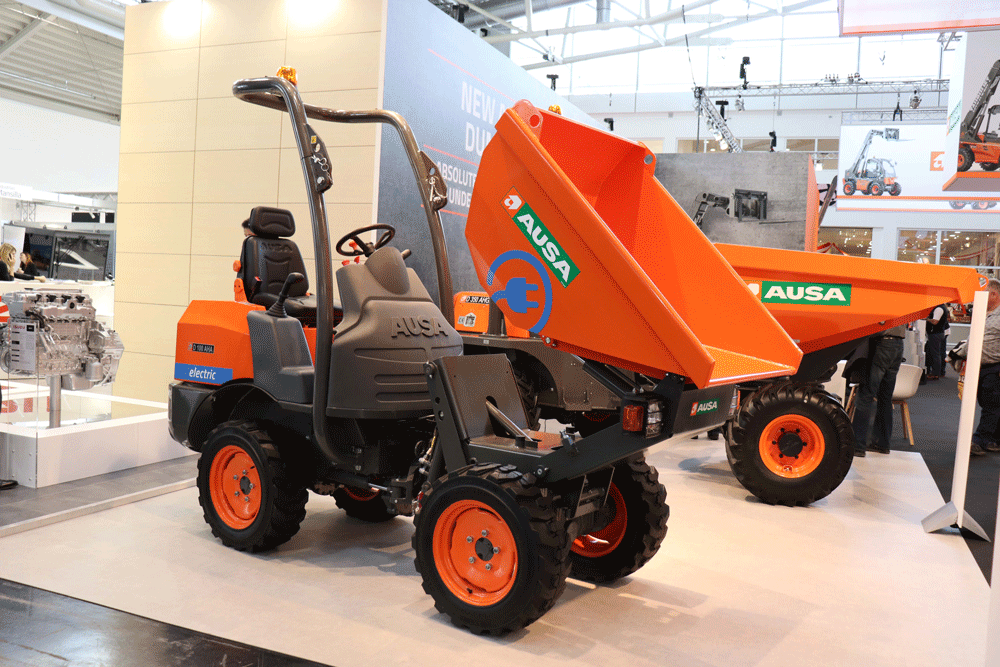 The firm's electric dumper prototype was first presented to the public last year but made its Bauma debut. With a 1-metric ton capacity, the unit delivers 15kW (20hp) of electric power – sufficient for a full working day – and is chargeable by the mains.
Juan Urkijo, sales and marketing manager at AUSA, said, "We are very satisfied with what we have achieved at Bauma this year. We had high expectations for our latest products being showcased and we have received a positive response from visitors.
"The new reversible dumper had a huge impact and many of our current and potential customers showed a great interest for our new range of forklifts. In addition, we have greatly improved on our results when compared to last year's participation in Bauma, with 20% more people visiting our stand, in addition to closing important agreements to continue consolidating our market position."