European off-highway vehicle designers, engineers, and procurement managers are descending on Cologne this week for the only exhibition dedicated solely to their suppliers, and which runs alongside a conference programme of unrivalled knowledge exchange. 
iVT Expo may be a relatively new fixture in the off-highway vehicle technology calendar, but it keeps getting bigger and better. This week's third edition in Cologne (June, 28-29) will certainly be no exception. 
As with its American cousin iVT Expo USA (Chicago, August 23-24), this year's European event showcases the latest components and technologies from international suppliers (nearly 200 exhibitors are expected in Cologne in total). Its uniqueness stems from being the only show dedicated solely to showcasing suppliers. With no full vehicles present, it is truly an event dedicated to OEM engineers and designers of industrial vehicles.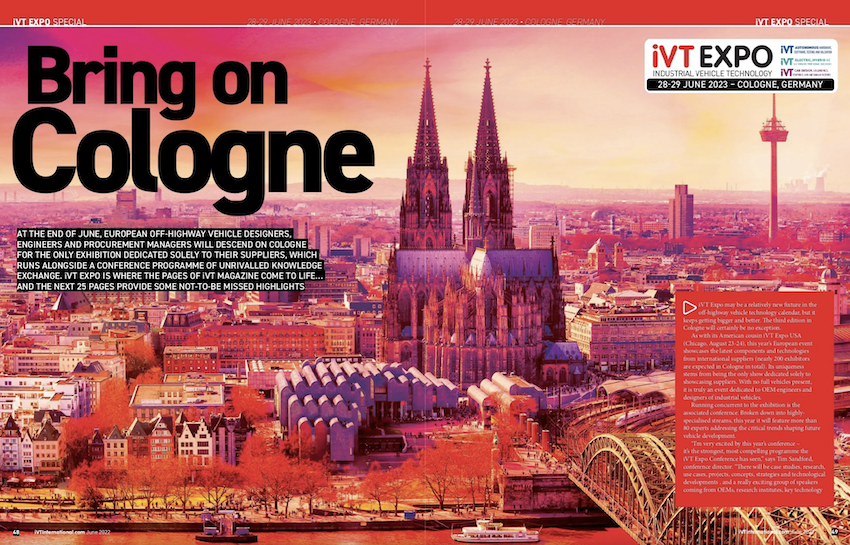 ABOVE: For more information and to check out which suppliers to look out for, visit the digital edition of iVT June
Running concurrent to the exhibition is the associated conference. Broken down into highly-specialised streams, this year it will feature more than 80 experts addressing the critical trends shaping future vehicle development.
"I'm very excited by this year's conference – it's the strongest, most compelling programme the iVT Expo Conference has seen," says Tim Sandford, conference director. "There will be case studies, research, use cases, projects, concepts, strategies and technological developments , and a really exciting group of speakers coming from OEMs, research institutes, key technology suppliers, academia, consultants and more."
Visit the exhibition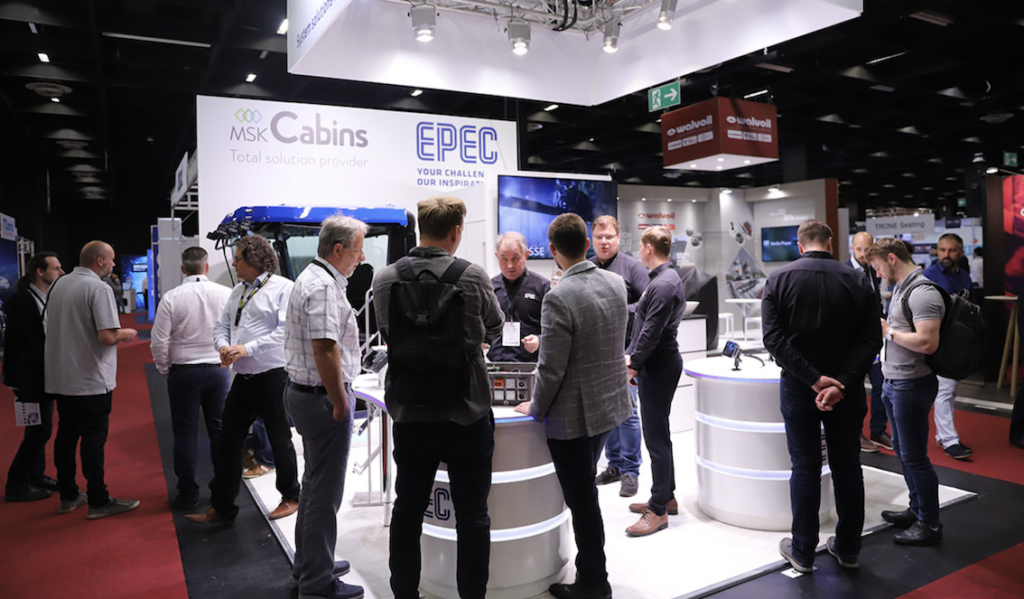 ABOVE: iVT Expo 2023 features nearly 200 exhibitors 
As with previous editions, the event will take place at the Cologne Messe, physically divided into the exhibition and the associated three-tracked conference.  
The exhibition is completely free to attend, and will feature all the latest new materials; new engine technologies, including electric motors and hybrid applications; new control systems; sensors; testing and validation services and technologies, from durability rigs to EMC and NDT technologies; equipment for cabs; technologies required for operator-free/driverless vehicles; and innovative ideas that will help manufacturers of industrial vehicles improve product design, efficiency – and therefore sales. 
Vehicle categories covered by iVT Expo mirror those featured in the pages of the magazine and include anything from off-road loaders, mining equipment and diggers, to tractors, cranes and lift-trucks. In short, technologies and services for every class of industrial vehicle are on display.
Attending the conference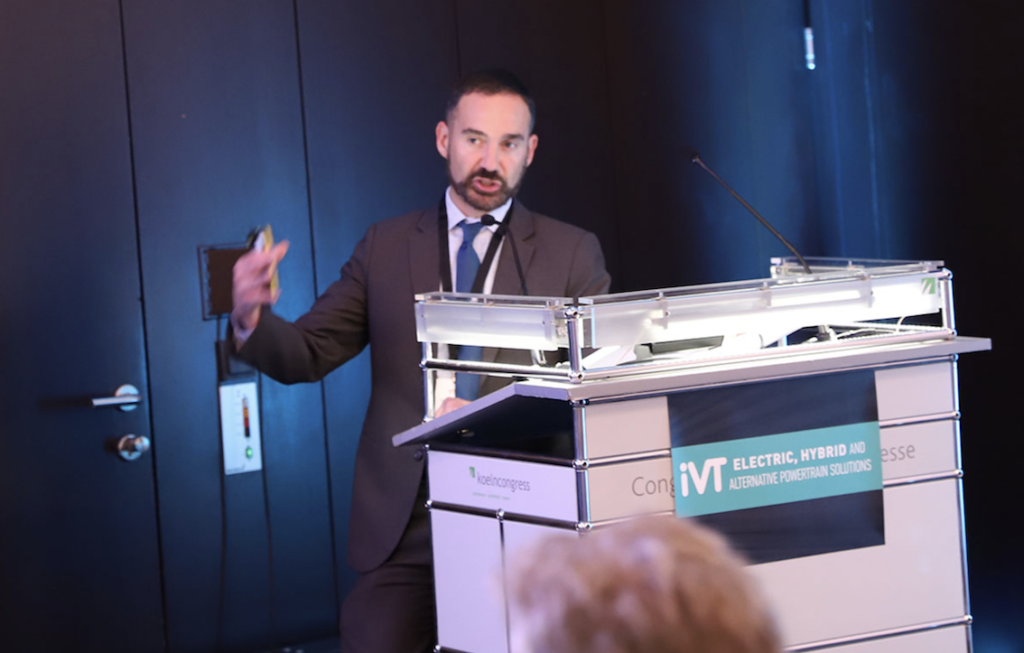 ABOVE: the event conference is broken down into three popular streams
The pay-to-attend conference side of iVT Expo focuses on the critical trends shaping the industry today and in the future, and is broken down into three main tracks. 
The Autonomous Hardware, Software, Testing and Validation track is exclusively dedicated to the design and development of highly automated and unmanned construction, mining, agricultural, materials handling, industrial and off-highway vehicles. The track
will focus on case studies and applications, testing and validation, and simulation and software. 
The Electric, Hybrid and Alternative Powertrain Solutions track is exclusively dedicated to the design and development of electric, hybrid and alternative fuels technologies for the construction, mining, agricultural, materials handling, industrial and off-highway vehicle industry.
Finally, the Cab Design, Ergonomics, Controls, HMI & Human Factors track will explore next-generation cabin design and future tech for all off-highway vehicles. Topics will include enhanced productivity, operator comfort, display systems, electronics and operator and workforce safety. 
"There is so much interesting content, it's difficult to choose highlights, but if you pushed me, I'd point to some key presentations from Volvo, SANY, Hyster Yale, TotalEnergies, TRL, Microsoft, Fraunhofer, Preh & Continental," says Sandford. "There's also a fascinating session of presentations looking at XR in the cab, linked by a common involvement in the European THEIAXR project. So I think we have a really comprehensive package of content for engineers involved in, and anyone interested in industrial vehicle technologies. I for one cannot wait for the event to begin."
For more information and to check out which suppliers to look out for, visit the digital edition of iVT June