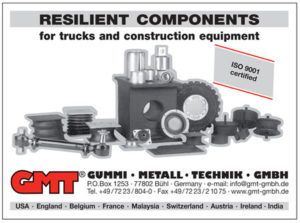 Specialist in noise and vibration technology
We do constantly improve our know-how and have done so ever since getting into business in 1968. Today we are a leading specialist in the field of vibration technology based in Buehl (Germany) with production plants in Switzerland, Ireland, USA, India and Malaysia. A network of sales offices and partners are actively working throughout the world.
Our high quality product range includes standardised mountings, primary and secondary suspension systems, torque supports as well as tailor made elements for your special application. GMT customers can be confident that we provide suitable intermediate inspection procedures throughout the manufacturing process of the products, to record and evaluate their features as required. We employ specialist graduates throughout the world to keep constantly up to date with noise and vibration technology.
GMT has invested in processes, calculation programmes and modern testing facilities (4 axis) in order to be able to realise each specification and meet stipulated customer requirements. This helps to ensure that GMT establishes the most appropriate and professional solution possible. To even increase GMT's capacity new production halls have recently been built in Germany as well as in Malaysia. To support our innovative and state of the art production lines there are features like an in-house tool manufacture department, rubber mixing plants (kneader), metal preparation devices as well as modern testing facilities (static and dynamic). Moreover GMT offers FEM calculations, finite fatigue life tests, dynamic fatigue tests as well as risk life analysis.