Sandvik Mining and Rock Technology has announced the launch of the brand new DT1132i jumbo underground drill rig, its latest vehicle for tunneling excavation.
The premise behind its development is to provide users with increased drilling performance and accuracy thanks to its fast and adaptive drilling control capabilities. The rig design maximizes operator safety and ergonomics, with improved fleet standardization enabling extended rig usage across different work sites.
Suitable for fast face drilling or mechanized long-hole drilling and bolting, the DT1132i has been developed with a modular design that makes it flexible and versatile. It deploys the latest developments in automated drilling solutions such as the iSURE® tunnel management software and SICA intelligent control system.
New Rig
The RD535 rock drill automated drilling features mean that that the DT1132i delivers the results required, but with 40% less exhaust particles, up to 20% higher penetration rate and with 25% more side coverage. Amongst the many new features on the new rig is a new 3m telescopic TB160i boom, optimized with a front wrist structure that provides 1m additional side coverage as standard and 4m side coverage with telescopic adjustment. The new boom also uses a fully proportional boom control for accurate and fast manual boom handling, with intelligent compensation models to give accuracy in all operating conditions.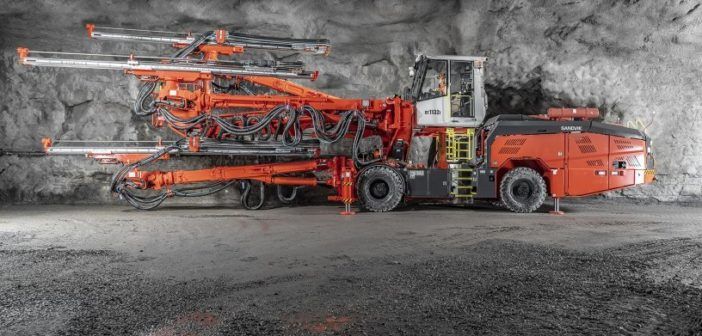 Fresh cabin
An ergonomic vibration-dampened cabin has been designed for the new rig. This provides the operator with excellent all-round visibility, low noise level thanks to its acoustic windows, a filtration system to minimize dust inside the cab and an open and spacious operator environment. Doorways have been located in the rear of the cab to minimize any disturbance for the operator, whilst safety has been maximized with a FOPS-compliant cabin.
To further boost the efficiency of the rig and the operator, comprehensive diagnostics information is integrated into one display. These include drilling diagnostics for boom instrumentation, drilling control system and shank lubrication, together with carrier diagnostics for electric motors, pumps, transmission system, diesel engines, brake system, jacks and cable reels. The rig also has durable covers and incorporates a new cover design in which all sides are covered and all service points are easy to access.
Power and efficiency
The new RD535 is a high performance and high frequency rock drill. This new rock drill has maximized power transfer capabilities leading to a high drilling speed without compromising hole quality. It has an efficient and powerful patented percussion mechanism, as well as a tool-saving, efficient and patented stabilizer structure for increased reliability. These features, together with improved flushing and efficient cooling, provide uninterrupted high-speed drilling.