A Palfinger crawler crane successfully passes endurance test in providing a service that typically helicopters are relied upon.
At 2,000 meters above sea level, the use of the PCC 115.002 machine avoided the need for costly and elaborate aerial operations in the Gastein Valley working on the old Schlossalmbahn cable lift.
After the crane had been transported to within reach of the site by truck, its crawlers took it across the – at times –b almost completely impassable terrain to the lift supports. During the five-day job it required no additional assistance, conquering an altitude difference of more than 800 metres and gradients of up to 40%. The crawler crane was still far from reaching the limits of its climbing capacity of up to 60%, as confirmed by the operations managers who were on site during the smooth removal of the nine lift supports.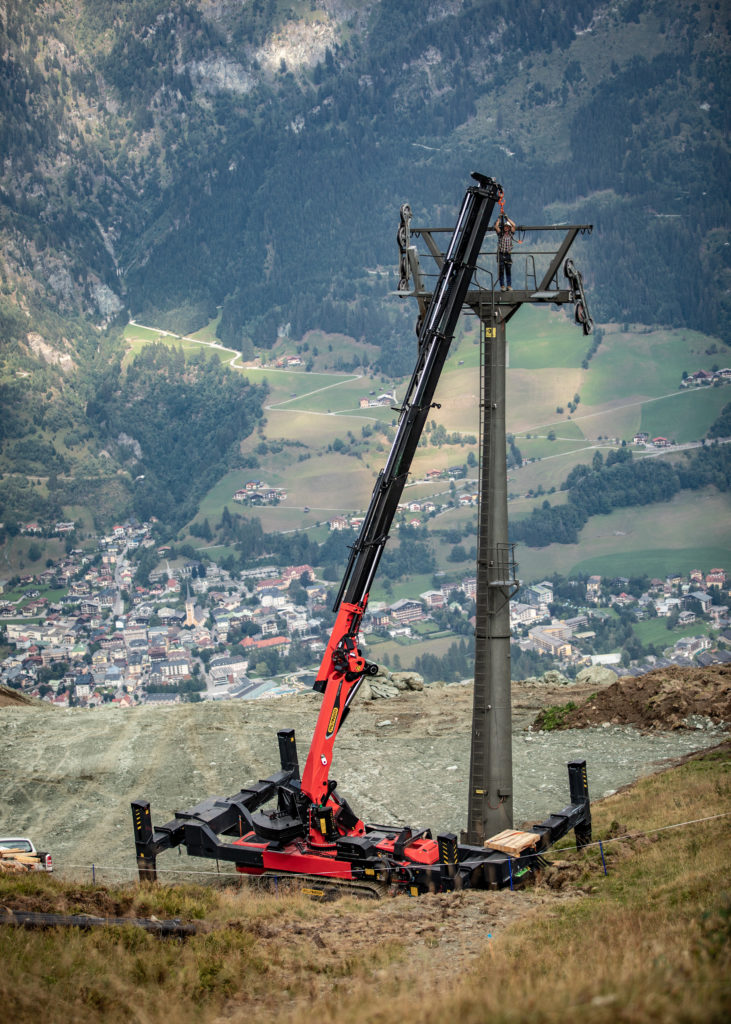 Once it had reached a support, the crane had to be optimally positioned and aligned. The precision control of the crane's support feet made it possible to compensate for level differences to the nearest centimetre. This was an important feature as stability, reliability and efficiency go hand in hand for special applications like these and lifting loads of up to one tonne. Fears that the crawler crane might damage the fragile alpine floor proved unfounded in practice. Even when the crawler crane, which is extremely slim despite its 33-metre reach, needed to turn itself around it proved to be environmentally friendly and left only a few traces in the ground.
Cable lift construction speacialist, Prommegger, was responsible for the pilot project and managing director David Prommegger, said, "We have been thinking about using cranes in off-road terrain since 2009, almost 10 years ago, and then during the Schlossalm project, we stumbled across the Palfinger crawler crane almost by accident.
The crane functions as a real alternative to a helicopter and furthermore, doesn't need any additional permits while you can work largely independently of the weather.
"It will be useful for us in the future whenever we have large-scale projects coming up in an environment that is difficult to access.
I'm thinking of road construction in the mountains, but also of the new high-voltage power line, these projects have large construction sites, where use of the crane would be ideal – particularly as there would be no time pressure because, unlike the helicopter, not every minute of use would be reflected in the bill."