Mourade Vaneeckhoutte, sales director mobile power equipment, at Altra Industrial Motion, looks at the demands placed on equipment in the field and how OEMs can use a mixture of standard and bespoke parts to deliver end products that are optimised for the application and their environment.
Off-highway applications for power transmission components present some of the most arduous operating conditions. To compound the situation, many of these vehicles and equipment work in areas away from technical support, making reliability an important product feature. For the original equipment manufacturers (OEMs), the process of sourcing the most suitable components is a complex task.
Creating reliability
From combine harvesters, tractors and seeders, to bulldozers, excavators and forestry equipment; the off-highway sector covers a huge range of applications, each of which has its own challenges. Dust, water and, occasionally, chemicals, are in a constant battle with every component on this machinery.
However, the scale of this equipment often requires considerable power to be distributed reliably and efficiently – a task that needs specialist components that are developed specifically with the application in mind. In this market, there is no one-size-fits-all solution, each machine has its own requirements and it is important to recognise this fact as early as possible in the design stages.
From clutches and couplings to brakes and linear actuators, the effective transfer of power and motion throughout a machine is crucial to its productivity and reliability. Manufacturers of these complex machines rely on specialist suppliers of power transmission and motion control components to ensure that both reliability and brand reputation are maintained.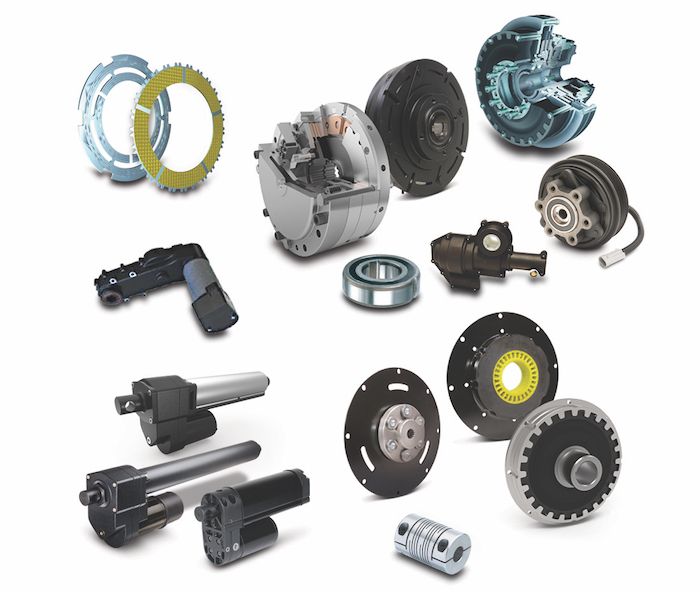 Combined expertise
To achieve optimum performance, designers on both sides need to collaborate and use their respective expertise to develop components and assemblies that will integrate seamlessly into the vehicle. The brands of Altra Industrial Motion Corp. are some of the leading manufacturers in the off-highway sector. Stromag, Warner Electric, Warner Linear, Stieber, Wichita Clutch, Guardian Couplings and Twiflex are just some of the renowned brands that can apply their combined expertise to a project.
In agriculture, a large number of solutions for clutches and drive couplings can be created to control power distribution and operate auxiliary equipment, while customised service and parking brake solutions can also be designed. With this machinery being used in all weathers, any component exposed to the elements needs to be properly sealed and tested for long-term reliability.
As technology advances and the size of agricultural machines increase, so the need for components with greater capacity becomes apparent. Meeting this and the many other challenges of developing new products is a task that the designers can take in their stride.
Construction applications
When it comes to earth-moving and road construction equipment, many of the challenges are similar but the power and braking requirements can be considerably larger. Providing compact and effective power transmission between the engine and the hydraulic system is crucial to the reliable operation of this equipment.
Downtime in such machinery needs to be kept to an absolute minimum, so reliability must be at the foundation of every component. For example, in brakes and clutches, the design of friction material must be optimised for each application and maintenance procedures simplified to minimise time in the workshop.
Designing couplings, clutches and brakes for modern construction equipment requires innovation and experience that will deliver compact components that incorporate the latest in materials technology. All of the brands within the Altra family work together to combine their collective knowledge and apply it to a new product. In this way, the design of the final component will have benefitted from a much wider expertise and therefore deliver the most effective solution.
This feature was written by Altra Industrial Motion, a premier industrial manufacturer of highly engineered power transmission, motion control and engine braking systems and components. For more information, visit Altramotion.com