JCB unveiled a range of striking products at an international press event last week (ends June 7), headlined by the company's first rotating telehandler and its new full-production electric mini-excavator. Held at JCB World HQ in Rocester, UK and other sites around JCB's manufacturing heartlands in Staffordshire and Derbyshire, the two-day event on June 5 and 6, also included timely updates on JCB's EU Stage V compliant diesel engines. The eye-catching new all-electric JCB Teletruk and the 3CX Compact Highways Master stood out among a dizzying procession of new vehicles, machine upgrades and additions to existing ranges, while new LiveLink telematics products offered exciting news for dealers and customers.
House-building machine
The Hydraload 555-210R is JCB's first rotating telescopic handler, a muscular and versatile machine with a maximum lift capacity of 5.5 tonnes and a maximum working height of 20.5m. It has been produced in response to both the growing popularity of such machines in continental Europe and the rapid growth of modular housing projects in the UK, where some 15,000 modular houses are now constructed annually – a figure soon expected to double. The Hydraload will offer the utility of both a telehandler, mobile crane and access platform in one machine and is designed for efficient set-up on confined urban jobsites, with outriggers that can be deployed, stored and levelled at the touch of a button.The machine can identify a range of specially developed JCB attachments through RFID technology, so that safe load charts are selected.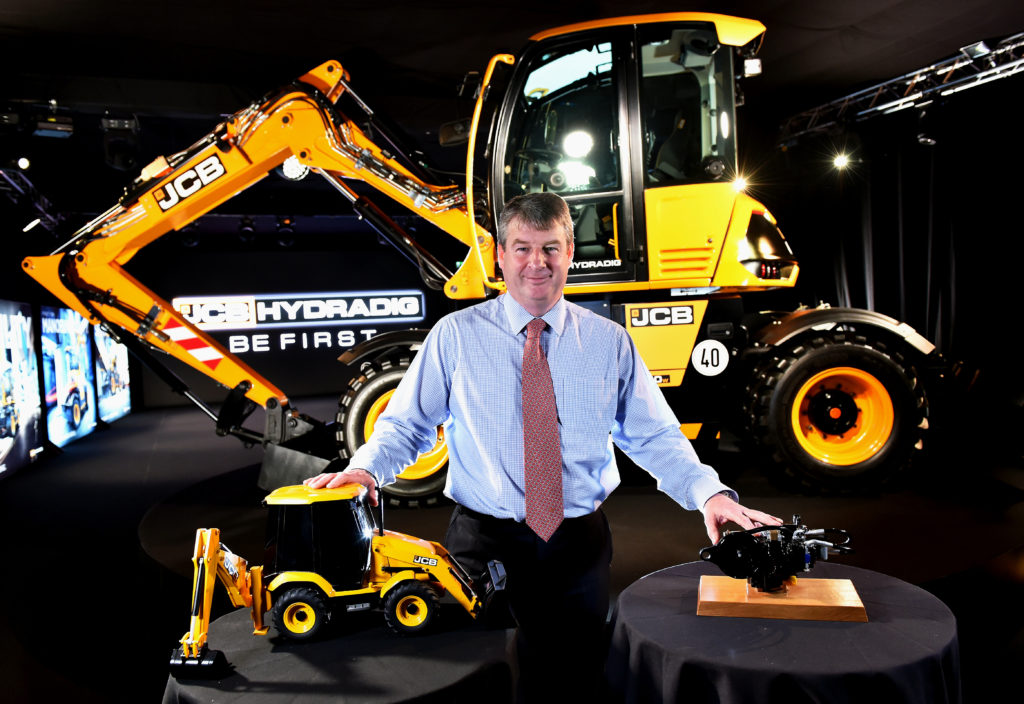 "Modular construction is becoming more and more mainstream," said JCB's chief innovation and growth officer, Tim Burnhope. "Quite often, the equipment needed to erect modular homes can be different to what, traditionally, is used in house-building. To get panels and other pre-fabricated components in place so that they can all be bolted together, you need outstanding reach, lifting capacity, manoeuvrability and versatility. We thought it was high time that we extended our range to include a new product with a new name that would lift and load in a way that truly extends the JCB telescopic capabilities."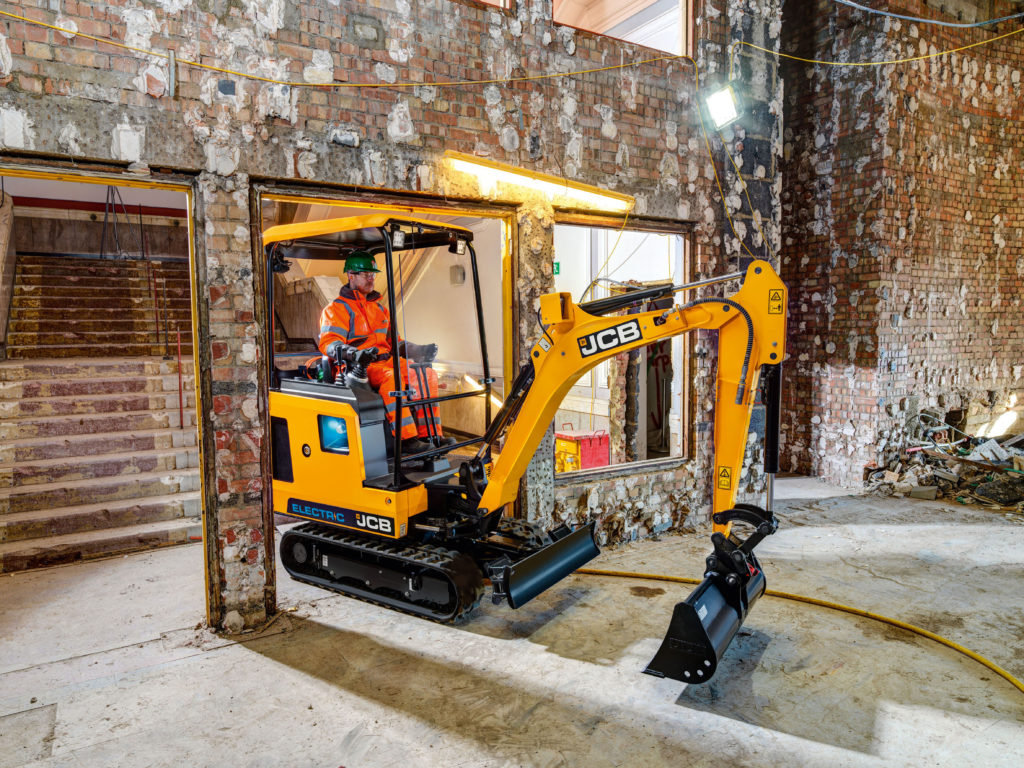 Zero-emission focus
JCB positioned itself as a market leader in zero-emissions machines for clean job sites with the release of the 19C-1E, its first-ever electric mini-excavator, which will now go into commercial production following its presentation as a concept last year. Built on the template of its diesel-powered 19C-1 counterpart and promising to exactly replicate the conventional machine's performance, the 19C-1E comes with the option of three or four lithium-ion battery packs, providing 15 or 20kWh storage capacity. This is reckoned sufficient to support a full day's operations in most mini-excavator applications and the 19C-1E will initially come equipped for both 110V and 230V charging, providing 8- and 12-hour charge times respectively, with a fast-charge option expected to come online shortly.
While seizing the initiative in new electrified machine markets, JCB continues to see clean diesel as essential to meeting construction project demand in a period of continuing global growth. JCB Power Systems were thus excited to reveal their solution to new European Stage V emissions regulations, which came into force for engines below 56kW (75hp) in January 2019. The JCB solution will use a combination of next-generation particulate control technology, incorporating a diesel oxidation catalyst (DOC), integrated diesel particulates filter (DPF) and selective catalytic reduction (SCR). This technology will now be introduced to a range of machines through two new JCB engines: the 3-liter Dieselmax rated at 55kW and a 4.8-litre EcoMax capable of 81-129kW, both promising efficiency and economy gains on previous models.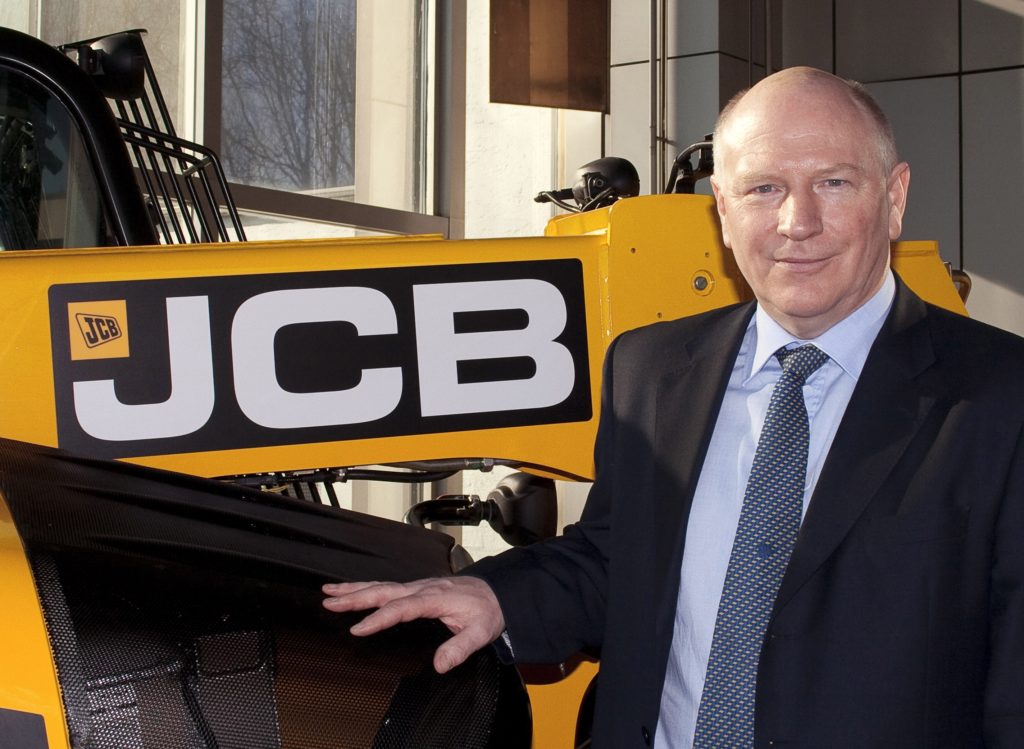 "JCB engines have low emission, high efficiency combustion technology developed for Stage IIIB and Tier 4, which means we started development for Stage V from a very good position," explains Alan Tolley, JCB's group director of engines. "JCB's particulate control technology features low particulate combustion, an oxidation catalyst, particulates filter and integrated engine and filter regeneration control system. It's a completely integrated solution that's highly reliable, highly effective and invisible to the customer as it is installed within our existing machines' engine bays, and, in normal use, no operator intervention or additional service attention is required."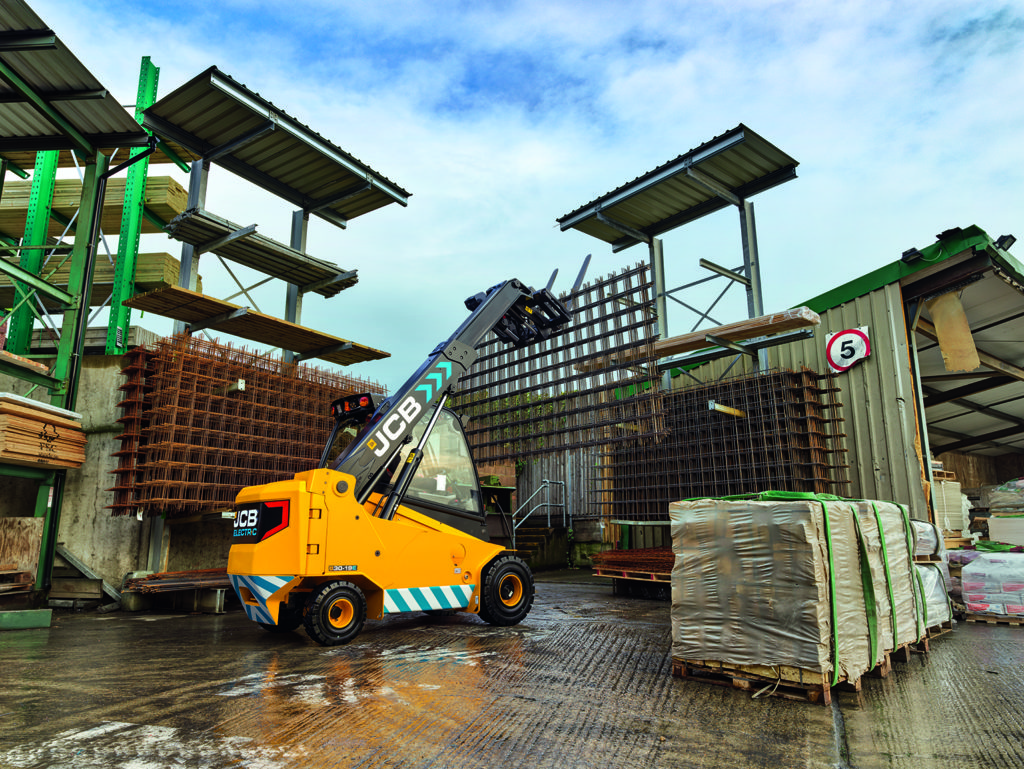 Radical architecture
Another highlight of the event was the JCB 30-19E, the firm's recently launched all-electric version of the JCB Teletruk, which consists of a radical lift-truck design offering forward reach by virtue of its side-mounted telescopic boom. This radical architecture, first introduced to the market by JCB in 1997, gives the Teletruk range an edge over conventional forklifts providing forward reach, while also improving visibility since no front mast is needed. The 30-19E offers enhanced full free lift of 1575mm and a lift capacity of 1,900kg at 2m, enabling palletised materials to be loaded to the far side of a curtain-sided trailer. Power comes from an 80-volt lead acid battery which supports an eight-hour shift on single charge, with a two-minutes changeover time. This makes for low noise and zero emissions at point of use, making the new Teletruk 30-19E an ideal vehicle both inside a warehouse and out of doors in noise- and emissions-sensitive zones.
"Almost 250,000 electric forklifts are sold around the world every year, with Europe accounting for almost two thirds of the market," said JCB Industrial general manager Paul Murray. "Until now the Teletruk has been offered with diesel and LP Gas-powered engines and used mostly in outdoor applications. With the launch of the electric-powered JCB 30-19E, we now have a machine capable of operating at optimum efficiency both inside and outside the warehouse, distribution centre or factory facility – delivering the ultimate in machine versatility."
Pothole problem solver
According to JCB, spending on the UK's roads is at a 10-year low, with 14 years of repair work necessary to eliminate the nation's proliferating potholes. In response, JCB presented their new one-machine solution: the 3CX Compact Highways Master. A reconfigured version of JCB's 3CX Compact backhoe loader – a popular solution for confined urban jobsites – the Highways Master stood out in its striking white-and-red chevroned livery amid the throng of yellow machines. Designed to meet the needs of highway contractors, it features enhanced hydraulic power and a host of industry-first, highway-specific features and can be readily deployed in resurfacing and road planing applications with a range of JCB attachments. The Highways Master was unveiled alongside two new tandem vibratory rollers, the CT160 and CT260, designed to simplify operations and maintenance and drive up productivity, while being lighter than previous models to facilitate ease of trailering.
JCB updated its existing vehicle ranges by the addition of new weight-class models. The X-Series range of excavators, first released last year in the shape of a 20-tonne model, was expanded through the addition of three new machines in the 13-16 tonne class: the JCB 131X, 140X and 150X. In 2018, JCB launched its crusade to improve site safety with a new site dumper range, including a flagship Hi Viz model. Now, JCB is introducing a second Hi Viz dumper, the 6-metric tonne 6T Hi Viz. By mounting the skip in a low-slung chassis, JCB's engineers have provided a 77% improvement in all-round vizibility and the 6T Hi Viz features a JCB Sitesafe cab with reinforced frame and impact protection and complies with all current safety legislation. The innovative JCB Hydradig 110W was also given a cab upgrade which is expected to improve operator experience, productivity and reduce costs.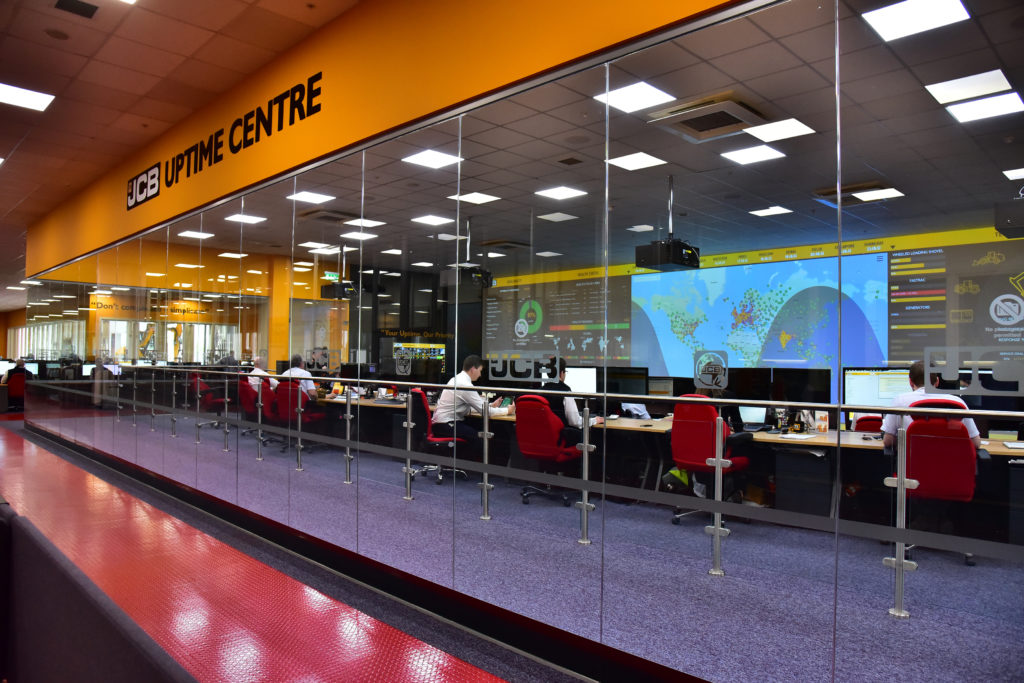 Journalists also visited a next-generation JCB Uptime Centre. This is the nerve-centre of JCB's LiveLink telematics platform, which now monitors some 250,000 machines in 195 different countries, with 6 million users logging in annually. The JCB Uptime Power Wall, capable of mapping every LiveLink-enabled machine on Earth in one place, from where LiveLink teams can zoom into real-time data on any given machine. It was an impressive spectacle, and one now being rolled out to dealerships in the form of Dealer Uptime Dashboards. JCB announced three key new LiveLink products: the LiveLink Tag, which uses Bluetooth to track the location of implements and attachments; the JCB Operator App, which allows daily checks and inspection documents to be submitted digitally, via a smartphone; and LiveLink Fleet, a website portal enabling fleet operators to monitor their entire fleet and minimize unproductive downtime. This was the fruit of a $6 million investment in customer support at JCB.