Yanmar has provided a glimpse of the future with the global unveiling of its fully electric, autonomous working concept vehicle.
Revealed for the first time at Bauma this week, the eFuzion cab-less concept excavator is an effort on the Japanese firm's part to combine the various projects that its research and development (R&D) centers around the world have been working on. 
Yanmar Construction Equipment CEO Giuliano Parodi; the company's global marketing director, Jemylia Raimbault; and Yanmar's head of European research, Alessandro Bellissima, presented the vehicle to an audience of invited guests. 
Speaking to iVT, Parodi said, "We are very proud to announce the world premiere of what is a concentration of Yanmar's capabilities and an intimation about what might appear in our future machines. It is a concept vehicle that represents some of our latest technologies in terms of robotics, in terms of vision and in terms of autonomous way of moving."
On display at the company's stand at Bauma, the eFuzion moves autonomously in a specially designed 6 x 6–meter cube called the 'eCubator'. The networked, intelligent vehicle carries out all-electric, autonomous operations under its own programming. In the demonstration, the machine utilizes its precision motor control by selecting red balls with its robotic arm, before adding the respective red ball to another box, gradually creating the Yanmar logo. The two different processes are designed to illustrate how the machine performs an excavation task autonomously, while avoiding or overcoming obstacles such as those that occur on a construction site. In the second case, the machine is operated manually to grab an object on the construction site.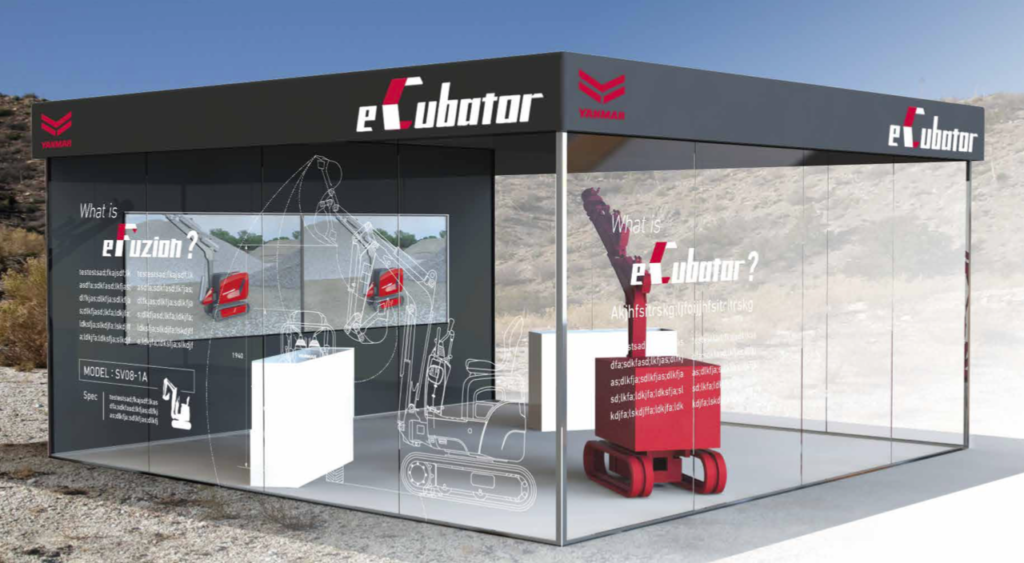 Raimbault said, "The eCubator is a term that should recall the idea of an incubator; a place where new ideas are coming and paradigms are disrupted. But more important is what is inside. 
"Technically speaking development on this concept started last year but he – we call it he because he is our little baby – is really the concentration of the various R&D centers we have, whether they are coming from robotics, whether they're coming from wider experience, the seeds have been in the ground since 2014 but today this is a concentration of all that to materialize within the eFuzion. 
"This machine is not only autonomous but intelligent in the sense that it can avoid obstacles and full prevention. It is packed with lots of good things but like in the automotive industry the concept vehicle you will not see on the highway but it will still inspire the future development of the products and that is the same here."
Bellissima added, "We believe that the market is not yet ready for a full-electric machine providing all the capabilities that a clean-diesel engine is providing. 
"We know that the future is moving more or less in this direction in having more electrified machines and of course we are within one year of preparation ready to demonstrate not only the capabilities of electrification but also connectivity, autonomous drive and in terms of data sharing so the technology is in-house and is what we want to demonstrate."