There's no denying that electrification is underway across the off-highway industry, but there are differences of opinion as to the optimum size for battery powered machines. We take a snapshot of the construction market and ask, are there times when less really is more?
***
Manufacturers of industrial vehicles have difficult decisions to take about how to develop their fleets of low-emission machines to meet climate goals. Everyone has a slightly different strategy and the market is in a state of flux, with a lot of prototypes and limited commercial releases. 
JCB and Hyundai are clear that they see battery electric power as the best option for smaller vehicles, and are banking on hydrogen to power larger machines. Other companies such as Volvo, Hitachi and Komatsu have developed larger battery-powered vehicles, though they are relatively costly and not all are ready for mass commercialisation. 
Volvo revealed the 23-tonne EC230 battery electric excavator at Bauma China in 2020. Following testing programmes in the US, Volvo CE plans to make it commercially available in North America in 2024 and it's available for selected customers in Europe.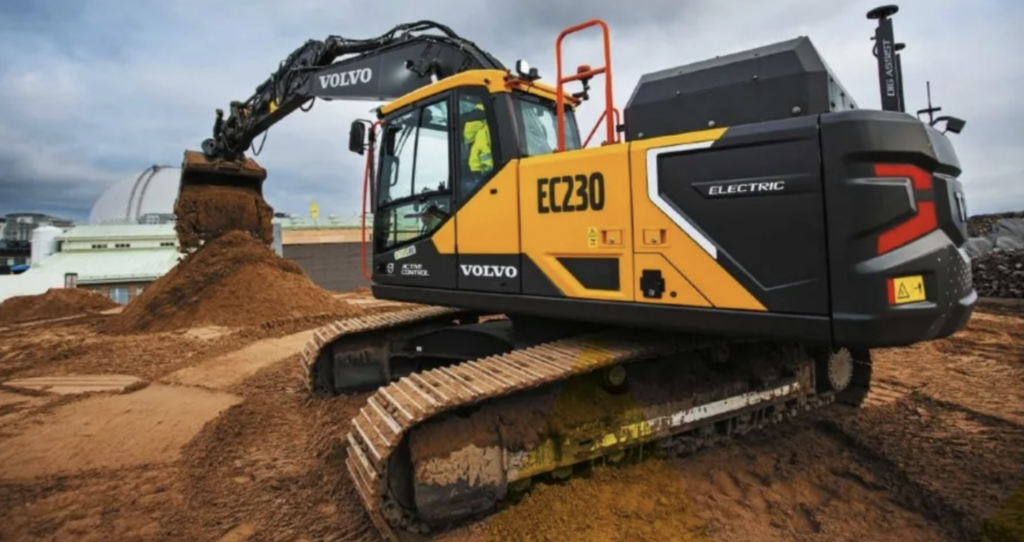 ABOVE: Volvo CE's EC230 is thought to be the largest market-ready battery electric excavator in the world
Hitachi showcased the 13.5 tonne ZX135-7EB excavator prototype at Bauma last year, though to date no commercial launch has been announced. 
Komatsu's PC210LCE 20-tonne battery electric excavator will receive a limited commercial release – in a rental capacity – in selected countries this year.
Small is beautiful
Hyundai Construction Equipment (HCE), meanwhile, believes battery electric technology is best suited to smaller machines because they're not heavy to manoeuvre and operate for shorter periods. The company plans to release a number of new zero-emissions vehicles in this segment. 
"The key point is the relationship between the size and storage capacity of the battery and the charging time. The quotient of these gives the   autonomy – similar to electric cars – of the machine for daily use on construction sites," says Peter Sebold, product manager, HCE Europe. "Likely applications include indoor work, greenhouses, hospitals – anywhere there's zero tolerance for exhaust fumes and noise. This also applies to construction sites in inner-city areas."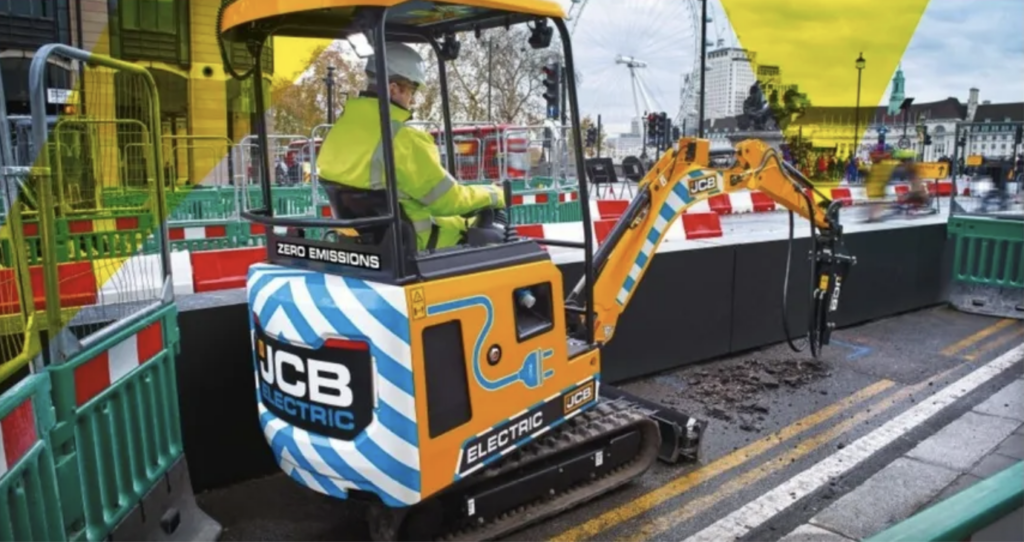 ABOVE: JCB's portfolio of EVs includes its electric site dumper. Its focus remains on smaller electric vehicles, alongside the potential of hydrogen solutions 
To advance its understanding of batteries, HCE is working with Dutch conversion company Urban Mobility Systems (UMS). UMS has developed a conversion kit to electrify Hyundai's nine-tonne HX85A compact crawler excavator and also electrify the 26-tonne Hyundai HX260A heavy crawler excavator. These have been placed with customers in the Netherlands on trials. 
"They carry out different tasks to mini-excavators," says Sebold. "Here it's earth moving, landscaping, environmental maintenance on dikes and embankments along the Dutch coast line. One major challenge becomes recharging at remote sites. UMS suggests either mobile-charging stations, or replacing the battery pack."
But the main focus of Hyundai's development of low-emission larger vehicles is green hydrogen. HCE produced its first prototype in September 2021 using parts of the hydrogen fuel cell applied to Hyundai Motor's mass-produced vehicles.
"We identified the 15-tonne wheeled excavator as the best option as several of its features mean hydrogen makes sense. It's a wheeled machine, having both on- and off-road capabilities, liable to work in urban environment, where emissions and noise are critical," he says.
Since the prototype, the tank has more than tripled in size providing more than eight hours power on one hydrogen charge. A commercial release is planned for 2025.
Meanwhile, the real challenge is creating the necessary infrastructure to provide a stable supply of green hydrogen and Hyundai Group has started building offshore plants to develop wind power system.
"A maritime hydrogen production platform could run water electrolysis to produce green hydrogen without any carbon by-products," says Sebold.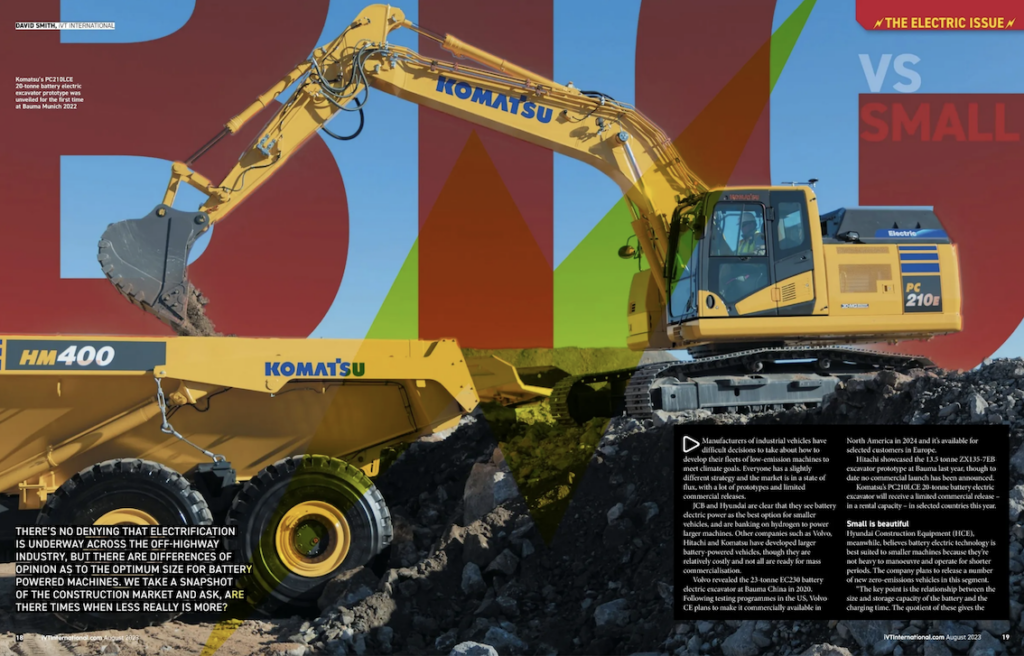 To read the full article including additional material and video content, visit the digital edition of iVT August 
Little and large 
JCB's perspective on electric vehicles, as well as hydrogen power, is similar. Chief innovation officer Tim Burnhope prefers not to speak about "an arbitrary cut-off point" when determining the maximum size for battery power. He says the equation is more about selecting the right technology for the application. 
"From Livelink telematics data, we know compact machinery is not working flat out every hour, unlike heavier machinery which usually operates in remote locations where access to electricity is more difficult," says Burnhope. "So, it's not a simple issue of 'size' – it's more about practicality and commercial viability. On both fronts, in JCB's experience, battery-electric technology makes most sense on compact equipment. Several other factors are always evaluated closely, not least the capability of the battery-electric technology and the associated powertrain to fulfil tasks, so duty cycles are very important considerations."
Volvo CE, however, takes a slightly different view, believing there is a commercial case for larger electric vehicles. The 23-tonne EC230 Electric was developed with partners across the supply chain and tested by customers in South Korea and China. It is now being made available to select customers in Europe (see previous issue for full case study).
The EC230 Electric has a 600V battery system and works an 8-10-hour day, with a high-power charge during the lunch break. To do this, it has been equipped with four 66kW lithium-ion battery packs totalling 264 kW/h, enough to run for four to five hours. 
If a full day's work is needed, it's possible to run the machine in the morning then recharge it at lunchtime on a 150kW DC fast charger. The machine is aimed at customers who have a need for an EV, due to sustainability targets, or because they are working indoors, or underground in tunnels.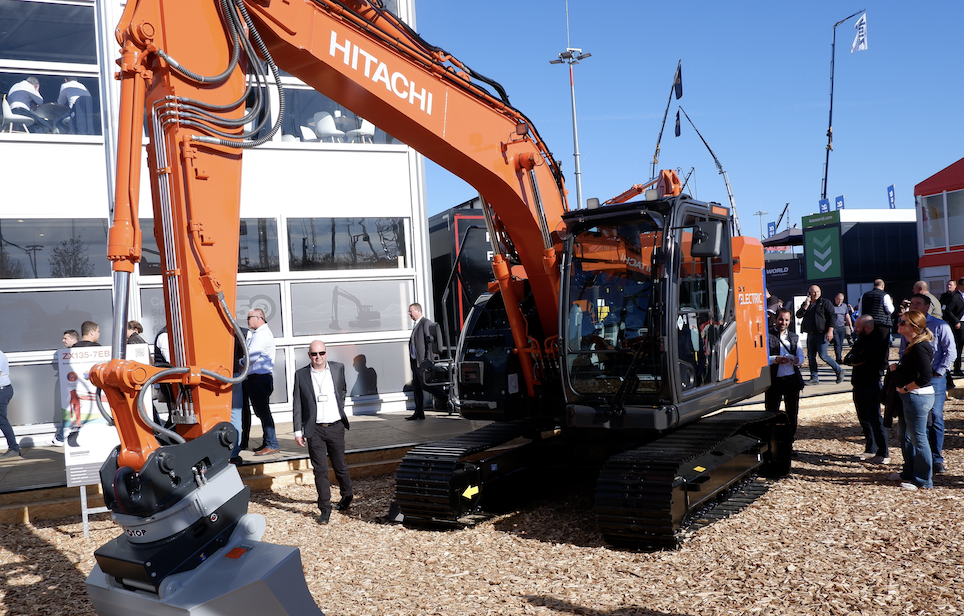 ABOVE: Hitachi first showcased its 13.5 tonne ZX135-7EB excavator prototype at last year's Bauma Munich, though no commercial launch date has been announced  
Big challenges
Komatsu launched its electric PC210LCE 20-tonne battery electric excavator at Bauma Munich 2022. Featuring lithium-ion battery technology developed by Proterra, it has 451kWh of battery capacity, designed for up to eight hours of operating time. 
"It's a 'limited mass production' release," says Bernd Eschenhagen, electrification project team leader at Komatsu. "We'll be gathering intelligence from 10 vehicles in five countries in a three-year trial. The machine could be sold, but these will be leased out for now."
Eschenhagen notes that the differential in costs between the diesel version and the electric versions rises exponentially as machines get larger.
"With smaller excavators, it's two to 2.5 times more, but with a 20-tonner it's more like three, four or 4.5. Lithium-ion batteries are more expensive on construction machines as they need to withstand vibration. The bigger the machine, the stronger the impacts. I don't see battery prices falling so fast as they did in the car industry as they need to be so much more durable."
Country by country
The likelihood of commercial success for larger electric machines in Europe, Eschenhagen believes, partly depends on the country. In Norway, for example, the government prioritises electric power and there's huge support with logistics to get the right power supply at job sites. 
"Most of its electricity comes from hydropower and they're not keen on developing hydrogen infrastructure," he says. "In Germany, there is not as much focus in the construction of energy reduction as there is for the heating of houses. What's likely, as we move towards zero emissions, is a rise in the cost of machines ooeration. The Dutch Government has estimated double the expenditure. As many contracts are with public authorities, there's a strong chance the public will end of paying through taxes."
Hitachi introduced its 13.5 tonne ZX135-7EB excavator with a 198kWh battery and rapid charging capability alongside three smaller electric vehicles at Bauma Munich in October last year. It can be used either on battery power, or in wired operations while charging from a CEE 400VAC-3-phase 63A charger. It is compatible with CCS-2 rapid charging technology. Like the EC230 Electric, it can be charged in an hour during the lunch break. No date has yet been announced for a commercial launch.
"As you bring a battery concept together you always have to think about the size, cost and the charging solution," Nirohiko Kinugawa, product manager for HCME told iVT. "That's the combination necessary to bring a workable machine to market."  
JCB's Burnhope believes for the foreseeable future it will be hard to successfully commercialise larger vehicles that operate where there is limited, or no access to electricity. 
"No amount of technological advances in battery technology will change that variable," he says. "Customers need quick and easy ways of getting an energy source so they keep working. The grid infrastructure is not there yet to allow this to happen on larger machinery operating on remote or rural sites. The technological advances will need to extend well beyond the battery before the equation is changed."