ZF Friedrichshafen AG

ZF is a leading worldwide automotive supplier for Driveline and Chassis Technology with 121 production companies in 27 countries. With its workforce of 71,488 employees, ZF achieved sales in the order of 15.5 billion euros in 2011. In order to continue to be successful with innovative products, ZF annually invests more than five percent of its sales (2011: 754 million EUR) in Research and Development.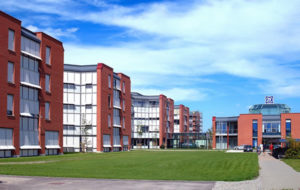 Industrial Technology is the division where the ZF Group bundles its activities for "Off-Road" applications. It comprises the development and production of transmissions and axles for agricultural- and construction machinery as well as driveline technology for material handling systems, rail- and special driveline vehicles. The division is also responsible for the worldwide business of marine propulsion systems, aviation technology as well as the development and production of wind power transmissions.
Electronic components, shift- and test systems for all kinds of applications are also included in the division's portfolio.
Innovations of Great Value
Cost reduction, less consumption and increased productivity are the main topics of the construction industry. Many new product presentations, innovations and highest technical performance are particularly putting user benefits in the limelight. So does ZF. With "Innovations of Great Value".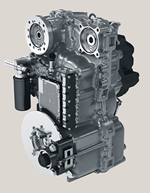 Stepless into the future – ZF cPower
The continuously variable and fully powersplit design combines the best of two worlds. The advantages of the mechanical system together with those of the hydrostatic system result in significant consumption benefits and productivity increase for the vehicle owner.
Main features of the new ZF cPower
• Continuously variable drive over the whole range
• Hydrostatic-mechanical powersplitting in all driving
• ranges, including the frequently used range up to 10 km/h
• Reduction of diesel motor speed independent of
• driving speed
• Up to 25 % less consumption
• Up to 20 % higher efficiency
Having Partners. Beyond Purchase.
Customer proximity is an essential part of business activities, as ZF customers expect a close exchange of experience and quick support. That is why ZF counts more than 650 sales and service centres worldwide. Wherever a manufacturer wants to export his vehicle to, the ZF Service is already on the spot.